Underground coal mines the 'clear losers' as pollution caps tighten
Australia's underground coal mines will be among the polluters worst-affected by a federal government clampdown on industrial emissions as new analysis shows the decision to use a single "industry average" to set legislated limits will have an unequal impact across the mining sector.
The "safeguard mechanism" climate policy, which came into force on July 1, requires the country's 215 highest-polluting industrial sites – including mines, gas plants, oil refineries and factories – to cut their carbon footprint by up to about 5 per cent a year until the end of the decade.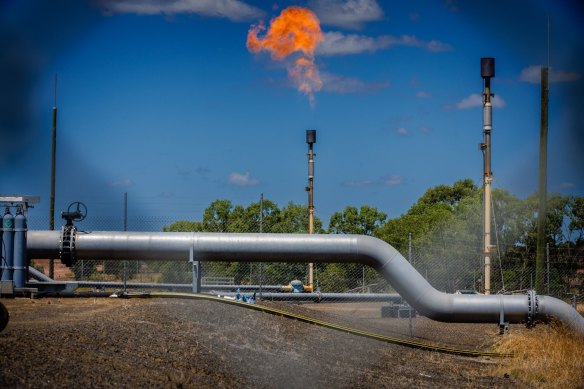 This can be achieved through buying carbon credits generated by carbon-offset projects such as tree planting programs, switching fossil fuel-based technologies to cleaner alternatives or finding other ways to release fewer emissions into the atmosphere.
While major business groups have largely welcomed the scheme, representatives from the mining sector have raised concerns about the methodology, which draws on each site's historical emissions as well as a single industry average to determine baseline limits.
Some mining companies have been pushing the government to introduce specific averages for underground mines, which tend to generate far more emissions than open-pit mines because deeper coal seams contain more methane.
Rory Simington, principal analyst at global resource consultancy Wood Mackenzie, said the use of a single industry average would "see some clear winners and losers" in mining.
"A significant portion of Australia's open-cut mines will be receiving credits from the scheme every year over 2023 to 2030," Simington said. "Meanwhile, underground mines will be subject to significant costs and need to purchase safeguard mechanism credits."
One of the mines that could be hit hardest by the scheme is Centennial Coal's Mandalong mine in NSW, which supplies Origin Energy's giant Eraring coal-fired station. Others include Whitehaven Coal's Narrabri mines in NSW, and Anglo-American's Moranbah North underground mine in Queensland.
Large open-cut mines, including BHP's Mt Arthur coal mine, Adani's Carmichael mine and Glencore and Yancoal's Hunter Valley operations, are lower-intensity emitters and will earn credits from the scheme without having to take additional abatement measures.
The safeguard mechanism, which forms part of the Albanese government's commitment to slash emissions by 43 per cent by 2030, is the first federal emissions-reduction policy since the Gillard government's carbon tax from 2012 to 2014.
When the safeguard mechanism was created in 2016 by the former Coalition government, pollution caps were not strict enough to enforce industrial emissions reductions. Former prime minister Scott Morrison argued that "technology, not taxes" would allow Australia to exceed its target to cut at least 26 per cent of emissions by 2030, based on 2005 levels, without compelling industry to act.
But Labor pledged during the 2022 election campaign to set a more ambitious, legally binding target to cut Australia's emissions by 43 per cent by 2030 and the safeguard mechanism will be beefed up to meet that goal.
The new pollution caps aim to cut greenhouse output by a cumulative 205 million tonnes by the end of the decade – equivalent to about 40 per cent of Australia's annual carbon footprint.
Coal mine methane policy adviser at Ember energy think tank Annika Reynolds said the safeguard mechanism had failed to curb unabated methane from coal mines since its inception in 2016.
"While the reforms to the mechanism aim to change this, whether real emissions-reduction will be achieved is still an open question," she said.
The Business Briefing newsletter delivers major stories, exclusive coverage and expert opinion. Sign up to get it every weekday morning.
Source: Thanks smh.com