ASX set for gains as Wall Street advances
Stocks are drifting on Wall Street ahead of a week with updates on where inflation and corporate profits are heading.
The S&P 500 rose 0.1 per cent in afternoon trading, coming off just its second losing week in the last eight. The Dow Jones was up 0.5 per cent and the Nasdaq composite was 0.1 per cent higher. The Australian sharemarket is set for a bright start to the session, with futures at 5.05am AEST pointing to a gain of 45 points, or 0.7 per cent, at the open. The ASX shed 0.5 per cent on Monday to extend its losing streak.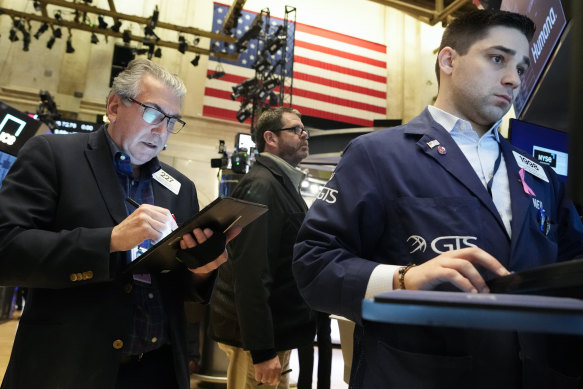 FMC, an agricultural sciences company, tumbled 10.8 per cent for the biggest loss in the S&P 500 after it warned of a sudden drop in business across most of the world toward the end of May as partners burned through inventory levels. It said the "unforeseen and unprecedented" declines would hurt its results for the spring and full year.
On the winning side of Wall Street was Helen of Troy, which said profit and revenue fell by less last quarter than analysts expected. The company behind OXO, Hydro Flask and other brands jumped 17.5 per cent. But it also warned of expectations for a slower economy.
The big question hanging over Wall Street is whether the US economy can avoid a long-predicted recession despite high interest rates meant to pull down inflation. The hope is that inflation is easing enough for the Federal Reserve to soon halt its hikes to rates, which have already caused cracks in the banking industry and other corners of the economy.
A report on Wednesday will offer the latest monthly update on inflation at the consumer level, and economists expect it to show another slowdown. They're forecasting consumer prices were 3.1 per cent higher in June than a year earlier, down from 4 per cent inflation in May.
The Fed has acknowledged inflation has slowed since last summer, when it peaked just above 9 per cent, But it's also hinted that it may raise rates one or two more times this year before holding them at a high level to ensure inflation returns to its 2 per cent target.
Such talk has helped erase many earlier bets among traders that the Fed may not only halt its hikes to interest rates this year but also to cut them. That's caused Treasury yields to jump back toward their highest levels since March, before high rates helped cause the collapses of several US banks that rattled confidence in the system.
Treasury yields eased back a bit on Monday The 10-year Treasury yield slipped to 3.99 per cent from 4.06 per cent late Friday. It helps set rates for mortgages and other important loans.
The two-year Treasury yield, which moves more on expectations for the Fed, fell to 4.85 per cent from 4.95 per cent.
An expectation for higher yields is one of the reasons Barry Bannister, managing director at Stifel, says the S&P 500 could hit a pause after its big first half of the year and end 2023 at 4,400. That's roughly where it began Monday.
When bonds are paying more in interest, particularly after taking inflation into account, stock investors aren't willing to pay as much for each $1 in profits that companies are producing. That puts downward pressure on stock prices.
Bannister expects the US economy to slow through the back half of 2023 but then succumb to a recession in early 2024. The resilient job market is propping the economy up now, but its strength may push the Fed to take a harder stance on interest rates to drive out inflationary pressures.
"Labor is just too hot, making it difficult for the Fed to achieve" its goal for inflation, Bannister wrote in a report. That pushes him to ask: "WWJD" – What Will Jerome Do?" in reference to Fed Chair Jerome Powell.
The other big factor that sets stock prices, corporate profits, will also come into focus at the end of this week, when companies begin reporting on how they did during the spring.
Delta Air Lines and PepsiCo will report their results on Thursday, and JPMorgan Chase will headline a rush of bank reports on Friday.
The wide expectation is for companies across the S&P 500 to report a 7.2 per cent drop in earnings per share for the second quarter from a year earlier. If analysts' forecasts prove correct, that would be the worst drop for the index since the spring of 2020, when the pandemic was paralyzing the global economy.
In markets abroad, stocks inched higher in China amid hopes that the government may offer more stimulus. Its economic recovery has faltered following the removal of anti-COVID restrictions.
China said Monday that producer prices fell 5.4 per cent in June from a year earlier, down from a 4.6 per cent drop in May, as growth in the US and Europe continued to taper. Consumer price inflation was flat, also suggesting weakening of demand as activity in the world's second largest economy slows
US Treasury Secretary Janet Yellen also wrapped up a fence-mending visit to Beijing on Sunday with no major agreements or breakthroughs in strained ties, as expected. But Yellen said relations were on a "surer footing" between the world's largest economies.
Hong Kong's Hang Seng gained 0.6 per cent, and stocks in Shanghai rose 0.2 per cent. Stocks were mixed in the rest of Asia and modestly higher in Europe.
AP
Source: Thanks smh.com