The crypto star nobody's heard of is shining
Bitcoin investors are drawing succour from a surge in the smaller token litecoin over the past year that has outstripped the broader crypto market.
That's because one of the drivers of litecoin's near 90 per cent climb over the period was its so-called halving — or halvening — that will curb the supply of the token, a process that also lies ahead for bitcoin in coming months.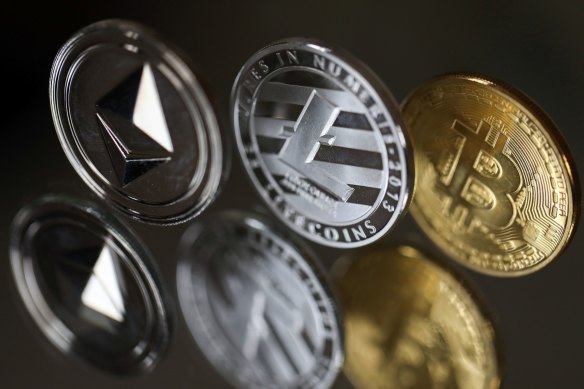 "Litecoin often served as a sentiment metric on the bitcoin halving, being scheduled in advance compared to it," Matteo Greco, a crypto research analyst at Fineqia, wrote in a note.
Litecoin was created in 2011 and aims for faster transactions than bitcoin. Both blockchains use the "proof of work" mechanism, whereby power-hungry computer rigs — known as miners — solve complex puzzles to secure the digital ledgers.
A halving cuts in half the amount of tokens miners receive as reward for their work. The quadrennial event, due next month for litecoin and around April 2024 for bitcoin, is part of the process of capping the supply of the tokens to 84 million and 21 million, respectively.
Litecoin's performance over the past 12 months beat bitcoin's advance of about 39 per cent as well as the 22 per cent increase in a gauge of the largest 100 tokens. But litecoin has tempered of late, receding a bit from an early July peak.
Halving is among a confluence of variables contributing to bitcoin's partial rebound this year from a 2022 crypto rout sparked by tightening monetary policy and exacerbated by blow-ups such as the FTX exchange's implosion.
Other tailwinds for the token include optimism about increasing demand if BlackRock, Fidelity Investments and others succeed in their efforts to start spot bitcoin exchange-traded funds in the US.
An institutional-only crypto exchange, EDX Markets, also recently went live with backing from billionaire Ken Griffin's Citadel Securities as well as Fidelity and Charles Schwab Corp. It offers trading in only four cryptocurrencies: bitcoin, ether, litecoin and bitcoin cash.
While bitcoin hit records after each of its last three halvings, the current outlook for crypto is clouded by the prospect of more central bank interest-rate rises to tighten liquidity and curb inflation.
Investments such as stocks have already begun to falter after a robust first half, with sentiment hit by a jump in government bond yields.
Traditional markets "seem to be entering a more risk-off mood – we can't yet assume that bitcoin will just shrug that off," wrote Noelle Acheson, author of the Crypto Is Macro Now newsletter.
"The especially interesting story will be how bitcoin behaves when the stock market correction eventually arrives in earnest," she said.
Bitcoin and litecoin remain well below record peaks achieved in 2021. Litecoin traded at about $US98 ($147) as of Monday in New York, compared with $US413 during a pandemic-era bull market. Bitcoin traded at roughly $US30,000, some $US39,000 below its all-time high.
Bloomberg
The Business Briefing newsletter delivers major stories, exclusive coverage and expert opinion. Sign up to get it every weekday morning.
Source: Thanks smh.com