Game on: Microsoft's $100b Activision deal gets US judge go-ahead
Microsoft on Tuesday cleared two major hurdles to its plan to buy video game maker Activision Blizzard after a US judge gave a thumbs-up to the $US69 billion ($103 billion) deal and a British regulator suggested it could reconsider its opposition.
Activision shares surged 10 per cent on the day as the US and Britain have been the two countries opposed to what would be Microsoft's biggest deal ever and the largest transaction in the video game industry's history. Microsoft shares rose 64¢ to $US332.47.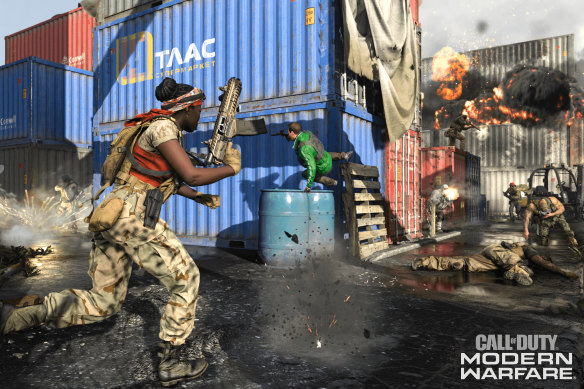 US District Judge Jacqueline Scott Corley in San Francisco rejected the Biden administration's contention that the deal would hurt consumers by giving Xbox game console maker Microsoft exclusive access to games including the best-selling Call of Duty.
Call of Duty is among the world's most profitable game series, with millions of fans playing its latest iteration every year.
Soon after the US judge's order, Britain's Competition and Markets Authority (CMA) said it was prepared to consider Microsoft's proposals to resolve antitrust concerns in the UK, suggesting the two parties may come to a resolution.
"The various testimonies that have surfaced during the US trial all weaken the UK's antitrust watchdog's arguments," said Joost Van Dreunen, a lecturer at New York University's Stern School of Business.
The US Federal Trade Commission (FTC) had argued that Microsoft would be able to use the Activision games to leave rival console makers such as Nintendo and market leader Sony Group out in the cold.
Corley disagreed. "The FTC has not shown it is likely to succeed on its assertion the combined firm will probably pull Call of Duty from Sony PlayStation, or that its ownership of Activision content will substantially lessen competition in the video game library subscription and cloud gaming markets," she wrote.
The court gave the Federal Trade Commission until Friday to appeal against the decision.
Trade commission spokesperson Douglas Farrar said the antitrust regulator was "disappointed in this outcome given the clear threat this merger poses to open competition in cloud gaming, subscription services, and consoles. In the coming days, we'll be announcing our next step to continue our fight to preserve competition and protect consumers."
It is considering appealing the court decision, according to a person familiar with the matter.
The Federal Trade Commission did not immediately respond to a request for comment when asked about its plan to appeal the ruling.
Gaming market sales are expected to increase by 36 per cent over the next four years to $US321 billion, according to a PwC estimate.
Corley's decision is a setback in the broader push by the Biden administration to cut costs for consumers that have also included negotiations to lower the cost of insulin medication and eliminate "junk fees" in airline tickets.
Microsoft president Brad Smith said the company was grateful for the "quick and thorough" decision. He also tweeted that his focus would now be on considering how the transaction could be changed to address the competition authority's concerns.
"It does seem like Microsoft and the CMA could work out a deal within the next couple of weeks," said D.A. Davidson & Co analyst Franco Granda.
While much of the testimony in the recent trial focused on Call of Duty, Activision produces other bestsellers such as World of Warcraft, Diablo and the mobile game Candy Crush Saga.
The US trade commission's complaint had cited concerns about loss of competition in console gaming, as well as subscriptions and cloud gaming.
To address the agency's concerns, Microsoft agreed to license Call of Duty to rivals, including a 10-year contract with Nintendo, contingent on the merger closing.
During the five-day trial in June, Microsoft CEO Satya Nadella argued the company would have no incentive to shut out Sony's PlayStation or other rivals in order to sell more Microsoft Xbox consoles.
This is "big news and potentially very negative for Sony," said Asymmetric Advisors strategist Amir Anvarzadeh.
Many PlayStation owners use their consoles solely to play Call of Duty games, purchasing the game at full cost, while Microsoft will likely make the game free on its Xbox Game Pass service, he said in a separate note to investors.
Sony Group shares fell as much as 2.7 per cent on Wednesday in Tokyo after the ruling.
Reuters, with Bloomberg
The Morning Edition newsletter is our guide to the day's most important and interesting stories, analysis and insights. Sign up here.
Source: Thanks smh.com