PwC and rivals Deloitte, KPMG air dirty laundry in senate inquiry
PwC Australia and its rivals Deloitte and KPMG have listed a litany of misconduct in response to queries from a senate inquiry, as fallout from the tax scandal engulfing PwC casts a wider shadow on the professional services sector.
PwC on Wednesday told the senate inquiry that former CEO Tom Seymour was its highest-paid partner last year earning $4.6 million, as it confirmed to the inquiry that an employee was disciplined in 2018 for not following conflict of interest procedures.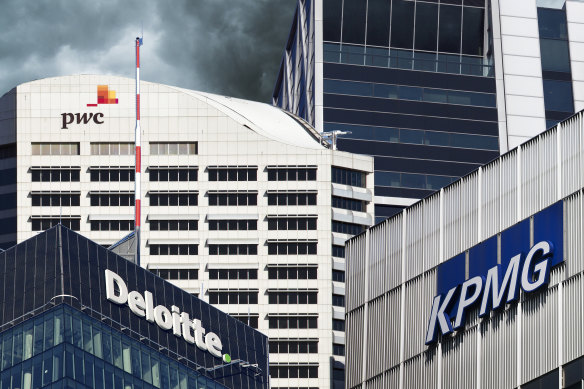 "There is no second misuse of information breach," a PwC spokesman said regarding the tax scandal in which a former partner shared confidential information on combating tax avoidance.
"PwC, like other firms, was asked about disciplinary actions and PwC confirmed it had taken discipline against a partner over an internal process oversight where the partner did not obtain approval for an exclusivity undertaking in an engagement."
PwC also revealed a list of past instances of misconduct, saying that it was aware of 119 separation arrangements that have been entered into over the past five years. While most of these related to underperformance, two related to incidents of sexual harassment and six to bullying. The largest payment related to the separations was $331,282.
The statements were made in reply to questions on notice from Greens senator Barbara Pocock as part of the senate inquiry into consulting firms.
Meanwhile, PwC's rival Deloitte in its response to a question on notice reported that 28 people had been disciplined for the misuse of confidential or proprietary information in 2022 and 2023.
One of the incidents relating to the misuse of confidential information was a substantiated case of the misuse of government information last year, Deloitte said.
The firm added it had also dealt with 38 substantiated claims of sexual harassment over the two years.
"Over the last two years, three partner retirement deeds related to exits from the firm for reasons involving allegations of sexual harassment, bullying or discrimination," Deloitte said.
"In relation to employees, we confirm that over the past two years, a total of 18 employment related separation agreements have been executed with four involving allegations of sexual harassment, bullying or discrimination," it added.
Another of the big four consultancies, KPMG, told the inquiry that 22 people had been fired from the firm over the last two years over code of conduct breaches – including one for sexual harassment.
"None of the reports involved sexual assault," it said of the 12 complaints over the two years," KPMG said.
PwC said in its response to the inquiry that it had dealt with more than 100 complaints of sexual harassment since the 2019 financial year – including 19 last year. It dealt with a further 12 formal complaints of bullying last year.
Earlier this week, the embattled firm said that it would no longer make political party donations as it attempts to rebuild its reputation and business following the tax scandal.
"PwC Australia will no longer make political donations, with none to be made in FY24. This includes payments to attend fundraising events, in-kind donations for event hosting/catering and other direct donations," PwC acting chief executive Kristin Stubbins told the firm's partners on Monday.
PwC has been forced to offload its entire government business to a private equity group Allegro for $1, after its plans to ringfence the business – as part of a plan to avoid conflicts with its private sector business – proved inadequate.
Stubbins said the announcement would be her last as acting chief executive before handing over to new CEO Kevin Burrowes next week.
The Business Briefing newsletter delivers major stories, exclusive coverage and expert opinion. Sign up to get it every weekday morning.
Source: Thanks smh.com