CBA's Matt Comyn warns full rate-rise hit yet to come
Commonwealth Bank boss Matt Comyn says the cost pressure on households will intensify in the months ahead as past interest rate rises flow into consumers' bank accounts, with the bank also highlighting the cost of living pain being felt by younger customers.
Comyn on Thursday appeared remotely before the House of Representatives banking inquiry, saying cases of outright hardship remained low, but there was growing pressure on households from rising interest rates, rents and other costs.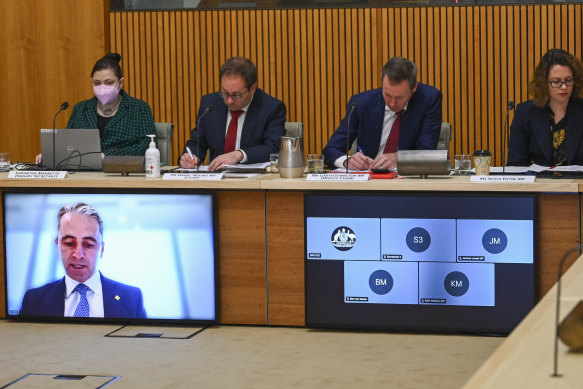 In line with comments from ANZ Bank and National Australia Bank on Wednesday, Comyn said CBA's delinquent mortgages remained very low. However, he said certain groups were feeling the squeeze particularly sharply, singling out people in their early 30s.
The Reserve Bank has increased the cash rate from 0.1 per cent to 4.1 per cent since April last year, as it seeks to squash inflation. Comyn said households had not yet felt the full impact of higher rates because of the large number of borrowers on fixed rates, and the time it took banks to adjust repayments.
Comyn said slightly more than 60 per cent of the cash rate moves announced so far were being felt by households, and this figure would increase to about 85 per cent by the end of the year.
"So you'll continue to see more pressure on households over the course of, let's say, the next six months, even if there isn't further increases in the cash rate, just simply as more customers are coming off fixed rates, rents are continuing to increase, energy prices will continue to go up," Comyn told the committee.
'Cost of living is a real challenge for many families as savings buffers are running down.'

Peter King, Westpac chief
"So it's going to become challenging, and therefore consumption will slow down. The economy will slow."
Comyn said that even though customers were not technically in financial difficulty, there was no question large numbers of people were changing their spending patterns in response to rising costs.
CBA's deputy chief executive, David Cohen, also pointed to the impact on younger customers, saying the biggest decline in spending had been among 25 to 29 year-olds, who may have been affected by rising rents.
Despite these pressures, Comyn said the number of customers failing to make their repayments was "low by historical standards".
Westpac chief executive Peter King also said conditions were getting harder for households, though for now, the bank's stressed loans were at historic lows, and almost 70 per cent of mortgage customers were ahead on their repayments.
"Cost of living is a real challenge for many families as savings buffers are running down. We recognise it will get harder from here and encourage customers to call us early if they need help," King said.
Comyn was also quizzed about the bank's profitability, as part of an inquiry looking at competition, economic "dynamism" and business formation. He agreed the bank made big profits in absolute figures, but he said it needed to be seen in the context of the bank's $1 trillion balance sheet, and "benign" economic conditions.
"The measure of profitability for any industry is less about the size of the profit, it's the return on the capital invested," he said.
Comyn also pointed out CBA was one of the most widely held stocks in Australia, and said there was fierce competition in home loans, highlighting the boom in refinancing.
The Business Briefing newsletter delivers major stories, exclusive coverage and expert opinion. Sign up to get it every weekday morning.
Source: Thanks smh.com