Fortescue says Andrew and Nicola Forrest's split will not affect business
Mining giant Fortescue Metals Group has moved to reassure investors that the marital split between its biggest shareholders, Andrew and Nicola Forrest, will not change control or the direction of the $69 billion company.
After 31 years of marriage, Australia's richest couple announced their decision to live apart on Wednesday evening. "Our friendship and commitment to our family remains strong," said the Forrests, who are known for their business acumen and philanthropy.
In a brief statement to the stock market on Thursday morning, ASX-listed Fortescue said the Forrests' decision would not affect the company's operations.
"There will be no change to the control, direction or major shareholding owned by Tattarang and Dr Forrests' associated entities, except for what has previously been advised, that Dr Andrew Forrest and Nicola Forrest will be transferring their wealth to charity over their lifetime," the mining giant said.
The ASX-listed miner's share price was 0.7 per cent higher, at $22.35 a share, in early trade on Thursday.
Fortescue is one of the largest Australian producers of iron ore, the sought-after raw material needed to manufacture steel in giant blast furnaces, which ranks among the country's single most valuable exports.
The company was founded by Andrew Forrest in 2003, and operates iron ore mines across Western Australia's vast Pilbara region, including the Chichester, Solomon and Western mining hubs.
The Forrests also stressed that their decision to separate would have no impact on the mining business or their charitable foundation, the Minderoo Foundation.
"There is no impact on the operations, control or direction of Fortescue, Minderoo or Tattarang," the couple said.
"We will continue our shared mission to create and gift our wealth to tackle community and global challenges, as recently shown by last month's donation of one-fifth of our Fortescue shareholding to Minderoo Foundation."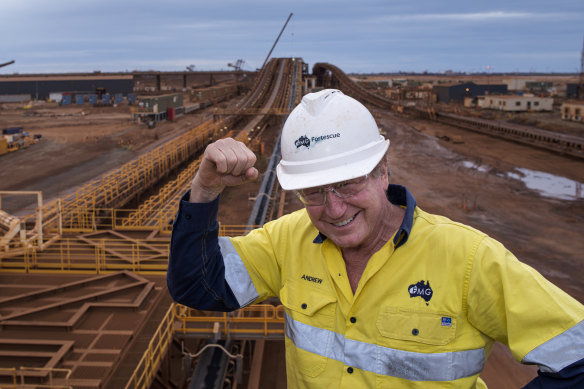 The Forrests' philanthropic organisation has funded a range of initiatives since its inception in 2011, including ocean research, ending slavery and supporting cancer and community projects. Minderoo controls about 30 per cent of Fortescue's shares.
The couple share control of the private investment company Tattarang which has a diverse range of investments across agri-food, energy, health technology, property, resources and lifestyle.
Source: Thanks smh.com