'More than just a supermarket': Why Woolworths is building apartments
Woolworths has sought a rezoning review for the redevelopment of its Neutral Bay site as it expands its strategy of developing apartments above supermarkets in Sydney, Melbourne and Brisbane.
The supermarket giant says its residential building projects are a response to changes in shopping behaviour that have also prompted other initiatives such as drive-through shopping and small-format grocery stores.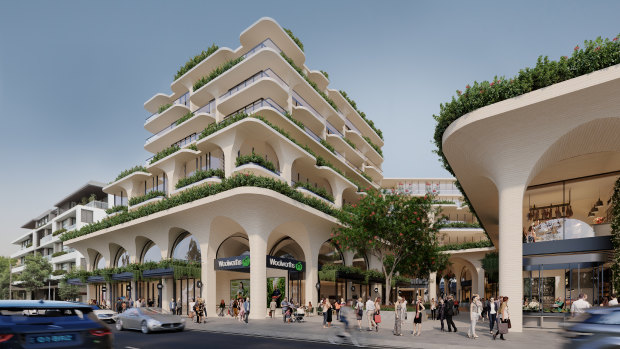 It also plans to build apartments with supermarkets in Waterloo, Rose Bay, Melbourne's Elsternwick and Kangaroo Point in Brisbane.
But, like other property developers, Woolworths has faced opposition to these projects, as seen in the reaction to its plans in Neutral Bay and Elsternwick.
North Sydney mayor Zoe Baker said the council had opposed the Woolworths plan for Neutral Bay because it exceeded permitted building heights and floor-space ratios.
Baker said the retailer, "like any landowner, can build apartments," but a rezoning to permit taller buildings was not necessary to upgrade the supermarket.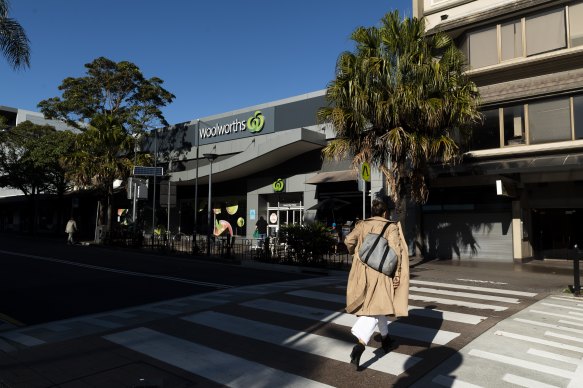 "If the rezoning application is approved, it will provide a massive uplift in value to Woolworths without providing a single affordable housing unit," she said.
Woolworths director of property development Andrew Loveday said mixed-use developments were a response to a demand for shops and services close to where people live.
Loveday said more people wanted to shop closer to home, especially as increasingly dense cities create more congestion on roads and public transport.
"By controlling the development outcome of mixed use developments, it means that we can put the customer and community at the heart of our decision-making, as opposed to being solely driven by residential development objectives," he said.
Loveday said Woolworths had been a property developer for years but its recent move into building apartments "reflects an urban trend of higher density in metropolitan locations".
"If we were to sell the sites we own in inner-city suburbs across the country, it is likely that the development proposals put forward would be apartments only and have no additional amenity at all," he said.
Loveday also said Woolworths differed from other property developers because "we will remain in the development for decades to come".
Retailers are moving away from stand-alone stores as competition for inner-city sites intensifies, said Knight Frank director of investment sales Anthony Pirrottina.
"The grocery industry is notoriously competitive and the primary intention behind most undertaking these mixed-use developments is not to make a profit but to secure a footprint for their new store," he said.
Pirrottina said supermarkets faced stiff competition from other developers for sites large enough for a store.
"The reality is that the only way to acquire a piece of land big enough for the gross floor area they need to build a supermarket in capital city locations is to compete with developers and buy a site earmarked for a mixed-use development," he said.
Other large-format retailers, fast food chains and car dealerships are also moving away from stand-alone stores, Pirrottina said.
"Across the board we are seeing more retail being included in mixed-use and integrated developments in our cities, with stand-alone retail stores becoming less common, particularly as our density increases."
Building apartments not only offers Woolworths an immediate customer base but also makes a development more likely to win approval in locations such as Waterloo with rapid population growth, Pirrottina said.
Committee for Sydney planning policy manager Estelle Grech said it did not make sense to have large, single-use buildings in well-located areas.
"Woollies hasn't been a simple grocer in a long time, it's evolved to meet contemporary needs," she said. "You used to have no choice but to hop in the car to get your weekly supply of groceries but the way we live has changed and the old model doesn't suit a lot of time-poor, working families."
Changes in shoppers' behaviour have also prompted Coles and Aldi to open smaller format stores – although these proposals have also attracted opposition from residents.
Discount supermarket Aldi is targeting city dwellers and commuters with its "Corner Store" format in locations such as Darlinghurst and Newtown in Sydney, and Prahran and Fitzroy in Melbourne.
A Coles spokesman said the supermarket giant focused on property developments with "good retail, supermarket outcomes".
"We do some development partnerships and have delivered within mixed-use spaces … generally inner metropolitan areas and includes apartments, offices, medical centres," he said.
Source: Thanks smh.com