ASX edges lower amid RBA growth concerns, China slowdown
Here's your five-minute guide to the trading day, and how the experts saw it.
The numbers
The Australian sharemarket finished Tuesday in the red, as minutes from the Reserve Bank board's July board meeting failed to cheer investors and China's weak economic growth figures from Monday still weighed on the local bourse.
The S&P/ASX200 closed 0.2 per cent, or 14.7 points lower, at 7,283.8, with most sectors in the red bar healthcare, financials and utilities.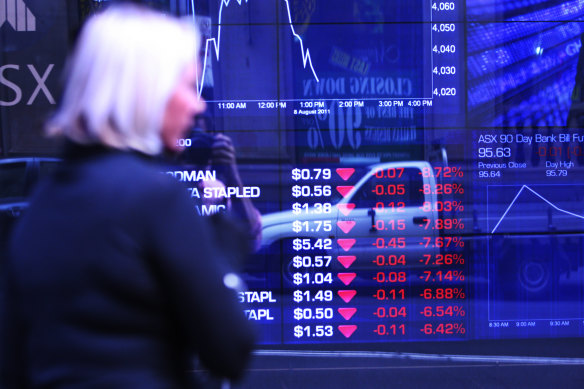 The lifters
The best performer from the S&P/ASX200 was NRW Holdings, rising 5.1 per cent, followed by Afterpay owner Block (2.9 per cent) and energy company AGL (2.8 per cent).
The major banks also performed well, with CBA up 0.7 per cent, NAB lifting 2 per cent, Westpac gaining 0.8 per cent, and ANZ rising 1.7 per cent.
The laggards
Leading the losses were Syrah Resources, plummeting 16.3 per cent, followed by Ansell and Imugene, sliding 14 per cent and 5.1 per cent respectively.
Personal protective equipment maker Ansell shares nosedived after the company revealed it would slow manufacturing for the next year as part of a $50 million cost-saving initiative in the face of economic headwinds.
The big miners also dragged on the index, with Rio Tinto down 1.2 per cent and BHP sliding 1.5 per cent.
The lowdown
The minutes for the Reserve Bank's latest monetary policy meeting, at which the central bank left rates on hold, noted that the economy could slow faster than feared as Australian households feel the squeeze.
The minutes also left the door open to raising rates again. "Members agreed that some further tightening of monetary policy may be required to bring inflation back to target within a reasonable timeframe, but that this depended on how the economy and inflation evolve," they stated.
Analysts from the Royal Bank of Canada thought the RBA board struck a dovish tone and pointed to new references and language that weren't in previous minutes. "The minutes suggested that 'the case to hold the cash rate unchanged at this meeting was the stronger one' and unlike previous meetings, there was no reference to a 'finely balanced' decision," RBC chief economist Su-Lin Ong and macro rates strategist Robert Thompson wrote in a note to clients.
Fortescue Metals finished 1 per cent higher despite claims of stolen data from notorious hacker group Cl0p, which would make the iron ore giant the latest in a long line of privacy breaches following Cl0p's hack of the MOVEit file transfer protocol earlier this year.
Cl0p, which researchers believe is tied to Russia, also claims to have stolen data from various government agencies, universities, law firms and companies, including PwC and Rio Tinto. It typically demands a ransom to prevent publishing of the information. A spokesperson for Fortescue said information had been stolen in May, but that it was not confidential in nature.
Regional airline Rex closed 2.3 per cent higher as shareholders welcomed the news that it had signed eight-year leases for two more Boeing 737s, taking its total fleet of 737 aircraft to nine.
Supermarket giant Woolworths has promised to freshen up its New Zealand stores, revealing plans to invest more than $NZ400 million ($371 million) over the next three years. The investment will include the launch the Everyday Rewards program across the ditch in 2024, as well as renewing shopfronts across NZ and rebranding the 'Countdown' supermarkets brand to 'Woolworths Supermarkets New Zealand' from next year. Investors didn't seem cheered by the news, however, with the supermarket's share price closing 1 per cent lower.
Overnight, Wall Street pushed higher ahead of a week full of updates about where profits for big US companies are heading. The S&P 500 added 0.4 per cent to its highest closing level in 15 months. The Dow Jones gained 0.2 per cent and the Nasdaq composite climbed by 0.9 per cent.
Quote of the day
"We are disappointed that we were only given eight hours' notice and that no consideration was given to discussing the situation to jointly find solutions prior to this decision being reached by the government."
That's the Commonwealth Games Committee after Victorian Premier Dan Andrews pulled the plug on hosting the 2026 Commonwealth Games, which also thrown a potential broadcast deal with Network Seven in the air.
Tweet of the day
You may have missed
Property giant Lendlease's share price slid nearly 5 per cent after announcing it would cut 740 staff across its global business, equal to about 10 per cent of its workforce.
The job cuts will result in a 5 per cent reduction of staff in Australia, with a 15 per cent reduction in staff offshore. The cuts are expected to achieve between $80 million and $100 million in cost savings.
Source: Thanks smh.com