ASX set to dip despite Wall Street gains
Wall Street is edging higher ahead of a week full of updates about where profits for big US companies are heading.
The S&P 500 was up 0.4 per cent in afternoon trading, coming off its seventh winning week in the last nine. The Dow Jones was up 0.2 per cent and the Nasdaq composite was 1.1 per cent higher. The Australian sharemarket is set to slip, with futures at 4.54am AEST pointing to a dip of 14 points, or 0.2 per cent, at the open. The ASX dipped by 0.1 per cent on Monday.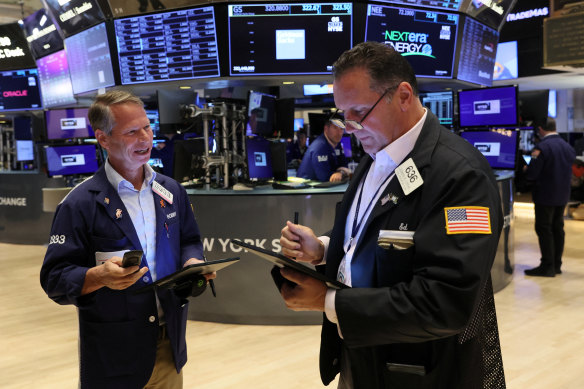 Stocks elsewhere around the world slipped after China reported weaker economic growth for the spring than economists expected. Its recovery following the removal of anti-COVID restrictions has fallen short of forecasts. While that's helped to limit inflation globally, it's also diluted a main engine of growth for the world's economy.
The weak data from the world's second-largest economy helped weigh on crude prices, with benchmark US oil slipping 1.6 per cent to $US74.20 per barrel. Brent crude, the international standard, fell 1.6 per cent to $US78.57 per barrel. The hope among investors is that the disappointing figures will push Chinese authorities to approve more stimulus for their economy.
In the United States, the economy has remained resilient even though an expected boost from a Chinese recovery hasn't materialised. It's managed to avoid a long-predicted recession despite much higher interest rates meant to push down high inflation.
A survey on Monday morning showed that manufacturing in New York state unexpectedly grew, beating economists' expectations for a contraction. Manufacturing has been one of the US economy's worse performing areas.
This upcoming week will offer more details on how the economy has affected companies as corporate earnings season ramps up. Nearly 60 companies in the S&P 500 are scheduled to report this upcoming week how much profit they made from April through June.
Expectations broadly are low. Analysts are forecasting the worst drop for earnings per share among S&P 500 companies since the pandemic was pummelling the economy in the spring of 2020, according to FactSet. They're also forecasting a third straight quarter of declines in profits.
Several banks and Delta Air Lines helped kick off the reporting season last week with reports that were better than feared. This upcoming week will feature reports from Bank of America, Netflix and Tesla, among others.
While last week's earnings reports offers just a small sample size, the season's start is encouraging because of how strong corporate forecasts have generally been for future results, according to strategists at Bank of America.
"We expect the momentum to continue," the strategists led by Savita Subramanian wrote in a BofA Global Research report. They expect earnings declines for S&P 500 companies to bottom out this reporting season.
Also coming up this week will be the latest monthly update on sales at US retailers. Strong spending by US consumers has been one of the main reasons for the economy's resilience, driven by a remarkably sturdy job market.
Such resilient data dovetailed with inflation that's recently been on the decline have helped launch Wall Street higher this year. The hope among investors is that all of it together will push the Federal Reserve to soon put a halt to its blistering campaign to raise interest rates.
To be sure, the stock market's big run this year also has critics warning it's gotten too sure of itself. It's still not a certainty yet that the economy will avoid a recession, that inflation will continue to coast lower and that corporate profit growth will indeed recover.
The wide expectation is for the Fed to raise rates at its meeting next week, which would take the federal funds rate to its highest level since 2001. But the hope among traders nevertheless is that will be the final hike of this cycle.
Easier interest rates help all kinds of stocks, but investors see big technology and other high-growth stocks as some of the biggest beneficiaries.
Several were helping the market to rise Monday, including Tesla, which added 2.6 per cent. Tesla also said over the weekend that its first production Cybertruck electric pickup has rolled off the assembly line, though that was nearly two years behind the original schedule.
Activision Blizzard climbed 3.7 per cent after a US appeals court rejected a bid by regulators to block the video game maker's $US68.7 billion ($100.7 billion) purchase by Microsoft. Microsoft also said on Sunday it agreed with Sony to keep the popular Call of Duty series on the PlayStation console following its acquisition of Activision Blizzard, a move that could help ease regulators' worries about the deal.
Microsoft's stock was little changed.
On the losing end was Ford, which fell 5.3 per cent. It cut the sticker price on its F-150 Lightning electric pickup by thousands of dollars.
In markets abroad, stocks in Shanghai slipped 0.9 per cent following the weak Chinese economic data, and South Korea's Kospi slipped 0.4 per cent. Markets in Japan were closed for a holiday and Hong Kong's market was shuttered due to a typhoon.
In Europe, the losses were modest outside of a 1.1 per cent drop for France's CAC 40.
In the bond market, Treasury yields were little changed.
The yield on the 10-year Treasury slipped to 3.81 per cent from 3.84 per cent late Friday. It helps set rates for mortgages and other important loans.
The two-year Treasury yield, which moves more on expectations for Fed actions, slipped to 4.72 per cent from 4.77 per cent.
AP
The Market Recap newsletter is a wrap of the day's trading. Get it each weekday afternoon.
Source: Thanks smh.com