Woodside's African oil delayed as costs jump
Woodside has pushed back the first production from its West African oil project by six months to resolve unexpected problems on a production vessel under construction in Singapore.
Production on the Sangomar project in Senegal is now scheduled to start in mid-2024, six months later than previously expected. The project was approved by Woodside in early 2020.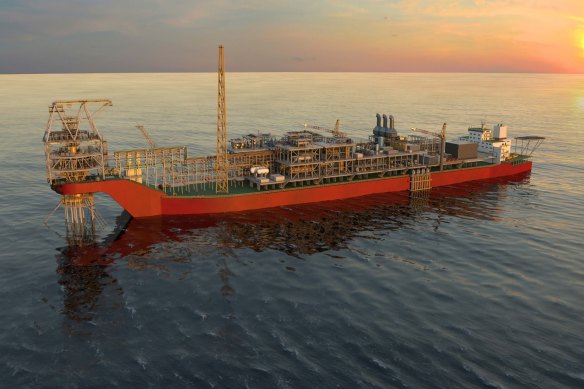 The ASX-listed energy giant has also been forced to revise the overall costs associated with Sangomar, with the cost to develop the project off the coast of Senegal going up 24 per cent to $US4.9-5.2 billion ($7.2-$7.6 billion).
Perth-based Woodside reviewed the project's cost and schedule after problems requiring repair were found in the floating production and storage vessel being completed in Singapore.
Woodside chief executive Meg O'Neill said the unexpected remedial work would be done in the shipyard.
"This minimises the impact to the project schedule as it is safer, more efficient and more cost-effective than undertaking the work offshore [in] Senegal," she said.
The cautious approach contrasts with some operators of Australia's burst of gas export projects last decade – including Shell's Prelude and Inpex's Ichthys – that rushed incomplete facilities out of Korean shipyards. They later required lengthy and expensive work conducted offshore.
Away from the shipyard, 12 of the 23 wells required for Sangomar have been drilled, and the overall project is 88 per cent complete.
A note from investment analysts E&P said the setback might alter investor perception that Woodside was improving its ability to deliver projects on time and on budget. E&P said this was important as Woodside was in the early stages of the Scarborough gas project in WA and the Trion oil development off the coast of Mexico.
Woodside operates and owns 82 per cent of Sangomar, which is expected to produce about 230 million barrels of oil in its first stage. When the project was approved in January 2020, Woodside had just a 32 per cent stake but has twice had to increase its shareholding to keep the project on track.
In December 2020, it bought Cairn Energy's 36 per cent after the UK company moved to sell out to Russia's Lukoil, which could have resulted in the project coming under US sanctions. Woodside acquired another stake from ASX-listed energy minnow FAR, which was unable to finance its share of the capital cost of the project, in 2021.
In mid-2022, Woodside abandoned its attempt to sell down its interest. The delay at Sangomar does not affect Woodside's production guidance for 2023.
Woodside shares were down less than one per cent to $35.65 a share in midday trading. The company will release its second-quarter results on Wednesday.
Source: Thanks smh.com