Offshore wind power developer surveys Bass Strait in race for first permits
Japanese-owned wind power developer Flotation Energy is pressing ahead with a bid to build one of Australia's first offshore wind farms, signing off on tens of millions of dollars of works to begin assessing the marine environment in Bass Strait.
Flotation Energy is one of more than two dozen local and international companies vying to secure permits to develop projects off Victoria's Gippsland coast after the Albanese government last year declared it Australia's first designated zone for offshore wind projects.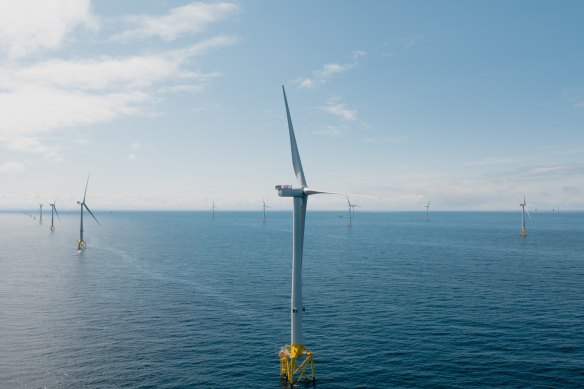 The company, owned by utilities giant Tokyo Electric Power Company, is looking to gain a head start on the environmental approvals process that will be needed to develop its proposed 1.5-gigawatt Seadragon wind project before the end of the decade.
Licences for potential offshore wind projects are not due to be awarded until later this year. However, Flotation will on Wednesday announce it has struck a $22 million deal with contractor RPS to start two-and-a-half years of detailed environmental surveys in the Bass Strait, including monitoring the movements of whales, dolphins, sharks, seals and birds.
Flotation hopes beginning these works early will ensure it can deliver the project by its targeted completion date of 2030 and start supplying clean energy into the eastern seaboard's electricity grid.
Carolyn Sanders, Flotation Energy's head of Australian operations, said the company was using its global expertise to ensure a "smooth and efficient" delivery of the wind farm project off Ninety Mile Beach. If it proceeds, the proposed wind farm would include up to 150 wind turbines and a network of subsea cables.
"A significant part of this is commencing environmental surveys now so our project can be delivered on schedule, and as promised – by 2030 – deliver power to one million homes," Sanders said.
Waters off the Victorian coast are considered world-class for their untapped potential to host large offshore wind farms, with strong and consistent wind speeds, relatively shallow ocean areas less than 50-60 metres deep, suitable for fixed-platform wind turbines, and access to ports that can support construction, operation and maintenance requirements.
Flotation Energy is among up to 30 companies, including Macquarie, European energy major Shell and Denmark's Orsted, hoping to secure one of just a few feasibility licences to begin developing huge wind projects in the area.
The Victorian government last year said it was aiming to source about 2 gigawatts – or 20 per cent of the state's total power needs – from offshore wind by 2030, before doubling to 4 gigawatts by 2035 and 9 gigawatts by 2040.
The government has committed about $40 million for feasibility studies and for the pre-construction development for three major offshore wind proposals, including Flotation Energy's Seadragon, Star of the South, and a project backed by Macquarie Group.
Star of the South, a proposed 2.2-gigawatt wind farm backed by Copenhagen Infrastructure partners and Australian superannuation fund Cbus, is the most advanced Australian offshore wind farm plan.
Flotation Energy, which has 3.3 gigawatts of deep-water wind projects in the United Kingdom, said its surveys of the marine environment in the Bass Strait would assess the area's use by whales, seals and other marine mammals, fish and sharks, seabirds, shorebirds and migratory birds. The investigations will involve tagging and tracking of mammals, birds and sharks, deployment of passive acoustic monitors to listen for marine mammals, aerial surveys, boat-based surveys, towed video and baited cameras, grab sampling and environmental DNA analysis, the company said.
If Flotation Energy succeeds in obtaining a feasibility licence, the survey data will inform the company's environmental approvals applications and minimise the project's environmental impact.
Offshore wind is one of the fastest growing sectors of renewable energy across the globe. Proponents say offshore turbines can harness stronger and more reliable winds than onshore assets, and suggest that situating turbines out at sea could also reduce the risk of projects facing objections from nearby communities concerned about visual and environmental impacts.
The Business Briefing newsletter delivers major stories, exclusive coverage and expert opinion. Sign up to get it every weekday morning.
Source: Thanks smh.com