Endeavour calls on states to work together on gambling reform
Endeavour Group boss Steve Donohue has urged state and territory governments to work more closely together when considering policies to fight problem gambling, as the hotels' operator promises to get a jump on implementing gaming reforms unveiled in Victoria this week.
Donohue said on Thursday that Endeavour, one of the largest operators of poker machines in the country, has written to state governments calling for a "more co-ordinated and collaborative approach" and to make sure that knowledge is shared across all states on proposals such as cashless gaming and facial recognition technology.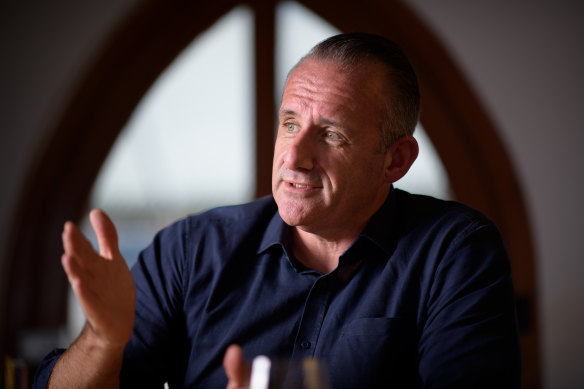 He said there was room for the states to share more insights with each other about the impact and efficacy of different policy measures.
"What we are saying is we think there is an opportunity for deeper collaboration and more co-ordination in relation to various approaches, suggestions and ideas," he said.
"We can learn from the experiences that each state and territory is having."
A spokesperson for New South Wales Gaming and Racing Minister David Harris said the state was committed to working with all stakeholders to deliver evidence-based gambling reform.
"We will be paying very close attention to the activities of other jurisdictions, such as the Victorian government and the evidence they unearth through the work of their implementation working group," they said.
"Just this week the minister met with the ACT minister for gaming to continue collaboration and discussion on gambling reform across jurisdictions."
Endeavour told shareholders on Thursday that the company would move swiftly to implement changes after the Victorian government unveiled proposed reforms to gaming machine regulations on Sunday.
The state's plan for reducing gambling harm includes slower spin times for games, mandatory closing periods for gaming room floors, mandatory pre-commitment limits and a load-up limit of $100, which will cap how much an individual can put in a machine at a time.
Endeavour confirmed it would adjust the hours of gaming machine areas at its ALH Hotels in Victoria, so they close between 4am and 10am by August 31; 10 months ahead of the government's proposed timeline.
This would bring Victoria's rules in line with operating-hours regulations in NSW and South Australia.
The company also confirmed it supported the $100 load-up limit and would bring this into operation for Victorian machines "as soon as is practicable".
Shares in the business closed 9.9 per cent weaker on Monday as investors and analysts considered what impact the reforms would have on the group's earnings.
Goldman Sachs analysts said on Monday that the exact impact would be difficult to estimate, but said it could lower earnings by 0.5 per cent to 1.8 per cent during the 2024 financial year.
E&P Financial analyst Philip Kimber said policies such as the $100 load-up limit were likely to have a smaller impact on Endeavour's financials than the Victorian government's policy on pre-commitment limits.
"There is no change to our view that the Victorian government proposal with the potential to have the most material impact on electronic gaming machine spend in Endeavour's Victorian pubs is mandatory pre-commitment limits [via carded play]," he said in a note to clients on Thursday.
Endeavour shares opened stronger but did not maintain momentum during Thursday's session as the broader market stayed flat. The stock was up 0.3 per cent to $5.91 in late afternoon trade, but still down by 5.6 per cent over the past five days.
The Business Briefing newsletter delivers major stories, exclusive coverage and expert opinion. Sign up to get it every weekday morning.
Source: Thanks smh.com