Irene Falcone's drinks empire Sans Drinks in voluntary administration
Non-alcoholic wine, spirits and beer brand Sans Drinks has appointed voluntary administrators to the business, but founder Irene Falcone has insisted the business is being restructured and not collapsing.
ASIC records show that The Non Alcoholic Drinks Co Pty Ltd, trading as Sans Drinks, appointed insolvency firm Jirsch Sutherland's Andrew Spring and Peter Moore as administrators earlier this week.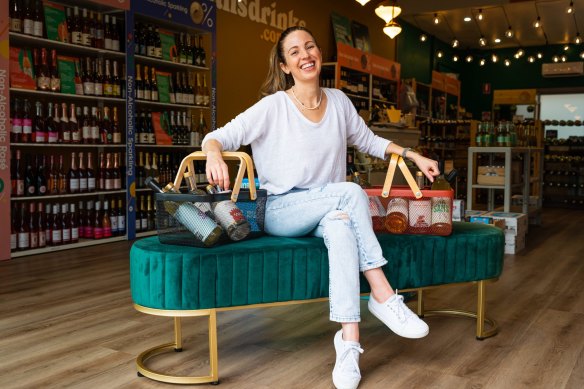 Sans Drinks was founded as an e-commerce retailer in 2020 after Falcone sold her first business, Nourished Life, to now-collapsed beauty empire BWX.
Falconesaid that despite appointing administrators, the business had not collapsed.
"I'm just restructuring the business," she said. "Everything is still trading as normal."
The pullback in retail spending had hurt sales, Falcone added, and she was not able to continue investing her own money into the business.
"I'm restructuring the company to only stock more select brands and focus on my own brands. There's a lot of unravelling to do actually and paperwork to do, so I'm getting some help with that."
"All of the losses in the business, I carry them all myself personally."
Falcone opened a Sans Drinks bricks-and-mortar store in Warringah Westfield earlier this year, but decided against renewing the lease and to shutter its doors.
Despite Dry July, foot traffic had been "shockingly slow", and she pointed to a combination of factors including fierce competition with supermarket retailers and lower sales volumes as the reason she was choosing to scale down the business.
"So I've moved it to be all online, which is back to what I'm good at. And now instead of selling all the brands, I'm just selling a smaller selection of my bestselling brands and keeping it targeted and tight."
Jirsch Sutherland's partner Andrew Spring confirmed it was unlikely the business would be sold. "It's still early days in the investigation and the Jirsch Sutherland team is undertaking a review to understand the business, do a financial assessment, and work closely with the director to find a solution," Spring said in a statement. "Jirsch Sutherland continues to trade the business and the website is still operating and available."
Falcone is the company's largest creditor, Spring added, injecting about $1 million in the business.
Cash flow platform Selectpay is the company's sole general security holder and is owed about $190,000.
In April, Falcone said Sans Drinks was on track to turn over $10 million in the 2023 financial year, and that the strong cash flow would help her set up Sans World, a rival site to Nourish Life, which she said languished under BWX management after she sold it.
"Sans World will be inner and outer health and beauty without the chemicals. There will be a very strong focus towards women's health, things like menopause and perimenopause, products for all three generations of women; teenagers, mums, and all the way through to grandmas and what they need to live a healthy, toxin-free life," she said at the time.
At the time of publishing, Sans Drink's social media pages did not indicate the business has gone into administration. Its most recent Facebook post dated July 14 touts a gin substitute.
Jirsch Sutherland will host a first creditors' meeting on July 27, with the second meeting to be held about a month from now.
Source: Thanks smh.com