ASX set to inch higher; Tesla, Netflix weigh down Wall Street
Stocks are slipping following a mixed set of profit reports, forcing a cooldown for Wall Street's torrid rally.
The S&P 500 was 0.6 per cent lower in afternoon trading, coming off its highest close since early April 2022 and its seventh gain in the last eight days. The Dow Jones was up 0.6 per cent and the Nasdaq composite was 2 per cent lower and on track for its worst drop in six weeks. The Australian sharemarket is set for a positive start despite the negative lead, with futures at 5.06am AEST pointing to a gain of 6 points, or 0.1 per cent, at the open. The ASX edged up on Thursday.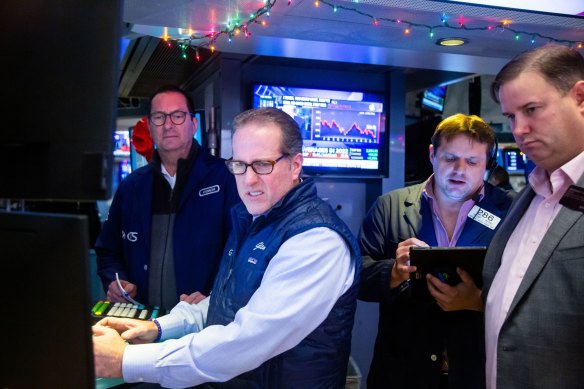 Two of the most popular stocks, Netflix and Tesla, helped weigh on the market after the companies reported how much profit they earned during the spring.
Tesla tumbled 9.2 per cent despite reporting stronger profit and revenue than expected. Analysts said investors may be concerned about how profitable the electric vehicle maker will be after cutting prices. Planned factory downtime during the summer for upgrades could also weigh on its upcoming results.
Because Tesla is one of the most valuable companies on Wall Street, its stock movements carry extra weight on the S&P 500 and other indexes.
Netflix sank 8.5 per cent despite also reporting stronger profit than expected. One important measure for the company, how much revenue it makes from paid memberships on average, fell during the quarter from a year earlier.
Tesla and Netflix are two of the first huge tech-oriented companies to report their profits for the spring, and a lot is riding on the results. Big Tech stocks have rallied hard this year and been the primary reason for the S&P 500's big gains. Netflix is still up 48 per cent for the year so far, and Tesla has more than doubled.
If big tech stocks don't produce the profits to justify the big moves, it could put the rally at jeopardy. Other huge winners from early this year also slid, weighing on the market. Nvidia fell 2.6 per cent, though it remains 134 per cent higher for the year so far.
Across the rest of Wall Street, companies reported a mixed set of results.
Zions Bancorp. rose 10.8 per cent after reporting stronger profit and revenue for the quarter than expected. It also said customers added $US2 billion ($3 billion) in deposits, or 3.2 per cent, over the last three months, which it called a "solid' number.
Truist Financial sank 6 per cent after reporting weaker revenue than expected. It also said average deposits decreased 2.1 per cent from earlier this year, though its profit topped expectations.
Banks have been under heavy scrutiny since three failed earlier this year under the heavy weight of high interest rates. They all buckled under the pressure of customers suddenly pulling out their deposits all at once.
The biggest loss in the S&P 500 came from Discover Financial, which slid 15.5 per cent. Its results for the latest quarter fell short of forecasts, and it disclosed it was working with regulators to resolve an accounting error dating back to 2007 that misclassified some credit card accounts. It also said it was pausing buybacks of its stock while it conducts an internal review.
Doing the most work to limit the S&P 500's losses was Johnson & Johnson. It rose 6.3 per cent after reporting profit and revenue that both topped expectations for the latest quarter. It also raised forecasts for financial results for the full year.
Johnson & Johnson's rally was the main reason the Dow was able to rise, and it's heading for ninth straight gain.
In the bond market, yields were climbing after a report suggested the job market remains remarkably solid. Fewer workers applied for unemployment benefits last week than expected, an indication that layoffs aren't worsening.
The strong job market has helped U.S. households continue spending despite much higher interest rates meant to bring down inflation, and that has helped keep the economy out of a long-predicted recession.
Inflation has been on the way down since last summer, which has many traders hoping the Federal Reserve's next hike to interest rates, expected next week, will the last of this cycle. That has many investors betting on what earlier looked like a long-odds result: The economy can outlast high inflation, and upcoming, easier interest rates will allow economic growth and corporate profits to keep rising.
But after Wall Street's big rally this year, some professionals are cautioning investors not to get carried away.
The economy continues to face changes from still-high inflation and interest rates, with cuts to rates unlikely before March, according to Gregory Daco, chief economist at EY. He also pointed to possible strikes by unions and repayments on student loans as some of the vulnerabilities that could dent the economy. That's begging something that he calls "nuanced optimism and realism."
The yield on the 10-year Treasury rose to 3.85 per cent from 3.75 per cent late Wednesday. It helps set rates for mortgages and other important loans.
The two-year Treasury yield, which moves more on expectations for the Fed, climbed to 4.84 per cent from 4.77 per cent.
In markets abroad, stocks were higher across much of Europe and lower across much of Asia.
AP
The Market Recap newsletter is a wrap of the day's trading. Get it each weekday afternoon.
Source: Thanks smh.com