Tech stocks drive ASX lower on back of Wall Street woe
The Australian sharemarket slid lower on Friday morning after share price falls in major US tech stocks put an end to Wall Street's rally.
The S&P/ASX200 was down 0.3 per cent, or 19.6 points, to 7,305.4 points at 10:20am AEST with local tech stocks driving the losses after heavy falls on. Healthcare and consumer staple stocks were the only bright spots in a sea of red.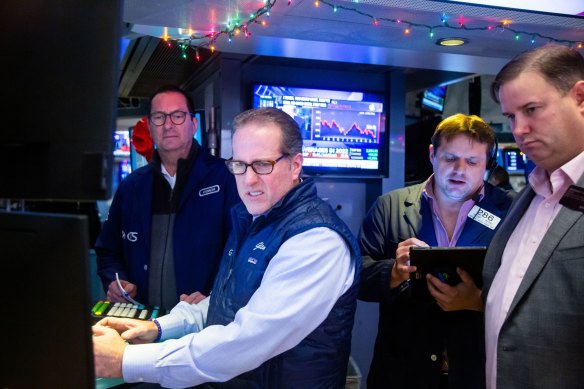 Newcrest Mining (down 4.7 per cent), Mineral Resources (down 4.4 per cent) and Perseus Mining (down 3.9 per cent) are at the bottom of the pack, while Ingenia Communities Group (up 2.9 per cent), Coronado Global Resources (up 2.2 per cent) and Imugene (up 2 per cent) are the top performers so far this morning.
Shares in Rivers and Noni B owner Mosaic Brands rocketed up by more than 50 per cent at the open after a trading update confirmed the company would swing back into profit for FY23.
The business said it expects to report a $17 million earnings profit for the year, compared with a $16 million loss last year.
Boss Scott Evans said that while the group's core customers are not immune to cost of living pressures, they are not the most exposed to the current economic challenges either. "Clearly over-50 consumers have become more cautious in the last six months, but they are still spending," he said.
Overnight, the S&P 500 fell by 0.7 per cent, coming off its highest close since early April 2022 and its seventh gain in the last eight days. The Nasdaq composite dropped 2.1 per cent and its worst loss in more than four months. The Dow Jones was an outlier and up 0.5 per cent because it has less of an emphasis on tech stocks.
Tesla tumbled 9.7 per cent despite reporting stronger profit and revenue than expected. Analysts said investors may be concerned about how profitable the electric vehicle maker will be after cutting prices. Planned factory downtime during the summer for upgrades could also weigh on its upcoming results.
Because Tesla is one of the most valuable companies on Wall Street, its stock movements carry extra weight on the S&P 500 and other indexes.
Netflix sank 8.4 per cent despite also reporting stronger profit than expected. One important measure for the company, how much revenue it makes from paid memberships on average, fell during the quarter from a year earlier.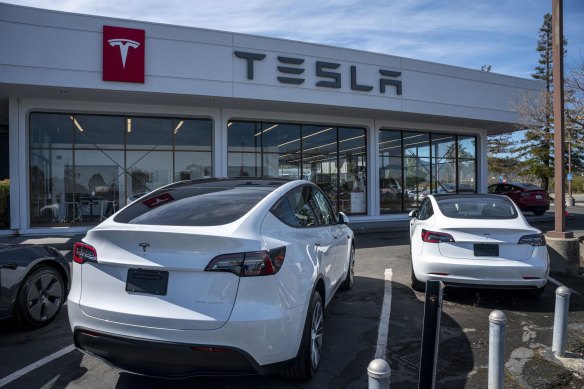 Tesla and Netflix are two of the first huge tech-oriented companies to report their profits for the spring, and a lot is riding on the results. Big Tech stocks have rallied hard this year and been the primary reason for the S&P 500's big gains. Netflix is still up 48 per cent for the year so far, and Tesla has more than doubled.
If big tech stocks don't produce the profits to justify the big moves, it could put the rally at jeopardy. Other huge winners from early this year also slid. Nvidia fell 3.3 per cent, though it remains 211.5 per cent higher for the year so far.
Doing the most work to limit the S&P 500's losses was Johnson & Johnson. It rose 6.1 per cent after reporting profit and revenue that both topped expectations for the latest quarter. It also raised forecasts for financial results for the full year.
Johnson & Johnson's rally was the main reason the Dow was able to rise for a ninth straight day.
In the bond market, yields climbed after a report suggested the job market remains remarkably solid. Fewer workers applied for unemployment benefits last week than expected, an indication that layoffs aren't worsening.
With AP
Source: Thanks smh.com