Pay, sexual harassment and fraud claims put heat on consulting industry
From multimillion-dollar pay packets and allegedly fraudulent schemes, to sexual harassment claims and lack of transparency around wrongdoing in the consulting industry, the Senate inquiry into the multibillion-dollar sector lifted the lid on everything this week.
Now into its third round of hearings, the inquiry heard from consulting giants Deloitte, EY and Accenture, as well as other experts and former consultants. The probe was set up after the PwC tax leak scandal in which a partner marketed confidential information about government tax plans to clients.
The heat was also on the sector outside the hearings this week, with revelations in this masthead that a former Deloitte partner was using Department of Defence documents he obtained while working at the firm as part of his new private business.
And in further fallout for PwC, partner Richard Gregg has taken legal action for attempts to "exit" him over the tax scandal, accusing the firm of failing to follow due process.
But back to the actual inquiry. The top brass from big consulting firms such as EY, Accenture and Deloitte did their best to impress on the inquiry just how different they were from the scandal-ridden PwC, which was forced to sell its government business for $1 this month in order to save it.
EY Oceania chief executive David Larocca referred to the conduct that had triggered the inquiry as "deeply disturbing".
"The consequences of this conduct are very serious and are damaging to public trust and, therefore, to our entire industry," Larocca said.
But what the inquiry found deeply disturbing was the lack of candour from the assembled bosses when it came to answering questions as simple as: "How much are you paid?"
Deloitte boss Adam Powick was among those arguing this was "highly confidential and commercially sensitive" information. The same argument was used when the committee demanded a copy of the firm's partnership deed.
His cause was not helped on Friday when KPMG took the unprecedented step of releasing to the inquiry its entire partnership deed, which has now been made public.
"They talk ethics, they talk openness. The reality is we are still waiting for critical answers and it's time we had them," Greens Senator Barbara Pocock said.
Liberal senator Richard Colbeck was not in the mood to indulge the firms, either.
"I think the variance in what information that's been provided to me depends on how much pressure each individual business thinks that it's under. And I say to all businesses, you are all under extreme pressure here," he said.
The grilling was brutal for Powick after he did reveal his annual pay was in the $3.5 million "ballpark".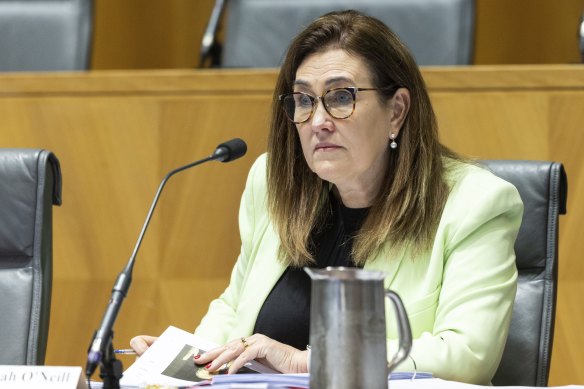 Labor Senator Deborah O'Neill asked if he was "really worth seven times the salary of the prime minister?"
"No," Powick replied.
The Deloitte boss was less forthcoming when it came to the allegedly fraudulent investment scheme run by former partner Amberjit Endow while he was still with the firm, other than to confirm he remains an investor and is owed money.
Worried investors, who estimate the suspected fraud could involve tens of millions of dollars, have been unable to contact Endow since December.
Pocock repeatedly asked Powick during the hearing when he became aware of the scheme. He said he was not prepared to talk about it.
"That's information that I consider to be personal and private," Powick said.
"Well, I don't," replied Pocock.
"Well, I do," said Powick.
Deloitte Australia chairman Tom Imbesi said that an internal investigation – which followed this masthead's reports in February this year – found 12 partners had personally invested in the scheme, but that no internal policies had been breached.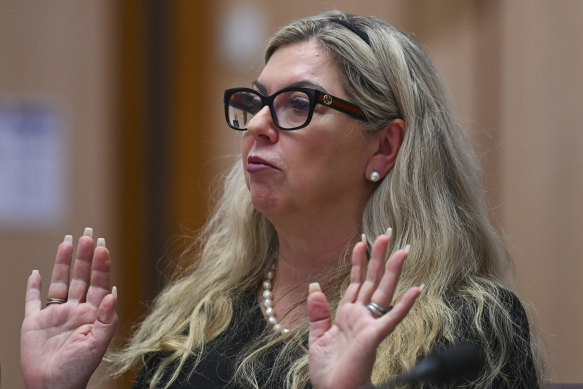 "Our view is that the scheme was not sanctioned or endorsed by the firm, or any individuals that chose to invest in that arrangement," Imbesi said.
More worrying for the inquiry was how little regulatory oversight of the sector there remains. This became apparent when the firms were probed about the laundry list of wrongdoing and disciplinary action taken over bullying, sexual harassment and other issues.
EY said it has fired eight partners in the past two years for misconduct that includes sexual harassment, bullying and dishonesty. KPMG told the inquiry that 22 people had been fired from the firm over the past two years over code of conduct breaches – including one for sexual harassment.
Deloitte reported 121 substantiated misconduct matters last year resulting in 28 staff being fired, including four partners.
Only one of the 121 Deloitte matters was referred to an external regulatory body. Even Imbesi agreed that the regulatory issue needs to be addressed.
He's not the only one.
"What's been demonstrated here is a complex and failing regulatory system, and a complete lack of responsibility in the sector for identifying people who breach the sector's [conduct codes]," O'Neill told the inquiry.
She seized on the lack of disclosure which meant a partner fired from one firm could easily continue working elsewhere.
"Where is the transparency? And these people you're talking about – who exited – could well be a consultant that can get a job with the government and they say, 'I used to work for Deloitte'," O'Neill said.
The issues within the consulting firms are long-standing.
Former director of PwC's transfer pricing practice in Brisbane, Tracey Murray, who left the firm in 2004, told the inquiry that the partnership model in large firms drove a mentality of profit before anything else.
"I think the ethics get wobbly when you try and win clients," she said.
Professor Brendan Lyon, a former KPMG partner turned whistleblower, said a royal commission may be the best way to get to the bottom of the industry and work out what changes are needed.
"I think there are four big rotten barrels with some good apples sitting within them, and that's one of the reasons that I think a royal commission is probably warranted," he told the hearing.
"Certainly, if the experience I had in my work for New South Wales is repeated across the Commonwealth, I think the taxpayer has a lot to worry about."
But the senators believe it is too early to make that call. O'Neill said the inquiry was just one of several serious investigations, including two other parliamentary committee investigations and a federal police case.
PwC has also been referred to the National Anti Corruption Commission.
"There's a job of work for us to do yet," O'Neill said during a break in the hearing.
"If we get to a point, however, where it becomes apparent that there needs to be further powers and further investigation that is unable to be met by the powers of the Senate, then I will be one of the first to call for a royal commission."
The senators will meet in the first week of August to decide next steps, which will include further public hearings. The committee's final report is due by November 30.
The Business Briefing newsletter delivers major stories, exclusive coverage and expert opinion. Sign up to get it every weekday morning.
Source: Thanks smh.com