Adidas and Kanye's secret battle over $148 million fund
By
Bob Van Voris

and

Kim Bhasin
Beneath the very public collapse of Adidas AG's multibillion-dollar sneaker deal with Ye, formerly known as Kanye West, is a private legal battle over a $US100 million ($148 million)-a-year marketing fund.
The fund, from which Adidas claims the rapper diverted $US75 million, has come to the fore as the two sides trade accusations behind closed doors over the partnership that imploded last year, sending the German apparel maker reeling.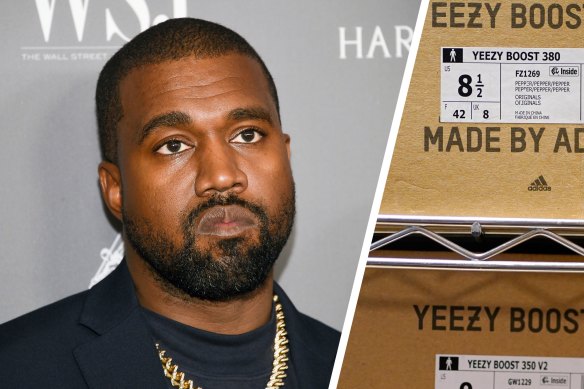 Details of the dispute, which is being conducted through an arbitrator, had been closely guarded until they were accidentally revealed in a related hearing in May, when the parties' lawyers discussed them in open court. Bits and pieces of the conflict have also been seeping out in legal filings, including one in which Adidas alleges that the hip-hop artist formerly known as Kanye West and his fashion brand Yeezy LLC "mishandled virtually all of the marketing funds" — including by deploying them for unauthorised purposes.
"There is nobody in the courtroom, your honour, other than the parties and their counsel," Mark Goodman, an attorney for Adidas, told US District Judge Valerie Caproni at the hearing in Manhattan as he prepared to talk about information submitted under seal.
"That's fine," Caproni said, according to a transcript of the hearing. "Be aware it's possible a reporter could walk in at any time."
And then one did. The lawyers, who didn't notice, went on to discuss the previously undisclosed marketing fund that Adidas executives had put in place.
'Economic rubble'
Adidas claims that last year it paid $US50 million ($74.3 million) into a Yeezy bank account in Wyoming, where the rapper/designer used to live, and $US25 million into Yeezy's JPMorgan Chase account in New York, all to be put in a special pot for marketing. Instead, it alleges, the money was immediately transferred into a separate, general account where it was commingled with other Yeezy funds, in violation of their agreement.
Source: Thanks smh.com