ASX lifts as Wall Street kicks off crucial week with gains
The Australian sharemarket has continued to build on its early morning gains, also reflecting a cheerful Wall Street which was looking ahead to a week full of updates on where interest rates and profits for some of the stock market's most influential companies are heading.
The S&P/ASX 200 was up 0.5 per cent, or 33.7 points, to 7340.1 points at 1.10pm AEST, as materials and energy stocks lifted the bourse.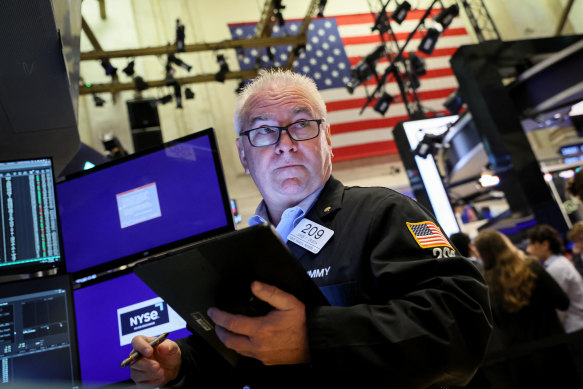 Sayona Mining is the day's best performer so far, with an 8 per cent gain, followed by Pilbara Minerals with 7.5 per cent. Chalice Mining also rose 5.9 per cent.
Meanwhile, Domino's Pizza is at the bottom of the bourse, down 6.2 per cent after its second quarterly results showed that revenue of $US1.02 billion ($1.5 billion) undershot analysts' expectations of $US1.07 billion. Core Lithium, which started the day at the bottom of the pack losing nearly 12 per cent of its share price in the morning, has regained some ground and is down 4.9 per cent. Credit Corp Group is also floundering, down 3.3 per cent.
Market heavyweights BHP and Rio Tinto are also lifting the share market, with gains of 3.9 per cent and 3.8 per cent, respectively.
Wall Street ticked higher overnight to start a week full of updates on where interest rates and profits for some of the stock market's most influential companies are heading.
The S&P 500 rose by 0.4 per cent. The Dow Jones gained 0.5 per cent and the Nasdaq composite added 0.2 per cent.
Roughly 30 per cent of companies in the S&P 500 are scheduled to tell investors this week how much they earned from April through June. Key among them are three big tech behemoths that have grown so large that their stock movements often dictate where the S&P 500 goes.
Alphabet, Meta Platforms and Microsoft will all report their results this week, and they're three of the seven stocks that accounted for the majority of the S&P 500's gain in the first half of the year. Each of the three has soared at least 37 per cent for this year so far, and they'll need to deliver strong numbers to justify their big rallies.
The market's top stocks have become so big and their movements so influential over the market that Nasdaq rebalanced its Nasdaq 100 index before trading began on Monday, to lessen the impact some stocks have on the overall index.
Perhaps even more important than how profits at the Big Tech titans go is what the Federal Reserve will say Wednesday at its latest meeting on interest rates.
The wide expectation is that the Fed will raise its federal funds rate again, to its highest level since 2001, as it fights to bring inflation down. But the hope among traders is that will be the final increase of this cycle because inflation has been cooling since last summer.
A report on Monday suggested the US services industry is continuing to grow, but at a slower pace than economists expected. On the upside for the economy, the preliminary report from S&P Global also suggested US manufacturing isn't doing as badly as feared. Overall, growth in business activity during July appears to be at its slowest in five months.
Stocks have rallied hard this year, and the S&P 500 is up 18.6 per cent on hopes the economy can continue to grow as inflation cools enough to get the Fed to not only stop hiking rates but to begin cutting them next year. Such a not-too-hot and not-too-cold outcome would mean the Fed pulls off a tricky "soft landing" for the economy.
"A lot would need to go right for such an outcome, in our view," strategists at BlackRock Investment Institute wrote in a report. Rate hikes take a notoriously long time to take full effect across the economy, and they can cause unanticipated parts of it to break.
The BlackRock strategists also warned that profits may be under pressure in the second half of the year as increased wages for workers eat into profit margins.
The big run for stocks in the S&P 500 this year also leaves them looking expensive compared with history, even outside the big seven stocks that have driven most of the gains, according to Doug Ramsey, chief investment officer of The Leuthold Group.
He calls this "another chance to buy high" after the market's rebound from the 2020 COVID crash.
In the bond market, the yield on the 10-year Treasury rose to 3.87 per cent from 3.84 per cent late Friday. It helps set rates for mortgages and other important loans.
In markets abroad, European stocks were mixed after data suggested manufacturing and services industries across the continent are weaker than expected. The European Central Bank will meet on interest rates Thursday.
AP
Source: Thanks smh.com