Newcrest slows mining at NSW flagship site amid dust pollution warnings
Newcrest, one of the largest Australian gold miners, has reduced underground mining rates at its flagship Cadia mine in New South Wales after the state's environmental watchdog found it was failing to comply with clean air standards.
The Environmental Protection Authority (EPA) in June determined that the giant Cadia mine near Orange was releasing an unacceptable level of dust from its main vent, and warned Newcrest it may suspend the mine's operating licence unless the company took immediate action to rectify the breaches.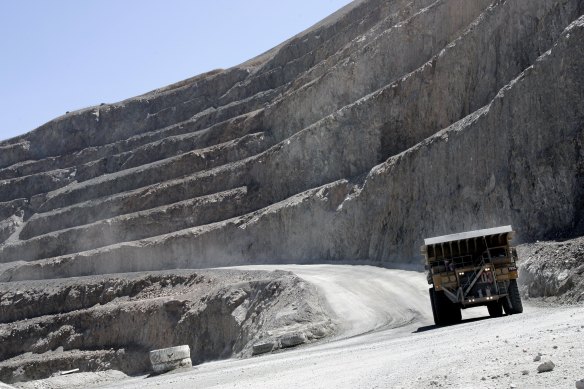 "We require the mine to take all necessary steps to ensure dust emissions are significantly reduced and this may include a reduction in production," EPA chief executive Tony Chappel said.
In an update to investors on Tuesday, Newcrest confirmed it had made a series of adjustments to Cadia's underground operations, including reducing mining rates. Other changes included modifications to the ventilation circuit and the installation of additional dust sprays and spray curtains.
Newcrest, which has agreed to be acquired by top global gold miner Newmont Corporation in a deal valuing the company at nearly $29 billion, said it did not anticipate material impacts to Cadia's overall production targets as a result because above-ground stockpiles could be used to supplement its mill feed.
"Cadia continues to work openly and transparently with the Environmental Protection Authority and the local community to ensure all statutory obligations are met in a way that is aligned with Newcrest values," the company said.
The gold miner said a 12-month study conducted by the federal government's Australian Nuclear Science Technology Organisation had found Cadia was meeting air quality standards for the mine's surrounding region, and had highlighted that metals including lead, nickel selenium and chromium did not exceed national standards, occurring at "very low levels".
Newcrest expects to receive a human health risk assessment in September, the last independent report in a series of testing, which it says will provide a "comprehensive scientific picture" of the overall air quality in the district and the community's health and wellbeing.
Alex Barkley, an analyst at the Royal Bank of Canada, said a number of ongoing environmental issues at Cadia loomed as a "concern for the site" in the 2024 financial year and beyond.
"Environmental issues at Cadia continue," Barkley said on Tuesday.
"Overall we expect the stock to trade weaker on the soft quarter and lingering questions heading into the release of financial year 2024 guidance."
In its operational update for the three months to June 30, Newcrest chief executive Sherry Duhe reported quarterly gold production had risen 9 per cent from the prior quarter – a result that was slightly below market expectations, but in line with the company's targets.
"We were pleased to achieve our financial year 2023 group guidance for gold production and all-in sustaining costs following an improved operational performance in the June quarter," Duhe said.
Production of copper was 1 per cent lower than the company's guidance range.
US-based Newmont's proposed takeover of ASX-listed Newcrest, if it succeeds, would be the biggest in the history of the gold mining industry. It would consolidate Newmont's position as the world's largest producer of the precious metal with mines spanning the Americas, Africa, Australia and Papua New Guinea.
Based in Denver, Colorado, Newmont has mining operations across the globe spanning gold, copper, silver, zinc and lead. It has two major Australian gold mines – Boddington in Western Australia and Tanami in the Northern Territory.
Melbourne-based Newcrest owns gold and copper mines in NSW, Western Australia, PNG and Canada, and holds equity interests in gold assets in Ecuador.
Newcrest on Tuesday reiterated the board's unanimous recommendation for investors to support the deal, under which Newcrest shareholders will receive 0.4 Newmont shares for each share they hold, implying a value of $29.27 a share.
"The combined group will create a clear global leader in gold production, with increased flexibility in project sequencing and growth optionality, and a market leading position in safety and sustainability," Duhe said.
The Business Briefing newsletter delivers major stories, exclusive coverage and expert opinion. Sign up to get it every weekday morning.
Source: Thanks smh.com