'We could see the end': How Thankyou Group averted its 'Death Star' moment
These days, Thankyou Group managing director and co-founder Daniel Flynn juggles his time between his home city of Noosa and Melbourne, where Thankyou's first retail store is based.
In between the travelling, the chief of the social enterprise that donates profits to poverty-eradicating projects is preparing to take the group's products to the world.
It's a far cry from where the brand was about five years ago, when Flynn wasn't sure it had a future.
"We felt like we could see the end of Thankyou," he said. "We felt like the entire model needs saving now … The Thankyou we were building was becoming this sort of Death Star."
In early 2018, the Thankyou team was coming off the high of Flynn's interview with Barack Obama, during which the former US president encouraged the co-founder to take the brand to global markets.
But the not-for-profit was buckling under the strain of juggling various product categories, from nappies to muesli bars to water to body wash, and a middling e-commerce business that wasn't very profitable. The team had spread itself too thin; in its bid to make sustainable products, Flynn had to face the reality that Thankyou was not built as a sustainable business.
He created a slide deck and named it "Project Salvation", an internal restructuring program that ended up lasting for four years. The business was "reimagined" from the inside out: Flynn stumbled across and seized upon an anti-burnout principle that recommended focusing on the most crucial 5 per cent of work – "the bit that only you can do, the thing that you're born for".
Thankyou's crucial 5 per cent was its mission to eradicate poverty, the funds it donated and the impact that has, and the enterprise's storytelling. Much of the other 95 per cent comprised operational logistics such as retail management, supply chain procurement, e-commerce and other support functions that could be outsourced as partnerships with organisations that specialised in those areas.
So Thankyou's team of 60 workers was stripped down to 18. Thankyou formed partnerships with creative agencies and innovation houses, such as Marks Design, to help with packaging; e-commerce platform Pattern to power its online business; and Pave to help manage sales and distribution to retailers. Thankyou negotiates a custom rate with these partners that allows Flynn's group to provide services in a commercially viable way while ensuring as many dollars as possible (more than $18 million so far) go towards their impact partners.
"We were building in the old way, trying to do it all ourselves," Flynn said. "On paper, we thought it wouldn't be as profitable … but the way it's currently being designed, our margins are already better from day one than they were back in 2018."
'We felt like we could see the end of Thankyou. We felt like the entire model needs saving now … The Thankyou we were building was becoming this sort of Death Star.'

Thankyou co-founder Daniel Flynn
Along the way, Flynn and his leadership team made other significant and often eyebrow-raising brand decisions. Thankyou had already pulled its food range (cereals and snack foods) in December 2017 with an intention to focus on its nappy business. But that didn't end up working out either, and in mid-2021 nappy production ceased.
"Unfortunately, we ended up losing in nappies, we couldn't maintain market share," Flynn said. "The biggest brand and the No.2 brand started doing 50 per cent discounts, and I think one of them went from 17 weeks on promotion to 33 weeks … that's all normal competition stuff that we're facing on every front."
Additionally, the environmental footprint of Thankyou's single-use plastic bottled water – its signature and founding item – was becoming harder to justify. In May, the group axed its most iconic, recognisable product, a decision Flynn revealed was made as far back as 2018. "It wasn't representing the future of the brand," he said. "We didn't want to greenwash, so we exited the category."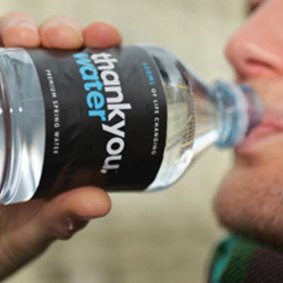 The brand embarked on a two-year redesign and relaunch of its core range, which now focuses on personal care products (body wash, shampoo, conditioner, soap, hand wash, deodorant), home cleaning essentials (hospital-grade cleaner), hand sanitiser, and baby wipes.
Not that anyone really knew: amid all the internal restructuring and rebranding, Thankyou dialled down its digital presence. "We went quiet on social for about a year and a half … It was just because we've got to get the insides right," said Flynn.
"Now we're a lot louder, and we're promoting a lot more, but it's because we feel like the foundation's strong."
The relaunched range is accompanied by Thankyou's new catchcry "consumerism reimagined". Yet the principle is something of a contradiction: designed as an "affordable premium" product with design inspiration from both Japanese and Scandinavian minimalism, some of Thankyou's new pieces – such as its refillable "forever" bottles – are designed to avoid overconsumption, not increase it.
Flynn acknowledged this sales model seems a little counterintuitive for a business that needs to sell as many units as possible to make the profits needed to achieve its mission of eradicating poverty.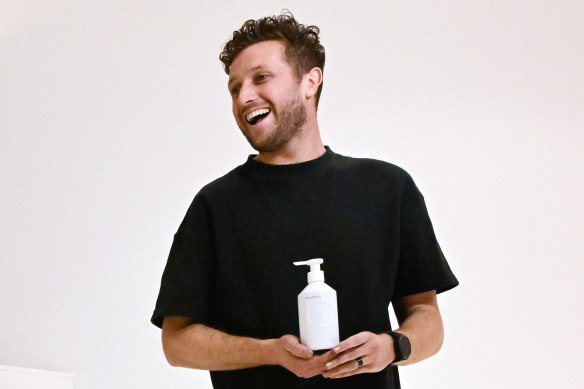 "I heard a stat the other day saying that 60 per cent of consumers are no longer brand loyal, so brand loyalty is going down. But at Thankyou, we need it to stay or go up," he said. "We hope the trifecta, from design to affordability to purpose, creates a really loyal consumer and, for us, the end of extreme poverty."
After so many years of setbacks and pivots, Thankyou Group aims to be back on consumers' radar and this time is determined to stay. The brand has made more changes over the past month: its three-month pop-up store opened on June 30, and last Tuesday marked the relaunch of its online store, which had shut in 2020 – just before the pandemic hit – to focus on higher margin retail sales.
But Flynn said he and his team have learnt from their mistakes. Rather than creating a huge fuss about launching into a new market and giving competitors a heads-up, the new strategy is to show up on shelves unannounced. It seems the demand is there: major retailers in Europe, the US and Asia have reached out expressing interest in stocking Thankyou products, Flynn said.
That's just as well, because Thankyou's mission is more urgent than ever. The pandemic, which halted economies and upended global supply chains, also served as the "biggest setback to global poverty in decades", according to the World Bank.
"It's going backwards," said Flynn. "We really want to help consumers to make that global impact as global citizens."
The Business Briefing newsletter delivers major stories, exclusive coverage and expert opinion. Sign up to get it every weekday morning.
Source: Thanks smh.com