ASX jumps on the back of inflation surprise
The Australian sharemarket has built on its morning gains amid news that inflation is cooling and off the back of a Wall Street cheered by more US companies reporting fatter profits than expected.
The S&P/ASX200 rose 0.9 per cent or 69.3 points higher to 7,409 points at 12:32pm AEST as tech, banking, and consumer discretionary stocks moved into the green, joining materials players which did much of the heavy lifting in the morning.
Champion Iron started the session in the lead and has stayed there, climbing 6 per cent, followed by Beach Energy (up 4.9 per cent). Core Lithium moved from the bottom of the bourse with losses of 3.6 per cent to the third-best player at lunchtime, up 4.6 per cent.
Market heavyweights Rio Tinto and BHP are also keeping the bourse in the green, with gains of 2 per cent and 2.7 per cent respectively.
At the bottom of the pack is Imugene, which slid 2.2 per cent, followed by Telix Pharmaceuticals and Breville, with losses of 2 per cent and 1.6 per cent respectively.
ABS figures released at 11:30am showed inflation fell to 6 per cent in the year to June. In the three months to June inflation rose by 0.8 per cent, driven by rents, international travel and accommodation, financial services and new dwelling purchases.
Deloitte Access Economics partner Stephen Smith said the data will give the RBA a lot to chew on ahead of next month's policy announcement.
"The inflation data released today is further evidence that the Reserve Bank has increased interest rates too far," Smith said.
"The Australian economy is softening dramatically, the pace of inflation has peaked and is moderating quickly, wage growth is not excessive and medium-term inflation expectations are not rising. In that context, there should be no further interest rate increases in Australia."
Overnight, the S&P 500 rose 0.3 per cent to its highest close since early April 2022. The Dow Jones gained 0.1 per cent and the Nasdaq composite climbed by 0.6 per cent. The ASX added 0.5 per cent on Tuesday.
Google snapped out of an unprecedented advertising slump during its latest quarter, signalling a return to growth cycle needed to fuel investments in artificial intelligence technology that expected to reshape the competitive landscape.
The company posted a profit of $US18.4 billion ($27.1 billion), or $US1.44 per share, a 15 per cent increase from the same time last year. It's parent company Alphabet's stock price surged nearly 8 per cent in after-hours trading after the results came out.
Microsoft reported tepid fourth-quarter sales growth, held back by decelerating demand for cloud-computing services while the software maker waits for a revenue boost from new artificial intelligence-powered products. Shares were 1.5 per cent lower in after-hours trading.
General Electric helped lead the market with a 6.3 per cent rally after it reported stronger profit for the latest quarter than analysts expected. It also raised its forecasts for full-year revenue and profits.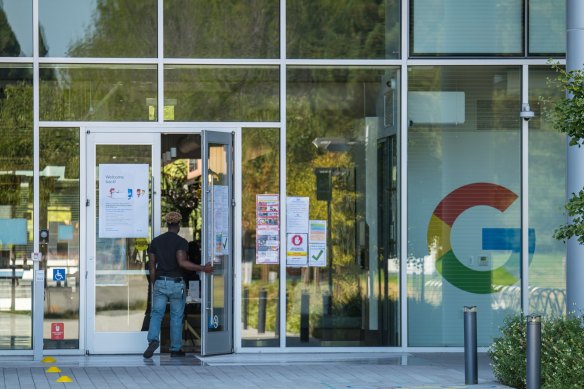 Snap projected revenue in the current quarter at the lower end of analysts' estimates, signalling that improvements to the digital advertising business are taking longer than expected to pay off. The shares fell 19 per cent in extended trading.
This week is a busy one for earnings reports, and roughly 30 per cent of the companies in the S&P 500 are on the schedule. The majority have been topping analysts' expectations so far this reporting season, as is usually the case.
This week's other highlight for Wall Street also got underway Tuesday: the Federal Reserve's latest meeting on interest rates.
The wide expectation is for the Fed on Wednesday to announce another increase to interest rates, as it tries to wrestle high inflation under control. That would take the federal funds rate to a range of 5.25 per cent to 5.50 per cent, its highest level in two decades and up from virtually zero early last year.
A report on Tuesday showed confidence among US consumers rose by more than economists expected.
But many on Wall Street warn the Fed is unlikely to give any signals on Wednesday that it's done raising rates. Inflation is still high, even if it's moderated somewhat, and the economy may have to "yield to a long but shallow recession if the Fed is to return inflation to its 2 per cent target," according to Steven Ricchiuto, US chief economist at Mizuho Securities.
With AP
Source: Thanks smh.com