Why inner-city warehouses are going vertical
Rising demand for next-day shipping, together with a surge in consumer spending during the pandemic, has spurred developers to construct new warehouses and distribution centres closer to densely populated cities.
However, with inner-city land in short supply, builders are thinking smart by going up, rather than adopting traditional large-format footprints.
Planning approval has been granted by the City of Kingston for Victoria's highest vertical logistics warehouse – a $70 million, five-level distribution centre – on Keys Road, Moorabin.
Design features include internal ramps for semi-trailers on a loop system to drop off/pick up goods and four industrial-scale lifts at each level for goods distribution. The warehouse already has commitments from major customers, including one of the world's largest sports retailers.
It will be the first of three multi-stack logistics sites constructed in Melbourne for Momentum Logistics over the next six years.
The national average vacancy rate in the industrial and logistics market has plunged from 6.3 per cent to just 0.6 per cent, according to a new CBRE report.
At 0.2 per cent, Sydney has the lowest vacancy rate of any city globally, mainly because of a lack of available space, with no more than two vacant buildings in the central metro and outer north-west region. Melbourne's vacancy rate is just 1.1 per cent.
EzyMart expansion
EzyMart is moving into an 80 square metre former 7-Eleven retail outlet at 672 Glenferrie Road, Hawthorn.
Burgess Rawson agent Ben Luu said the tenant has signed a 10-year lease for an undisclosed sum.
EzyMart boasts more than 450 stores across Australia and is cashing in on rapidly growing inner-city populations that are being fuelled by a high immigration.
$150K above reserve
The Richmond office/warehouse has sold at auction to an owner-occupier for $2.84 million, representing a building rate of $7513 per sq m.
The 53-55 North Street property was in high demand, with a number of bidders pushing the price more than $150,000 above its reserve.
"Despite higher interest rates and discussions about inflation, the owner-occupier market is one of the strongest buyer sectors, with a lack of quality stock available to purchase," said Gorman Allard Shelton's Tom Maule, who handled the sale with colleague Peter Bremner.
Bayside café sale
A new café in the bayside suburb of McKinnon has sold at auction to a local investor for $1.65 million.
The freestanding 183 sq m Willim Café, at 83 McKinnon Road, has a 10-year lease returning $90,000 a year, with four per cent fixed annual increases.
"The property has recently undergone a series of improvements, and its prime corner location and secure lease played a significant role in helping it achieve a sale $150,000 above the reserve," said Jones Real Estate managing director Paul Jones, who handled the deal.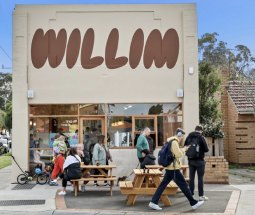 CBD strata office
Cushman and Wakefield has sold a strata office in the CBD financial precinct for $575,000.
Suites 1506 and 1507 on level 15, 530 Little Collins Street – the second top floor of Exchange Tower – features a wraparound balcony and city skyline views.
The purchaser is an owner-occupier financial services business looking to move from Brighton. Agents Jeff Ha, Anthony Kirwan and George Davies handled the deal.
Source: Thanks smh.com