ASX set to edge higher; Wall Street mixed after Fed move
Stocks remain mixed after the Federal Reserve followed through on Wall Street's expectations and raised interest rates to their highest level in more than two decades.
Wall Street edged lower after the announcement before rising. The S&P 500 was 0.2 per cent higher in late trade, while the Dow Jones is flat and the Nasdaq lost 0.5 per cent. The Australian sharemarket is set to inch up, with futures at 5.05am AEST pointing to a gain of 7 points, or 0.1 per cent, at the open.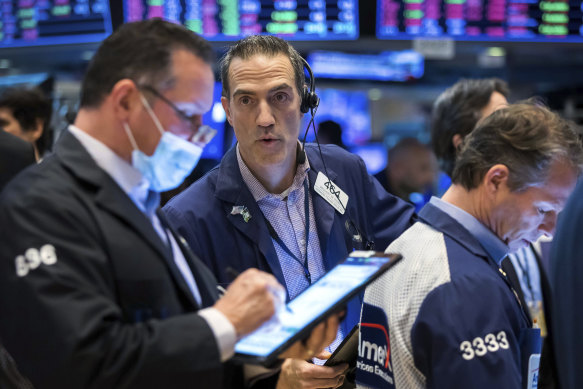 Microsoft weighed on the market after falling 4.2 per cent. That was despite reporting stronger profit and revenue for the spring than analysts expected. Analysts said the company made comments that were perhaps intended to rein in huge expectations for upcoming growth from artificial intelligence. Investors also may have been hoping to hear more about when slowing growth at its Azure cloud computing business will trough.
Another Big Tech behemoth, Alphabet, helped to limit the market's losses. Alphabet rose 6.2 per cent after beating analysts' expectations for profit and revenue by a wider margin than Microsoft.
What Big Tech titans do matters more for Wall Street than other stocks because they have become so influential due to their massive size. Seven stocks alone accounted for most of the S&P 500's returns through the first half of this year, largely on expectations that their explosive growth will continue. They'll need to deliver big profits to justify those gains.
Another member of the "Magnificent Seven" that's overshadowed the rest of the market will report its results after trading closes for the day, Meta Platforms. The stock has more than doubled so far this year, while Alphabet and Microsoft are both up more than 40 per cent.
Boeing, meanwhile, was helping to prop up the Dow Jones Industrial Average, which has less of an emphasis on Big Tech than the S&P 500. The aircraft maker reported a smaller loss for the spring than analysts expected, and revenue topped expectations. Boeing's stock rose 7.1 per cent.
Wall Street could be in for more shakes toward the end of the day's trading, after Fed Chair Jerome Powell begins a press conference to explain the Fed's latest move.
In hopes of wrestling high inflation down further, the Fed raised its federal funds rate to a range of 5.25 per cent to 5.50 per cent. That's its highest level in more than two decades and up from virtually zero early last year.
But the hope among traders is that will be the last increase of this cycle because inflation has been on a downward trend since last summer. Such hopes have been another big reason for Wall Street's big rally this year. That's because rate increases work to lower inflation by grinding down on the entire economy, raising the risk of a recession and hurting prices for investments.
The economy has so far defied many predictions for a recession, largely because of a remarkably solid job market that has allowed US households to keep spending. That has hopes rising that the Federal Reserve can pull off a "soft landing" for the economy where high inflation falls back to its target without a painful recession.
Some critics, though, say traders may have rushed into such hopes too quickly and too strongly. Inflation is still high, even if it's come down, and the Fed may need to keep rates high for a while to drive it down to its 2 per cent target. A recession is still a risk, they say.
In the bond market, Treasury yields were mixed following the Fed's announcement.
The yield on the 10-year Treasury slipped to 3.88 per cent from 3.89 per cent late Tuesday. It helps set rates for mortgages and other important loans.
The two-year Treasury yield, which moves more on expectations for Fed action, rose to 4.89 per cent from 4.88 per cent.
In markets abroad, stocks fell more sharply in Europe. France's CAC 40 sank 1.4 per cent, and Germany's DAX lost 0.5 per cent.
In Asia, South Korea's Kospi fell 1.7 per cent and Japan's Nikkei 225 was nearly flat. Stocks in China were down modestly as traders wait to see how the country's ruling Communist Party will carry out its promise to shore up sluggish economic growth. The ruling party has pledged to support entrepreneurs and the struggling real estate industry but has given no details.
Source: Thanks smh.com