Nation faces 'stiff competition' as green rush drives next mining boom
Australia's largest miner BHP says proposed industrial relations reforms and high company tax rates are putting the nation at risk of missing out on hundreds of billions of dollars of investment as the green energy shift sets the scene for the next mining boom.
While Australia today is a dominant global supplier of iron ore and coal, the Melbourne-based mining giant warns that capitalising on the country's endowment of other minerals including copper and nickel is unlikely to occur with the same ease amid intense competition from other key mining nations.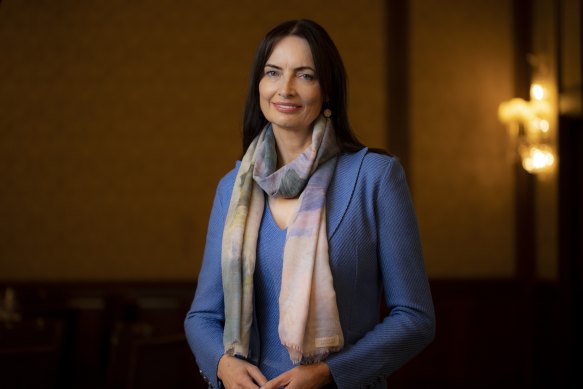 "The future won't be gifted to us – it can only be achieved with deliberate efforts and the right choices," said Geraldine Slattery, BHP's head of Australian minerals.
"To maintain our economic resilience, we will need to step up again and compete with other nations."
Australia ranks among the top three countries by share of known reserves of copper, cobalt, lithium and nickel – all of which are ingredients in technologies critical to reaching net-zero emissions goals and arresting global warming, including wind turbines, transmission lines and electric cars.
However, in a speech at an American Chamber of Commerce event in Melbourne on Thursday, Slattery warned Australia was in danger of losing its "competitive edge" and missing out on future riches from the looming boom in demand for the metals of the future.
"Today, in the foothills of a critical minerals boom, Australia has high quality but immaturely developed resources, with a dwindling talent pool, and a less certain investment environment," she said.
In particular, BHP has fired warnings over the Albanese government's proposed industrial relations changes, including allowing multi-employer bargaining and the "same job, same pay" legislation, which will require employers to pay labour hire workers at least the same pay as direct employees doing the same job.
"Changes to industrial relations policies are of particular concern, and like many businesses, we believe they will have a negative impact on Australia's competitiveness and jobs," Slattery said.
She also pointed to a decline in Australia's relative tax competitiveness since 2015, saying company income tax had grown to become the third-highest in the development world, while the United States had reduced its income tax rate more than any other country over that period.
Responding to criticism from BHP earlier this year, Workplace Relations Minister Tony Burke said the government would make "no apologies" for workplace legislation designed to close loopholes and stop workers from being ripped off. Unions have accused BHP of resorting to an "unfounded fear campaign" in arguing against the laws.
"BHP is right to fear that 'same job, same pay' will lift their wages bill because they have been exploiting labour-hire mine workers for years," Mining and Energy Union secretary Tony Maher said in May.
Despite Australia having high-quality mineral endowments, Slattery said the country could not assume it would have the same degree of competitive advantage in critical metals that it had enjoyed with iron ore and coal, particularly as other nations raced to scale up their own supplies.
Historically, iron ore and coal deposits in Australia were found in large quantities and close to the surface. But nickel and copper are typically found much deeper, in more remote locations, and are individually smaller deposits, making them more complex and more expensive per-tonne to produce.
"We face stiff competition from Indonesia's large nickel reserves that are more accessible and can be extracted through open pit methods," Slattery said. "And Indonesia is highly motivated to aggressively invest in technologies to produce nickel at scale and do so sustainably."
Canada, another prominent mining country, has launched a $4 billion critical mineral strategy, while the United States has unveiled hundreds of billions of dollars of funding and tax breaks for clean energy investment via its blockbuster Inflation Reduction Act.
The Albanese government last month released its strategy on critical minerals, which it says will set out a plan to position Australia as a global supplier of raw and processed critical minerals by 2030.
On Thursday, Resources Minister Madeleine King kicked off consultations with miners, experts and other stakeholders to update the country's list of critical minerals.
"Reviewing and updating our critical minerals list will help Australia capitalise on our amazing potential to create new industries and new jobs around our rich geological endowment and build on our record as a stable and reliable resources and energy exporter," King said.
"The path to net-zero runs through Australia's resources sector."
BHP still earns most of its money from selling iron ore and coal to the steelmaking sector, which accounts for up to 8 per cent of the world's output of planet-warming emissions.
But the mining giant is seeking to expand its exposure to what it terms "future-facing" commodities that stand to benefit from global efforts to decarbonise. Electric cars consume up to four times as much copper as internal combustion-engine vehicles, while nickel is a necessary ingredient in lithium-ion batteries.
In 2021, BHP sold its stakes in several coal mines and offloaded its entire global oil and gas division to Perth-based Woodside Energy, partly to free up its ability to increase spending on nickel and copper. This year, BHP completed a $9.6 billion takeover of Australian copper miner Oz Minerals.
BHP estimates the world will need an additional $US100 billion a year in capital investment in the resources sector to get on track to meet the Paris Agreement's goal of limiting the world's temperature rise to 1.5 degrees above pre-Industrial Revolution levels, calling for twice as much copper and four times as much nickel.
The Market Recap newsletter is a wrap of the day's trading. Get it each weekday afternoon.
Source: Thanks smh.com