ASX set to open lower as Wall Street rally fades
A rally for stocks fizzled out in afternoon trading Thursday as Wall Street reviewed fatter-than-expected profit reports from big companies and the latest signals that the economy is so far refusing to ditch into a recession.
The S&P 500 was 0.1 per cent lower in afternoon trading after earlier touching its highest level in nearly 16 months. The Dow Jones was down 0.3 per cent. The Nasdaq composite, meanwhile, was holding onto a gain of 0.2 per cent following a strong profit report from Meta Platforms.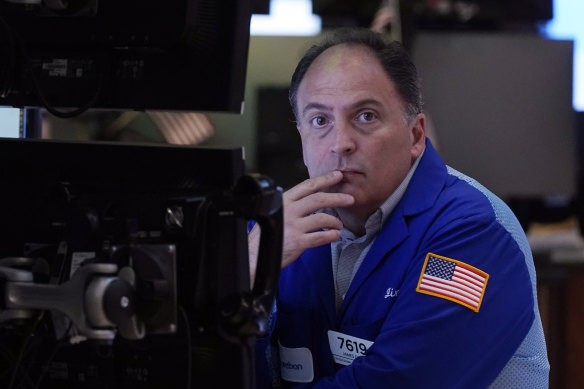 The Australian sharemarket is set to slide, with futures at 4.59am AEST pointing to a retreat of 39 points or 0.5 per cent, at the open. The ASX added 0.7 per cent on Thursday.
Earnings rose more for Meta, which owns Instagram and WhatsApp in addition to Facebook, than analysts expected after its services attracted additional active members. Meta is one of Wall Street's most influential stocks because of its massive size, and it rose 5.3 per cent.
McDonald's was helping to offset some losses in the Dow after it easily topped analysts' forecasts for profits during the spring. Its sales grew worldwide, and its stock rose 1.5 per cent.
In the bond market, Treasury yields were rising after a wave of reports indicated the economy is in stronger shape than expected.
One estimate said growth for the overall economy accelerated in the spring. That easily topped forecasts from economists, who were expecting a slowdown from the first three months of the year. That report also suggested a measure of inflation wasn't as high from April through June as expected.
Another report, meanwhile, said that fewer workers applied for jobless benefits last week. It's the latest indication the job market remains remarkably solid, while a third report said orders for long-lasting manufactured goods strengthened more than expected last month.
All the data helped keep Wall Street ebullient amid hopes the economy can keep defying predictions for a recession despite much higher interest rates.
The Federal Reserve on Wednesday raised its federal funds rate to its highest level in more than two decades in hopes of dragging inflation lower. High rates work by bluntly slowing the entire economy and hurting prices for stocks and other investments. After zooming higher from virtually zero early last year, the sudden shock higher in interest rates has had investors on a long watch for a potential recession.
Fed Chair Jerome Powell, though, said any further increases in rates will depend on what reports say about the path of inflation and economy in the future. That bolstered hopes among traders that Wednesday's increase may have been the final one of this cycle.
Investors see higher interest rates as hurting technology and other high-growth stocks in particular, which is part of why Big Tech stocks were helping to lead the market on Thursday. Besides Meta's earnings-fuelled rise, Nvidia, Amazon and Apple were the other biggest forces pushing upward on the S&P 500.
Hopes for a halt to rate hikes are raising bets that the Fed can pull off what's called a "soft landing" for the economy, where high inflation can come down to the Fed's target without causing a painful recession. Powell said Wednesday the Fed's staff is no longer forecasting a recession.
Such hopes have helped launch stocks higher this year, but critics say the market may have gone too far, too fast. While inflation has come down from its peak last summer, it's still high and the hardest part of the Fed's task may still be ahead. A recession may still ultimately hit, they say.
But on Thursday, at least, optimism seemed to rule markets.
Stocks also climbed in Europe after the European Central Bank raised interest rates and left unanswered whether more increases are coming. The French CAC 40 jumped 2.1 per cent, and Germany's DAX returned 1.7 per cent.
Asian stock indexes were also mostly higher, led by a 1.4 per cent rally for Hong Kong's Hang Seng.
In the bond market, the yield on the 10-year Treasury rose to 3.99 per cent from 3.87 per cent late Wednesday. It helps set rates for mortgages and other important loans.
The two-year Treasury yield, which moves more on expectations for the Fed, rose to 4.92 per cent from 4.85 per cent.
AP
The Market Recap newsletter is a wrap of the day's trading. Get it each weekday afternoon.
Source: Thanks smh.com