Australia's iron ore miners can weather China slump, Rio Tinto says
Rio Tinto chief executive Jakob Stausholm insists Australia's big iron ore miners are in a stronger position to ride out any deeper falls in commodity prices, benefitting from lower operating costs than global competitors, as China's faltering economic recovery intensifies doubts about demand.
Mining giants Rio Tinto, BHP and Fortescue Metals Group, which earned record prices for cargoes of the steel-making raw material iron ore in 2021, are facing a less-certain outlook this year as China's economic growth slows and conditions in its property sector deteriorate.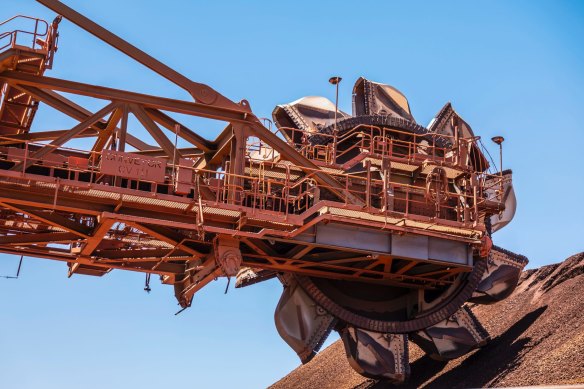 Rio Tinto this week reported a 33 per cent fall in underlying half-year profit and slashed its interim dividend by more than analysts had expected.
However, Stausholm expressed confidence in Beijing's ability to navigate the challenges that the Chinese economy was facing throughout the rest of the year, and in the outlook for iron ore demand.
"I am fairly optimistic," he said.
"Our experience with China is if things are going less well, the Chinese have a quite impressive ability to also manage the economy."
Beijing has not officially confirmed whether it will unveil aggressive new stimulus measures, but has said it will roll out policies designed to lift consumer spending and boost growth after posting quarterly gross domestic product growth of 6.3 per cent, missing expectations of 7.3 per cent
Stausholm's optimistic comments differ from the views of some other global mining leaders, who have become increasingly worried that China's recovery is losing momentum and diminishing the prospect of a near-term uplift in prices for commodities including iron ore, copper and coal.
Iron ore – the raw material processed in steel-making furnaces to churn out molten pig iron – is Rio Tinto's biggest earner and one of Australia's most lucrative commodities, raking in export earnings of more than $120 billion in the past financial year alone.
Although sharply lower than the record levels of $US230 ($345) a tonne in 2021, iron ore prices remain high by historical standards, trading at $US113 a tonne this week, while costing Rio Tinto just $US21 a tonne to produce from its Pilbara mines.
Stausholm said Rio Tinto and other operators in Western Australia's iron ore-rich Pilbara region were blessed with businesses at the "lower end of the cost curve", meaning that they remain profitable even if prices fall.
"Those market economics mean we should be in a fairly good spot," he said.
Lachlan Shaw, mining analyst at UBS, said the bank expected iron ore prices to moderate and Rio Tinto's shareholder returns to fall.
He said the Chinese Politburo's pivot had "boosted sentiment", but policy needed to follow before analysts could properly gauge commodity demand and price impacts.
China is by far the biggest market for Australian iron ore exports, consuming 70 per cent of global shipments.
Since emerging from its strict coronavirus lockdown policies, the lagging pace of China's economic recovery has stoked concerns about demand for Australia's mining and energy export industries.
"The end of China's dynamic zero-COVID policy in December 2022 has, so far, not seen the strong rebound most expected," the federal government notes in a report on June-quarter resource exports.
"Savings accumulated by households in China during the pandemic were nowhere near as large as in many Western nations."
Source: Thanks smh.com