Property developer Fortis puts out its investment recycling
Property developer Fortis is slashing the size of its Clifton Hill office-retail project, and putting two properties on the market fronting on to Alexandra Parade in Melbourne's inner north-east.
The 5500-square-metre Smith Street site, opposite the state government's Fitzroy Gasworks project, will now cover about 3500 square metres.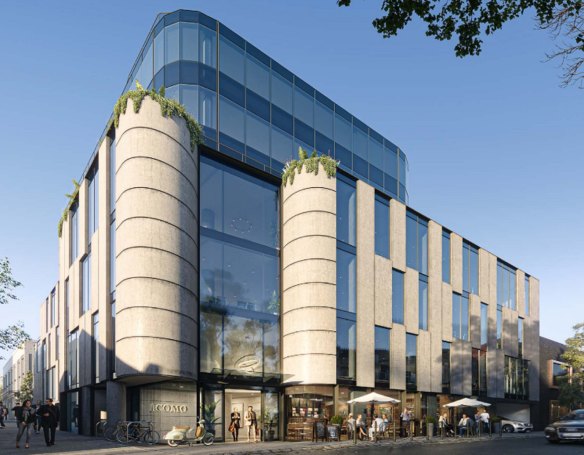 There were plans for a 23,000-square-metre of office space across two towers, plus 7000 square metres of retail, with Woolworth signing up to a new supermarket.
The move follows Sydney-based Fortis' recent listing of 2 Guilfoyle Avenue, Double Bay – an office-retail project leased to Sydney chef and restaurateur Neil Perry and Baker Bleu. Fortis is expecting $45 million for that property, which is next door to its Sydney head office.
Fortis' Victorian head of leasing and acquisitions Jordan Winada said the developer is "recycling" capital: selling up and deploying funds elsewhere. It intends to cut the size of the office component in the Clifton Hill project, while retaining the Woolworths supermarket.
The buildings were purchased as part of the Victorian government's disposal of a string of properties that were compulsorily acquired for the aborted East West Link.
Fortis, the development arm of boutique fund Pallas Capital, tried to sell the entire site and project for $50 million in 2021, but offers reportedly came up short at about $40 million.
In 2018, Fortis paid $3.6 million for a 529-square-metre showroom at 592-596 Smith Street, on the corner of Alexandra Parade, and values in the area suggest the property is likely to sell for about the same price. It is leased to Petstock, which pays $120,000 a year in rent
Fortis paid $5.99 million for the neighbouring two-level warehouse, at 2-12 Alexandra Parade. It is returning about $60,000 a year in income and should sell for around $7.5 million.
Colliers agent Ben Baines, who has the listing with Ted Dwyer and Eddie Foulkes, said there have been approaches from local owner-occupiers who are keen on the sites' exposures.
Meanwhile, Fortis is doubling down on its successful inner Melbourne Cremorne office project, at 81 Dover Street, splashing out a further $10.25 million to buy its neighbour, 85 Dover Street.
The 9324-square-metre office at 81 Dover Street and is 90 per cent pre-committed ahead of completion, with a leasing deal to Adidas negotiated by Colliers' Matt Cosgrave.
Fortis' Winada said the 85 Dover Street site will enable another 3500 square metres of space to be added to the project.
Fortis still has more than $2 billion of property developments in its pipeline.
City fringe
The new city fringe precinct in Collingwood and Abbotsford is going gangbusters.
The longtime owners of 40 Oxford Street are selling their freshly leased and renovated office, with expectations it will realise more than $9 million.
The 1191-square-metre building, on the corner of Langridge Street, is leased to the marketing department of listed plumbing group Reece, which has its head office in Cremorne.
Vinci Carbone agents Joseph Carbone and Frank Vinci, with Miglic Dean's Richard Miglic and Katherine Dean, have the listing.
Up the road, at 58a Gipps Street, the owners of Super Shine Panel and Paint are selling their 1599-square-metre property after more than 20 years. The island site, with frontage to Rupert and Campbell streets, is expected to fetch more than $14 million.
JLL agents Jesse Radisich, Josh Rutman, Tim Carr and MingXuan Li are running an expression of interest campaign for the property. It is understood there is some flexibility in the settlement terms, and the potential to lease it back in the short term.
Also, on the market is another island site at 54 Northumberland Street, partly leased to Andrew McConnell's Handmade Events. The 1200-square-metre building is on a 600 square metres of land on the corner of Rokeby and Glasgow streets. Miglic Dean is handling that listing.
Toorak Village
New city fringe offices are attracting owner-occupiers looking for a local workplace.
Two offices in Orchard Piper's three-level project Toorak Village have sold for more than $10 million – a record suburban price of $17,021 a square metre. Colliers agents Ben Baines and Matt Knox negotiated the deals.
Baines said local owner-occupiers snapped up the spaces, which are located on the corner of Toorak and Mathoura roads.
Orchard Piper bought the 1415-square-metre site in 2021 for about $20 million and is developing a 10-unit apartment project at the rear. The 400-square-metre penthouse has already been purchased by Provans Timber and Hardware owners, the Rosenbergs, for $12.5 million.
Baines said the average land rate for city fringe commercial properties has risen to about $10,000 a square metre – up from a pre-pandemic level of $8500 a square metre.
In nearby Malvern, the first office project built by Terry Livanidis' Landis group is for sale with a price tag more than $35 million.
The seven-storey 3600-square-metre building at 1 Como Street, near Malvern railway station, was originally going to be an apartment building, but Livanidis pivoted to office with a design by Grey Puksand. Accounting and wealth advice practice Proctor Major is the first tenant.
Cushman and Wakefield agents Daniel Wolman, Oliver Hay, George Davies and Leon Ma have the listing.
Kew Junction
An unusual group of shops in the heart of Kew Junction is on the market more than 30 years after they were first developed.
The 1296-square-metre Walpole Hill retail centre is tucked away opposite Woolworths in the retail precinct behind the main street shopping strip. It is on a 1570-square-metre parcel of Commercial 1 zoned land purchased from the City of Kew and developed by Goodland Developments in the late 1980s.
Records show the developers hoped to rehouse the local post office in the project, but the postal service remained in its historic junction digs until 1995.
The fully leased centre is likely to be redeveloped and is expected to sell for around $10 million.
Fitzroys agents David Bourke, Chris James and Ben Liu are marketing the property.
Source: Thanks smh.com