ASX rises ahead of RBA decision; $A jumps
Energy and materials companies pushed the Australian sharemarket higher on Tuesday ahead of the Reserve Bank's August decision on interest rates.
The S&P/ASX 200 was up 19.5 points, or 0.3 per cent, to 7429.9 at about 12.15pm (AEST) even as industrials, healthcare and financials companies traded in the red.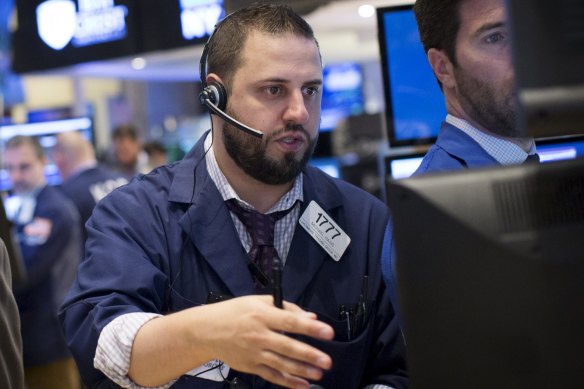 The Reserve Bank will announce its latest interest rates decision at 2.30pm AEST.
Miners (up 1.1 per cent) were among the strongest companies on the local bourse, led by Lynas Rare Earths (up 3.7 per cent), which extended its rally from Monday. Lithium miners regained lost ground with IGO (up 3.5 per cent), Liontown (up 2.4 per cent) and Allkem (up 1.5 per cent) all climbing. Gold miners also advanced as Newcrest (up 1.8 per cent), Evolution Mining (up 1.8 per cent) and Northern Star (up 1.4 per cent) all stepped up amid a 0.6 per cent increase in the spot gold price overnight. Heavyweights BHP (up 1.2 per cent) and Fortescue (up 1.8 per cent) were also stronger on the back of a 0.7 per cent lift in iron ore prices.
Energy companies (up 0.5 per cent) also helped to bolster the index with majors Woodside (up 0.2 per cent) and Santos (up 0.4 per cent) advancing after a 0.6 per cent increase in Brent crude oil prices.
Shares in infant goods retailer Baby Bunting surged by more than 23 per cent at the open after a trading update that revealed a significant profit drop was received positively by investors. The company said it expected pro-forma net profit after tax of $14.5 million for the year, which is a decline of 51 per cent, but that number is better than analyst expectations and at the top end of the company's guidance. Wilsons analysts upped their target price for the stock by 50 cents to $2.10. Shares were 20 per cent stronger to $2.01 at 12.15pm.
Meanwhile, industrials (down 0.3 per cent), healthcare (down 0.2 per cent) and financials (down 0.1 per cent) weighed on the ASX. Reece (down 1.6 per cent), Qantas (down 1.4 per cent) and Auckland International Airport (down 0.9 per cent) were among the biggest large-cap decliners.
CBA shed 0.1 per cent after it announced it would include $212 million in additional operating expenses ahead of its full-year results on August 9. Westpac traded flat while ANZ slipped 0.2 per cent.
The Australian dollar rose sharply overnight, adding more than 1 per cent to climb back over US67¢. It was fetching US67.02¢ at 12.15pm (AEST).
Elsewhere, Wall Street closed out its latest winning month with another tick higher to kick off its week.
The S&P 500 added 0.1 per cent to cap its fifth straight month of gains. That's its longest winning streak in nearly two years, and the index is at a 16-month high after rallying on hopes cooling inflation will mean the economy can avoid a long-predicted recession.
The Dow Jones climbed 0.3 per cent and the Nasdaq composite rose 0.2 per cent.
Big names in the market, such as Rob Arnott at Research Affiliates, are warning not to be "overly hasty in popping the champagne corks." Arnott sees the possibility of inflation rebounding again later this year, even though it's cooled considerably recently.
Roughly halfway through the earnings reporting season, more companies than usual have topped analysts' profit expectations, according to FactSet. Companies also seem to be more optimistic about their upcoming results, giving better-than-expected forecasts more often than usual, according to strategists at Bank of America.
"While economic uncertainty remains, we believe the profit cycle is inflecting higher," the strategists wrote in a BofA Global Research report.
In stock markets abroad, indexes in Europe were mixed after data showed Europe's economy has grown modestly after months of stagnation.
In Asia, stocks rose in Hong Kong and Shanghai amid hopes Beijing will deliver more stimulus for the sluggish Chinese economy.
In the bond market, US Treasury yields slipped after a report suggested manufacturing in the Chicago region is weakening a bit more than economists expected. Manufacturing has been one of the hardest-hit areas in the economy by high interest rates, which work with a notoriously long lag effect.
The yield on the 10-year Treasury edged down to 3.95 per cent from 3.96 per cent late on Friday.
With AP
The Market Recap newsletter is a wrap of the day's trading. Get it each weekday afternoon.
Source: Thanks smh.com