Bunnings working to keep things simple as tech pays dividends
The boss of DIY giant Bunnings says the company's push to simplify its back office should translate to a better experience for customers seeking bargains as its ongoing investment in technology starts to pay dividends.
The Wesfarmers-owned hardware chain restructured its senior management team this week, stripping out a layer of eight 'regional manager' roles at the business.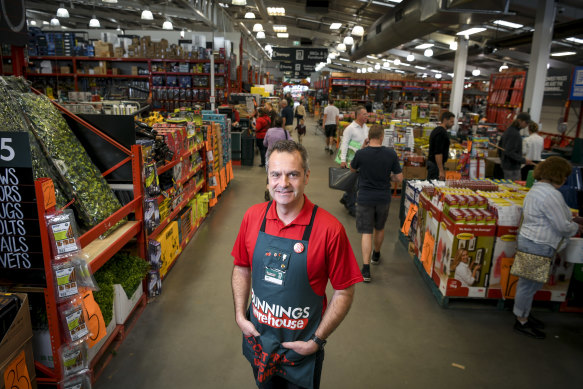 Bunnings managing director Mike Schneider said while the changes are part of its stated strategy to streamline communication across its teams, the hardware giant was in no rush to cut its overall workforce down to size.
"Overall, our team continues to grow as we actively recruit roles across our store network to ensure we are offering customers the best experience," Schneider said.
Less than 10 roles will be affected by the changes, with all affected staff offered the opportunity to be deployed to other roles.
The move comes as Bunnings doubles down on projects to boost efficiency and use tech to help staff spend less time on tasks like locating stock and refreshing price tickets.
"We're continuing to work really hard to find innovative ways to boost productivity and efficiency across our business," Schneider said.
"We've invested in a number of tech-based projects that are helping us achieve this, aimed at reducing the number of hours our team spend on task[s] and reinvesting them into customer service."
"This investment, coupled with the small changes we've made to our operations team, all comes down to simplifying our business. Our goal is to help our store and support teams become more efficient, productive and streamlined, leading to an even better experience for customers.
"We know that simplicity can be a really powerful asset in retail, which is why it's a real focus for us moving forward."
Schneider gave some examples of the retailer's investments in tech at Wesfarmers' strategy day in May, when he told investors that the group had used technology to remove or redeploy 2.4 million hours of "task time" since 2020.
Bunnings has been trialling electronic shelf labels to save hours spent updating paper tickets, and has also recently run trials using robots in store to scan aisles overnight and work out what stock needs replenishing.
"What we're aiming to do here is reduce team member hours spent locating hand stock to be filled or completing gap and price checks," Schneider said in his presentation to the investor day.
Retail analysts have been optimistic that Wesfarmers' stable of low-cost brands, which include Bunnings, Kmart and Target, will be well-placed to benefit from the trends of consumers trading down their purchases to budget varieties.
News last week of Wesfarmers' plans to merge the back-end and technology processes of Kmart and Target into one system further suggests the retail giant is looking to streamline its operations as it looks to capture budget-focused shoppers.
Wesfarmers boss Rob Scott said back in May that the focus on essentials at Bunnings, Kmart and Target positioned the retailer well for tougher trading conditions.
Source: Thanks smh.com