Qantas boss hits out over accusation of government influence
Outgoing Qantas boss Alan Joyce has rejected allegations the federal government is in his pocket, after an application from Qatar Airways to add flights to Australia was rejected without explanation.
Qantas rival Virgin Australia has a close partnership with Qatar Airways and would have benefited from additional flights through its code-share relationship with the airline.
Joyce said he had often opposed the Albanese government, including whether to introduce multi-employer bargaining, and the outcome had not gone in the airline's favour.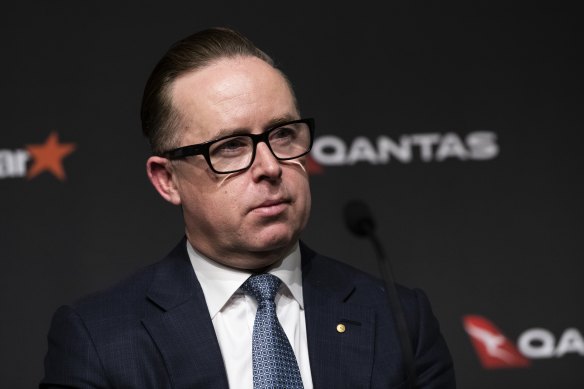 "The chief executive of Qantas or Virgin will always have a relationship with the government," Joyce said on Thursday. "There are a lot of things I disagree with the government on, as well as lots we do agree on. That's the way it works. It is just nonsense that we have unbelievable influence and I don't know how that mindset has developed.
"If the government was doing the bidding of Qantas it wouldn't have gone with multi-employer bargaining which is a much bigger issue," Joyce said. "The prime minister had a go at me when we grounded the airline in 2011. To think that Qantas has this out-weighted influence on them is nonsense."
Joyce was speaking after appearing on a panel with Virgin Australia chief executive Jayne Hrdlicka and hosted by Virgin founder Brett Godfrey, who now chairs Tourism and Events Queensland.
Joyce declined to comment on whether Albanese's son – Nathan Albanese – had been extended an invitation to the Qantas chairman's lounge, as reported in The Australian Financial Review. The airline does not divulge who is invited into the exclusive lounge, which is usually reserved for executives of large companies and politicians.
"I've been good mates with Albo for some time, but the assumption that whatever I do would get political favours is not happening," he said.
The federal government has refused to explain why it rejected Qatar's attempt to increase its services to Australia, beyond stating the application was not in line with the national interest.
The government's refusal to explain the decision, particularly when it had support from the overwhelming majority of the tourism, aviation and political spectrum, has led to ongoing speculation about its relationship with the airline.
Flight Centre boss Graham "Skroo" Turner said limiting inbound capacity to Australia was a deliberate attempt to keep airfares high.
The Qatar Airways bid was also opposed by five Australian women who were subjected to invasive searches at Hamad International Airport by Qatari police before their flight with the airline in 2020.
The women were part of a larger group who were forced to undergo internal examinations after a newborn baby was abandoned in a bin at the airport. The women are now seeking damages from Qatar Airways and the Qatar Civil Aviation Authority – which are both owned by the Qatari government – over the incident.
Transport Minister Catherine King said this month the decision was not made in response to the incident but is yet to comment further.
Hrdickla said the most important thing for local tourism was to increase the number of inbound tourists to the country.
"Job one is getting more inbound international flights to ensure there's more opportunity to ensure there are more opportunities for inbound tourism.
"Right now, given the exchange rates, Australia should be great value for international tourists. It's not because airfares are so high because there's not enough capacity and there's a huge amount of demand," Hrdlicka said.
The Business Briefing newsletter delivers major stories, exclusive coverage and expert opinion. Sign up to get it every weekday morning.
Source: Thanks smh.com