ASX set for flat start as Wall Street edges lower
Stocks are wavering as Wall Street's red-hot rally for the year cools a bit more.
The S&P 500 was 0.1 per cent lower in afternoon trading and has been teetering between small gains and losses throughout the day. The benchmark index was nearly evenly split between gainers and losers. The Dow Jones was down 0.1 per cent and the Nasdaq composite shed 0.1 per cent. Futures are pointing to a flat start for the Australian sharemarket. The ASX slid by 0.6 per cent on Thursday.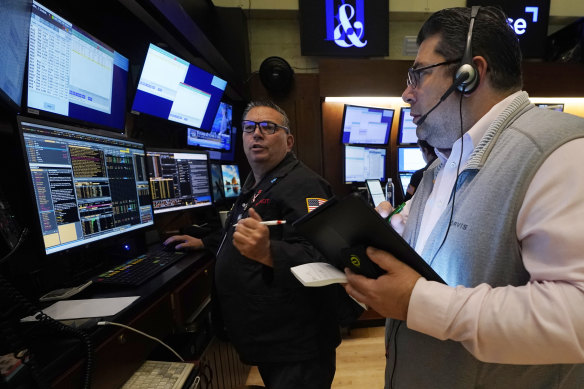 A day earlier, US stocks tumbled to their worst loss in months. While the drop came after Fitch Ratings downgraded the US government's credit rating, several analysts say they expect the move to have minimal impact on financial markets. US Treasury debt is the cornerstone of the global financial system, but the downgrade by itself likely won't push any investors to dump theirs.
The big questions remain whether the economy will avoid a recession, how corporate profits will do and where interest rates are heading. Hanging over them all is whether the stock market's big run this year was overdone, as critics suggest.
Treasury yields in the bond market continued to march higher Thursday, putting more pressure on the stock market. The yield on the 10-year Treasury rose to 4.18 per cent from 4.09 per cent late Wednesday and from 2.75 per cent a year ago.
Higher yields mean bonds are paying more in interest, which can peel buyers away from stocks. They also make borrowing more expensive for companies, crimping their profits.
Yields have climbed as the economy has remained remarkably resilient despite much higher interest rates meant to drive down inflation. The US government also continues to borrow heavily.
In the latest reading on the economy, a report showed that the number of workers applying for unemployment benefits rose last week but remains relatively low.
A solid job market has helped to keep the economy out of a long-predicted recession. But it also threatens to keep upward pressure on inflation. That could push the Federal Reserve to keep raising interest rates, dashing Wall Street's hopes that the last hike of the cycle has already been put in place.
"The Fed has singled out the jobs market as a potential inflationary threat, and until it shows some signs of deterioration, we're still looking at a 'higher for longer' outlook for interest rates," said Mike Loewengart, head of model portfolio construction at Morgan Stanley Global Investment Office.
A report from the Institute for Supply Management said growth in the US economy's services industries continued last month, though at a slower rate than economists expected. A separate report from S&P Global also said growth is slowing for services industries, pointing to customers contending with the more expensive cost of living and higher interest rates.
The Fed has hiked its federal funds rate to the highest level in more than two decades, up from virtually zero early last year. High rates grind down inflation by bluntly slowing the entire economy and dragging on prices for investments.
Critics say a consensus has formed too quickly on Wall Street that inflation will continue to moderate and that the Fed can not only halt its hikes to rates but even begin cutting them early next year.
Across the Atlantic, the Bank of England on Thursday raised its main interest rate again to a 15-year high and indicated it could stay high for a while. That followed a move last week by the Bank of Japan that could allow longer-term interest rates there to rise.
Earnings reporting season also continues for big US companies. The majority have reported better results for the spring than expected, but that's usually the case and expectations were quite low coming into this quarter's season.
Qualcomm tumbled 8.8 per cent for one of the largest losses in the S&P 500. It reported weaker revenue for the spring than expected, even though its profit topped forecasts.
On the winning side was Clorox, which jumped 9.1 per cent. It reported stronger profit and revenue than analysts expected.
Stocks of energy producers were also stronger as crude oil prices rose roughly 2.7 per cent. Exxon Mobil gained 2 per cent.
Two hugely influential companies will report their results after trading ends for the day. Apple and Amazon are two of the largest companies on Wall Street by market value, which gives their stock movements more heft on the S&P 500 and other indexes.
They've also both soared more than 45 per cent this year on expectations of continued growth, and they'll need to deliver to justify their big stock gains.
In stock markets abroad, indexes were down across Europe and much of Asia.
AP
Source: Thanks smh.com