Will Andrew Forrest retain control of his wife's shares after split?
In April 2022, Nicola Forrest appeared on the ABC's Australian Story to talk about the decision that she and husband Andrew took to give away most of their fortune, which was close to $28 billion at the time. Less than a minute and half into the episode, Andrew offered this description of his wife of three decades. "Nicola is this little soul who fills the house, not always with joy, but she fills it."
That year was a milestone one for Nicola Forrest, who holds an arts degree majoring in economics from Canberra University. She had turned 60 and was celebrating it with friends, and was in her own way emerging from the shadow cast by her husband's enormous success and ego, through appearances such as that on Australian Story, and taking a more public presence in their ownership of retailer RM Williams.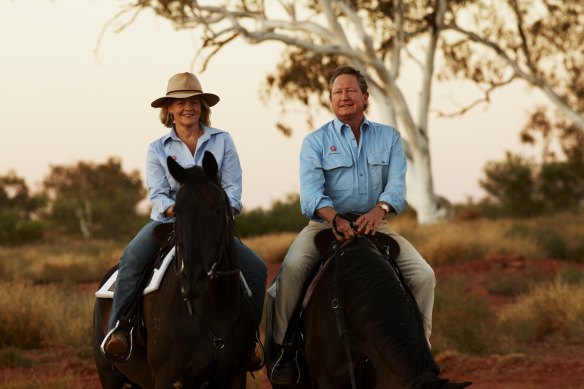 When the pair confirmed to The Australian Financial Review last month that they were separating, they issued a statement assuring shareholders in Fortescue Metals Group – the iron ore miner that Andrew Forrest built from nothing into a global juggernaut – that it would not affect the "operations, control or direction of Fortescue, Minderoo or Tattarang". Tattarang is the family's private investment company and Minderoo is the family's philanthropic foundation.
However, as has been shown through the separation of the marriages and fortunes of funds management founders Kerr Neilson and wife Judith, and Hamish Douglass and wife Alexandra, those positions change – in time.
While it may be that Nicola Forrest has emerged purportedly as the biggest shareholder in Fortescue – although she has made no such claims – and the third-wealthiest woman in Australia, the important details are still to come from this separation. Those details are about the use or non-use of the voting rights associated with her Fortescue shareholding, and the time period from which she's prevented from selling any Fortescue shares.
Since the separation, there have also been divisions among the Forrests' advisers and friends in Perth, as to who is on Team Andrew and who's on Team Nicola. There has also been chatter about whether the separation means that Nicola Forrest could exert influence at Fortescue, potentially seeking to nominate directors to the board using her shareholding, or even asking questions about the company's strategy and operations, such as the return on capital allocated to green hydrogen start-up Fortescue Future Industries, and its high staff turnover.
But the answer to that chatter is almost certainly no. In such high-profile separations, it's likely that Nicola Forrest will have agreed to vote those shares alongside Andrew, or that there could be restrictions around her use of those voting rights, and also what she can say post the separation if there is a non-disparagement clause.
In the divorce of Amazon founder Jeff Bezos from his wife of 25 years, MacKenzie Scott, he retained voting control over his wife's Amazon shares.
Paul Doolan, a partner at Barkus Doolan Winning, is one of Australia's most prominent family lawyers. He declined to comment on any specific case but offered the following observation on voting rights in a public company when there is enormous wealth at stake and a couple goes through a separation or divorce.
"My experience is that in cases of this magnitude, there is a common interest between parties to preserve wealth because their wealth is often tied up in a common asset going forward, being shares in a publicly listed entity. The assertion generally on both sides then is that both the appearance and reality of stability is all important, both for general shareholders and also for the parties themselves because, obviously, their wealth is intrinsically tied to that particular asset.
"It's not uncommon to see agreements that are reached, and subject to them complying with the law, both regulatory and Corporations Act requirements, whereby voting rights or proxy rights are granted as part of the deal. It might be that one party has the right to the underlying capital and dividend stream, but subject to all laws being complied with, that they eventually cede their voting rights for a period of time, to ensure that market stability. Because that's really paramount to their wealth."
If that is the case in the Forrest's separation, then it will mean that Nicola Forrest is unlikely to exert any influence at Fortescue, even if some experts believe there is an opportunity there for board renewal.
Mark Barnaba, a former investment banker, has been on the Fortescue board for 13½ years. He has been Fortescue's lead independent director since November 2014, and its deputy chair for almost six years. Institutional Shareholders Services Australia and New Zealand does not classify a director as independent after 12 years on a board.
Barnaba, who is also on the Reserve Bank board, is also one of Australia's best paid directors. Last year, he took home $1.23 million as Fortescue's deputy chair.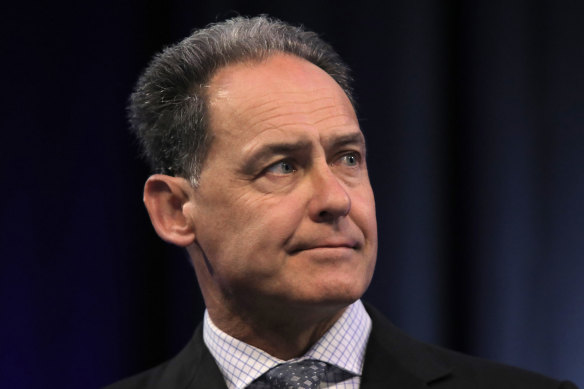 Wesfarmers and Woodside are comparable companies in size, in terms of market capitalisation, to Fortescue. Last year, Wesfarmer's chairman Michael Chaney's compensation was $851,636, while Woodside chairman Richard Goyder's was $807,438.
The Fortescue board has dealt with several sensitive matters recently, including the Forrests' separation and the investigation of an anonymous complaint concerning the behaviour of Andrew Forrest, the company's executive chairman.
The board used law firm Seyfarth Shaw to investigate the claims, which it did not reveal. Last month, the board said the investigation had concluded that none of the matters in the letter were substantiated, and that there were no adverse findings.
Fortescue said the report would remain confidential, and since then, no major Fortescue shareholder has asked for it to be released. There may be a few questions at the company's annual meeting in November.
The Business Briefing newsletter delivers major stories, exclusive coverage and expert opinion. Sign up to get it every weekday morning.
Source: Thanks smh.com