Woodside wins Japanese support for Scarborough gas
Woodside has found two willing investors to buy into its $16.5 billion Scarborough gas export project, with Japanese companies Sumitomo and Sojitz Corporation buying a 10 per cent stake.
LNG Japan, a joint venture between Sumitomo and Sojitz, will pay $US500 million ($765 million) for the equity and a further $US380 million ($581 million) for its share of project costs and interest since January 2022.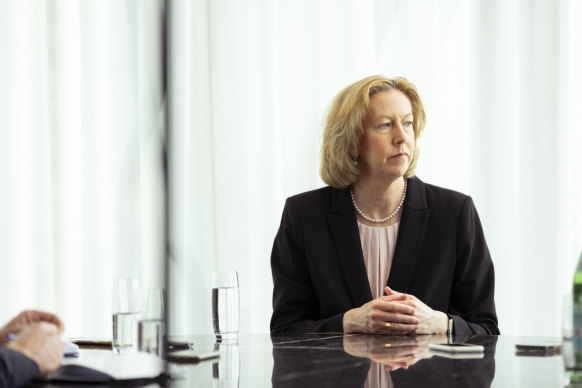 Separately, Woodside has also struck a non-binding deal to sell about 0.9 million tonnes a year of liquefied gas to LNG Japan from Scarborough. The project's total capacity stands at 8 million tonnes a year, with LNG expected to flow from 2026.
Woodside chief executive Meg O'Neill said the deal was a testament to the quality of the project, which has been subject to intense opposition from environmentalists.
Scarborough, together with a proposed development of the Browse gas fields off the Kimberley to an LNG plant next to Pluto, form the Burrup Hub that is attracting significant opposition from climate protestors, including three arrested outside O'Neill's Perth house last week.
O'Neill added that the deal underscores the continued demand from Japanese buyers for new supplies of gas and the role of gas in supporting "Japan's energy security".
"We look forward to working with LNG Japan to deliver this world-class project," she said.
In July, O'Neill said Woodside was not desperate to bring a partner into Scarborough. "We want to get the right partner at the right price," she said.
Woodside also plans to pursue global opportunities in hydrogen, ammonia, and carbon capture and storage with Sumitomo and Sojitz.
Gas from Scarborough will be processed at an expanded Pluto LNG plant. Woodside owns 90 per cent of the original train at Pluto and 51 per cent of a second train under construction.
RBC Capital Markets welcomed the deal as it was at a premium to its own valuation of Scarborough and has reduced Woodside's high level of exposure to any risk of cost overruns or technical problems.
The sale is subject to approval, including the Foreign Investment Review Board (FIRB) and the National Offshore Petroleum Titles Administrator.
In July, Woodside received environmental approval for seismic testing of the Scarborough gas reservoir.
The process for offshore environmental approvals was thrown into disarray a year ago when the Federal Court determined Santos had not consulted sufficiently with Tiwi Islanders before drilling the Barossa gas field to their north.
Since then, many operators have recalled plans lodged for assessment with the offshore environment regulator, NOPSEMA, to conduct more consultation to minimise the threat of legal action.
O'Neill said in July there was an opportunity for legislative changes to make consultation requirements clearer, "which will benefit not just players like ourselves and the regulator, but also the communities that right now are feeling a bit inundated with consultation requests".
Woodside has three other Scarborough plans under assessment by NOPSEMA for drilling, pipeline installation and subsea equipment. It is yet to submit a plan for operating the project.
The Market Recap newsletter is a wrap of the day's trading. Get it each weekday afternoon.
Source: Thanks smh.com