CBA defends profits amid signs of increasing financial stress
Commonwealth Bank chief executive Matt Comyn has defended the bank's profits after delivering a record $10.2 billion result, saying the banking giant needed to make a return for its shareholders so it could support the wider economy amid tougher conditions.
The country's biggest bank on Wednesday reported a 6 per cent rise in profit for the year to June, saying the economy had been resilient so far, but growth was slowing and some of its customers faced increasing financial stress amid rising interest rates and inflation.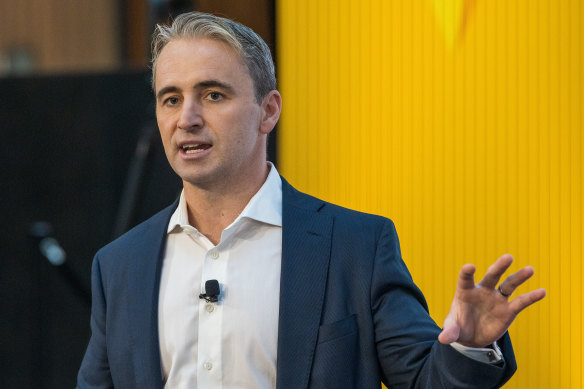 As acting Greens leader senator Mehreen Faruqi highlighted "obscene" levels of corporate profit, Comyn also faced a question from an analyst over the public perception that banks were making too much money.
In response, Comyn defended the bank's profit, saying there was not necessarily a trade-off between profits and delivering for customers.
"It is not a choice between profitability or doing a good job for customers; you can do both," he said on an analyst call following the earnings announcement.
"Every business, certainly over the medium or long term, has to do both. If you're not doing a good job by your customers, you're not able to grow, and you can't possibly generate sustainable returns."
The result comes amid debate about the level of competition in Australia's banking industry, with bankers insisting the mortgage market has been fiercely competitive, while the competition watchdog is unconvinced this will last.
Australian Competition and Consumer Commission deputy chairman Mick Keogh, who last week opposed ANZ bank's plan to buy Suncorp's bank, reiterated on Wednesday that he thought the banks were not competing hard enough.
"All the four majors are essentially the same, and they work on a 'live and let live' basis where they don't try too hard to compete; they all get a comfortable profit," he said. "They all act pretty much in unison. They all watch each other; they don't try to pinch too much market share off each other."
However, Goldman Sachs analyst Andrew Lyons noted that "Australian banks collectively have gone from among the most profitable developed market banks to being now among the least profitable".
Morningstar analyst Nathan Zaia said that, while CBA's total profit had risen, the capital needed to support the bank, including regulatory requirements, had also increased substantially.
CBA's profit for the year to June was helped by the sharp increase in interest rates, which have allowed banks to lift mortgage rates by more than rates on many deposits. However, the benefit to banks from higher rates have faded over the last six months, as lenders have fought to attract and retain mortgage customers.
Faruqi responded to a question on CBA's result by saying corporate profits were "absolutely obscene", while the Finance Sector Union national secretary Julia Angrisano said CBA's results showed it could pay staff more than the bank was offering.
"Very obviously, the CBA can afford to pay more," Angrisano said. "Their proposed pay rise would be a pay cut in real terms, given inflation. The finance industry would expect the CBA to provide industry-leading wage increases given their industry-leading profits."
Comyn added it was particularly important for banks to be profitable at this point in the economic cycle because of intense competition for capital.
"If a financial institution or banking system of a particular country is below cost of capital, why would shareholders then invest money into that?" he said. "That leads to very bad lending outcomes and the inability to be able to support the broader economy, which we've seen many case studies of, particularly in Europe."
Comyn said the bank had passed the peak period of customers rolling off ultra-low fixed rates onto variable rates in June, a month earlier than the rest of the market. While about $10 billion rolled off in June, he said there was "a significant portion" still to mature over the course of the calendar year; some extend into early 2025.
Source: Thanks smh.com