AGL sinks to $1.3 billion loss after volatile year for power grid
Power giant AGL has sunk to a $1.26 billion full-year loss after a chaotic 12 months for the east-coast energy market, but is flagging a sharp lift in earnings as electricity prices rise and reliability improves across its coal-fired power stations.
AGL, the largest Australian power and gas supplier on Thursday, said its bottom-line loss, down from a profit of $860 million last year, was largely due to writing down the value of its emissions-intensive coal-fired power stations after deciding to bring forward their closures to fast-track the decarbonisation of its business.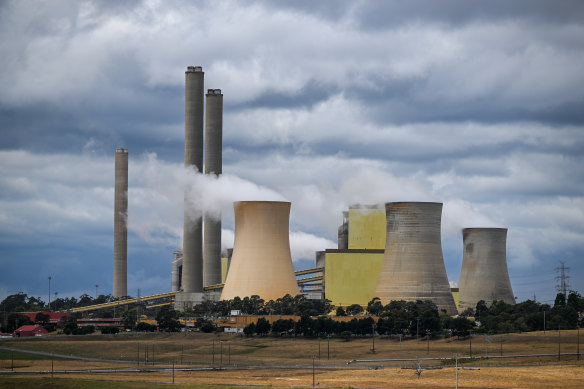 On an underlying basis, AGL's profit rose 25 per cent to $281 million.
AGL chief executive Damien Nicks said the result reflected a strong second half for the power and gas supplier "following a challenging start to the year" of volatile energy market conditions and costly breakdowns at its coal-fired power plants.
A series of unexpected failures across its ageing coal generators, including a prolonged outage at Victoria's Loy Yang A plant, slashed AGL's electricity supply amid a period of intense demand last year, forcing it to buy expensive wholesale power from the grid to meet its customers' needs and fuelling a worse-than-expected $1.1 billion loss for the six months to December.
The chaos came amid a turbulent year for AGL after tech billionaire Mike Cannon-Brookes, one of Australia's richest people, built an 11 per cent stake in AGL last year before driving an overhaul of its board of directors and forcing new pledges for faster and deeper cuts to the company's enormous output of greenhouse gas emissions.
AGL, which closed its Liddell coal-fired power station in NSW earlier this year, agreed to fast-track the retirement of its two remaining coal plants while investing billions of dollars building more renewable energy and "firming" assets – such as batteries, pumped hydro and fast-start gas plants – to back up green generators when the wind isn't blowing and the sun isn't shining.
Under the new closure timelines, AGL's Bayswater plant in NSW is now due to close no later than 2033, while the retirement of Loy Yang A in Victoria's Latrobe Valley has been brought forward by up to 10 years from 2045 to 2035.
Source: Thanks smh.com