Energy stocks power ASX after Wall Street slide
Welcome to your five-minute recap of the trading day, and how experts saw it.
The numbers:
The Australian sharemarket lifted on Thursday as energy and consumer companies bolstered the index following a negative lead from Wall Street overnight.
The S&P/ASX 200 was up 19.4 points, or 0.3 per cent, to 7357.4 at the close even as information technology and utilities companies dropped.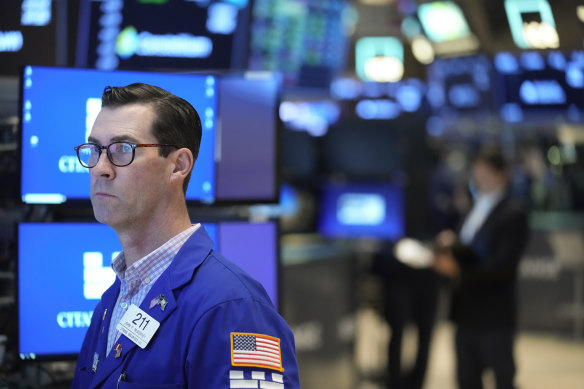 The lifters
Coal miners were among the biggest large-cap advancers as Whitehaven gained 4.3 per cent and Yancoal added 4.8 per cent. Heavyweights Woodside (up 1.9 per cent) and Santos (up 2.6 per cent) also advanced after Brent crude oil prices lifted 1.6 per cent, with the broader energy sector lifting 2.3 per cent.
Consumer discretionary companies (up 0.6 per cent) were also stronger as Wesfarmers gained 1.2 per cent and Aristocrat Leisure lifted 1 per cent.
Financial advice and wealth management company AMP gained 4.6 per cent despite putting a pause on the third stage of its capital return plan, after announcing higher than expected cost-cutting measures.
The laggards
Information technology (down 1.8 per cent) was the weakest sector on the local bourse as Xero (down 3.7 per cent), WiseTech (down 1 per cent) and TechnologyOne (down 0.9 per cent) dropped.
Energy giant AGL was down 3.1 per cent after unveiling its results, weighing down the utilities sector (down 0.4 per cent).
Iron ore heavyweight Rio Tinto (down 2.8 per cent), IDP Education (down 2.7 per cent) and Seek (down 1.6 per cent) were also among the biggest large-cap decliners.
The lowdown
IG Australia market analyst Tony Sycamore said the ASX shrugged off a soft lead from Wall Street as energy prices jumped overnight.
"While rising energy prices are an unwelcome development for households, they provide a firm tailwind to the energy sector," said Sycamore.
Sycamore said the market appeared to have had second thoughts about the quality of CBA's earnings report as its shares dropped 0.4 per cent after a strong profit result on Wednesday.
And noting AGL's reported annual loss of $1.26 billion, Sycamore said it "wouldn't be a typical earnings season without high-profile misses".
Meanwhile, stocks slipped as Wall Street braced for a highly anticipated report on inflation that's on the way.
The S&P 500 fell 0.7 per cent for its sixth drop in the last seven days. The Dow Jones lost 0.5 per cent and the Nasdaq composite took a 1.2 per cent hit as big tech stocks led the declines.
Stocks have cooled in August since soaring 19.5 per cent through the first seven months of the year. Several reasons are behind the mini-pullback, including criticism that Wall Street too quickly formed a consensus that inflation will keep cooling, the economy will keep growing and the Federal Reserve has already finished its interest rates rises.
A report on Thursday will offer a big clue on how warranted those hopes are. The US government will give the latest monthly update on inflation that consumers are feeling across the country, and economists expect to see an acceleration to 3.3 per cent in July from 3 per cent in June.
Such a reading would be down sharply from its peak of more than 9 per cent last summer, but economists say the last bit of improvement to get inflation down to the Fed's 2 per cent target may be the toughest part.
Fed officials have said repeatedly recently that their upcoming decisions on interest rates will depend on what the data tells them, and they've pointed to reports on inflation and the job market in particular.
"With risks turning increasingly two-sided, Fed officials are beginning to shift the focus toward how long to hold rates steady at sufficiently restrictive levels," according to economists at Deutsche Bank.
A reading on Thursday that's much worse than expected could raise fears that the Fed's job in battling inflation is far from done and that it may have to keep hiking interest rates. At the least, it could push the Fed to keep rates high for longer than expected.
High rates slow inflation by grinding down the entire economy and hurting investment prices. The Fed has already pulled its federal funds rate to the highest level in more than two decades. With rate rises historically taking a long time to take full effect across the economy, the risk of a recession still remains.
In the meantime, companies continue to offer profit reports for the spring that are mostly better than analysts expected.
Nvidia was the heaviest weight on the S&P 500, falling 4.7 per cent. The chipmaker is one of the stocks that have rocketed this year due to Wall Street's frenzy around artificial-intelligence technology, raising fears that they went too far.
Other Big Tech stocks also fell, and their movements pack more punch on the S&P 500 because of their massive size. Amazon sank 1.5 per cent, Microsoft fell 1.2 per cent and Tesla dropped 3 per cent. The threat of high rates tends to hit technology and other high-growth stocks the hardest.
In the bond market, the yield on the 10-year Treasury slipped to 4.00 per cent from 4.03 per cent late Tuesday. That yield helps set rates for mortgages and other loans.
The two-year Treasury yield, which moves more on expectations for action by the Fed, rose to 4.80 per cent from 4.76 per cent.
In stock markets abroad, indexes were modestly higher in Europe and mixed in Asia. A report showed that prices at the consumer level in China were lower in July than a year earlier.
Tweet of the day
Quote of the day
"So, I think their view of Australia and New Zealand is… it is a more risky area than it has been before," said QBE chief executive Andrew Horton as the company warned Australia and New Zealand had become riskier countries in the eyes of insurers.
Source: Thanks smh.com