'I'm just a guy who got lucky': Rise of the lithium kings
One Sydney morning about three weeks ago, Jonathon Riley hopped on his new Ducati motorbike, turned west on the highway out of Harbour City and began a 13-day, overland trek that ended on the other side of the country at the Diggers and Dealers mining forum in dusty outback Kalgoorlie.
Riley, an anesthetist who has been riding Italian-made Ducatis for 40 years, just happens to be interested in the globe's energy transition to combat damaging climate change, and is a rusted on shareholder of star lithium miner Liontown Resources.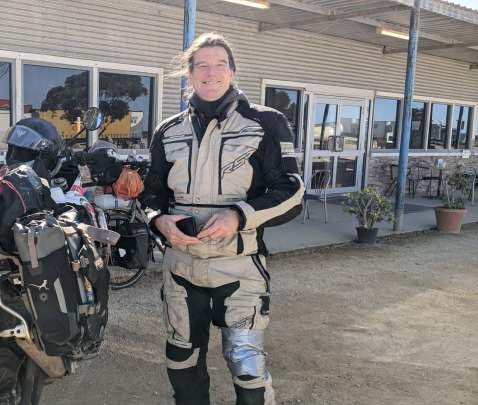 "It was kind of a coincidence that I was going to be heading in the direction of Kalgoorlie at the time of Diggers and Dealers and I thought, 'Oh, well I'm near Kathleen Valley, I'm near Diggers and Dealers, so I'll drop in and have a look at the [Liontown mine] site, and then I'll drop in and hopefully listen to [chief executive] Tony Ottaviano give his talk'," he says.
It's not hard to see why Riley is heavily invested in Liontown's future.
The anesthetist turned outback motorcycle enthusiast purchased a sizeable chunk of stock five years ago at 11¢ a share when the miner was a little known exploration company trying to raise money to turn its Kathleen Valley lithium prospect into a working operation. Since then, the miner's shares have been on a tear, hitting $2.74 this week, a 9000 per cent increase over five years.
"I'm not a sophisticated investor. I don't run a managed fund or anything like that. I'm just a guy who got lucky four or five years ago." Lucky enough to help fund his retirement, he says.
After arriving in Kalgoorlie, Riley realised he wasn't registered for the conference and didn't have accommodation. "When I looked at the prices, I thought it seems silly to pay $1000 just to listen to a 20-minute talk. So, I ended up not going," he says. If he had stayed, he would have heard other lithium hopefuls talking up their prospects.
Critical shift
Diggers and Dealers is an annual event that this year attracted up to 2700 miners, riggers, surveyors, drillers, heavy machinery makers, financiers and other mining industry types to the remote hard-bitten West Australian mining town, perhaps best known for it skimpily clad barmaids and the enormous open-cut Super Pit butting up to its backstreets.
This year the forum, once dominated by gold miners and nickel prospectors, was awash with lithium and critical minerals companies – heralding a lithium "gold rush".
The element is a key component in modern home and grid batteries used to store the renewable energy generated from wind and solar or to power electric cars. Vehicle manufacturers across China, Europe and the US are scrambling to secure supplies as they pivot to making all-electric transport, a shift that is fuelling mining explorers and established companies such as Pilbara Minerals and Liontown who will supply the raw material.
"The outlook for lithium is looking pretty spectacular," says Pilbara chief executive Dale Henderson, who kicked off the conference with news his company has significantly increased its resource estimate for its Port Hedland Pilgangoora operation. It now thinks the mine will yield 413.8 million tonnes of measured, indicated and inferred resource, a 36 per cent increase that adds about 109 million tonnes to its previous outlook.
'The world needs a lot of lithium above and beyond all the identified assets so far.'

Pilbara  chief executive Dale Henderson,
"The world needs a lot of lithium above and beyond all the identified assets so far," he said.
Like Pilbara, another lithium producer, IGO chief executive Matt Dusci, believes a gap is looming between what is currently being dug up and what car and battery manufacturers will actually need.
"We need to fill that gap," he says. If IGO and other miners like it can't, there is a risk manufacturers will pivot to alternative battery technologies. "That's when you're at risk of technology changes and being forced out because, if you can't supply, someone will find an alternative."
China produces about 246,400 tonnes of lithium hydroxide a year.
"If you fast-forward to where Western Australia will be by 2030, we will be producing about the same amount of lithium hydroxide here as China produces now," Dusci predicts.
'Scratching the surface'
Unlike Australia's big iron ore producers – BHP, Rio Tinto or Fortescue Metals Group – who see little value in owning downstream steelmaking plants (BHP spun off BlueScope Steel in 2002), lithium players are keen to capture profits from processing their spodumene and to foster a local battering making industry. Spodumene is a high-purity lithium ore that is generally sold to China where most of the world's critical minerals are refined and produced.
Along with one of China's top producers Tianqi Lithium Corporation, IGO owns the newly developed Kwinana Lithium Hydroxide Refinery where it processes ore from Australia's largest lithium deposit, the Greenbushes mine about 250 kilometres south of Perth. Production is a risky and complex process, and IGO's ramp-up of the facility is being held back by legacy engineering issues.
"We're producing battery grade lithium hydroxide [and are the] first company to produce battery grade lithium hydroxide outside of China," Dusci says.
Dusci says mining explorers are "just starting to scratch the surface" potential of other large-scale lithium finds. "This is an industry that didn't exist … eight years ago."
Such is the hype around "future facing" metals, it prompted the boss of one of the country's largest gold producers, Evolution Mining's Jake Klein, to opine: "Australian gold miners should be really, really happy. But we're not. Maybe it's envy because over the last 12 months critical minerals … have stolen all the headlines."
Klein maintains Australia has gotten significantly wealthier in the last 32 years as a result of China's emergence as a superpower.
"I spent the first part of my career building gold mines in China right through that golden period of globalisation. It was a fantastic window to the heart of the China and Australia relationship, which was amazingly strong," he says.
But he sees real risks to Australia from the West's rapid pivot towards decoupling from the Asian manufacturing giant – driven by America's desire to maintain technological superiority and boost its supply chain security.
"That's worrying and dangerous," Klein says. "Unfortunately, that is good for gold."
China's decoupling, combined with the Ukraine conflict, and the potential for a polarising and destabilising election in the US next year will feed uncertainty and drive investors to gold as a safe haven, he says.
"They [investors] just needed to be reminded how important gold is in commodities markets. There's very good reasons to believe why gold is going higher," he says. "I think it's definitely going above $US2000 an ounce."
Laws of the land
The new lithium rush is also exposing fault lines in Western Australia's heritage laws.
In an embarrassing backflip, the state scrapped its controversial Indigenous cultural heritage protection laws on Tuesday just weeks after they came into effect. The laws were framed to avoid a repeat of Rio Tinto's disastrous destruction of Juukan Gorge.
Mining Minister Bill Johnston insists many large resource companies with functioning mines already have strong relationships with the traditional owners of the land on which they operate, but acknowledges mining explorers had issues with the new laws.
"Exploration companies raised a range of questions with us and we were very pleased to work through those and, as I say, I think the premier showed strong leadership in acknowledging the need to change and apologising to the community and providing a pathway forward," Johnston says.
But what of Riley's wild ride and bold investment?
"I put a fair bit of money in just because I was pretty sure about lithium being a big thing," he says. And of the ride? "I wanted to get to Surveyor General's Corner [where the Northern Territory, South Australia and Queensland borders meet]. So, I went there, and then continued on to … Kalgoorlie," he says.
The Business Briefing newsletter delivers major stories, exclusive coverage and expert opinion. Sign up to get it every weekday morning.
Source: Thanks smh.com