There is a kinder, cheaper way to get a divorce
Divorce is never a fun time, and for many separating couples things become decidedly less fun as soon as lawyers get involved. However, across Australia another set of professionals is also helping others through difficult times like these – our 3700 registered mediators.
"I want separating couples to know there is a kinder, cheaper, legal alternative to engaging with lawyers," says Dianne Loveday, a family dispute resolution mediator and head of Melbourne's Bayside Mediation.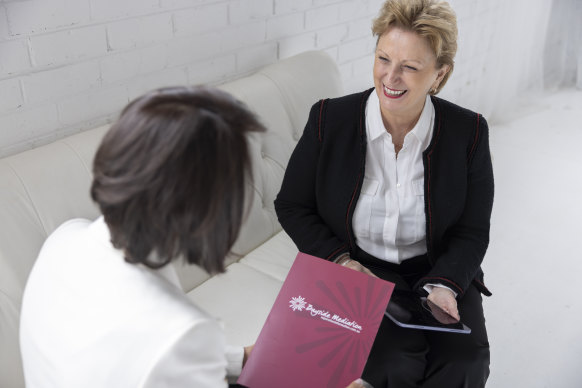 In the decade since she founded her practice, Loveday has helped more than 1000 families through a non-adversarial, empathetic separation process, saving former couples significant dollars in the process.
"It is widely accepted that if a matter makes it to a final hearing [a judge makes an order] a couple will have spent in excess of two years in litigation and $50,000 to $100,000 each [individual]," she says.
Family dispute mediation is becoming increasingly well known in Australia, as separating couples are now required to attempt mediation before going to court. However, according to Amber Williams, CEO of professional membership organisation Resolution Institute, mediation is also becoming more actively used in small business, commercial and workplace settings.
"Employers [are] increasingly engaging mediators to help rebuild relationships that have broken down in workplaces," Williams says.
Australia's Mediator Standards Board outlines the steps required to register as a mediator. Given the maturity required to take on this type of role, mediation is a second or even third career for many.
"Most successful mediators have already established themselves in a career and then often use this knowledge and experience to make the transition," says Williams.
"Whilst mediators don't need to know the detailed ins and outs of every dispute, having experience in a field ultimately helps new mediators build their reputation and their business."
Making the switch warrants some preparation, according to Williams.
'Employers [are] increasingly engaging mediators to help rebuild relationships that have broken down in workplaces.'

Amber Williams, CEO, Resolution Institute
"I would encourage someone who was considering entering the field to do their homework first – build their networks in advance, understand where they will get their work from and learn how to nurture those connections. Mediators don't get work by chance, they need to build a reputation and often that legwork can be done before they switch careers," she says.
Loveday first realised this was the career path for her when she helped a friend through her separation and saw the difference mediation made to all parties. Today, she holds a range of qualifications that help her do the job well, including a graduate diploma in family dispute resolution and a psychology degree.
"My psychology degree helps me support my clients going through what is always a very emotional experience," Loveday says. "It also helps me explain the importance of age-appropriate care arrangements for children and the importance of [a] child-inclusive process."
Williams and Loveday agree that typically a good mediator will be a problem solver.
"They don't get emotionally involved with their client's issues and are able to take an impartial look at the presenting problems and help clients work through their issues and find solutions their clients can live with," Loveday says.
Nonetheless, the job can still take an emotional toll, so Loveday ensures all mediators in her business are available to help one another.
"Supporting couples through the difficult process that is separation means that we often need to debrief and support each other," she says.
Becoming a mediator
 Consider your field of expertise. If you're coming from the human resources field, perhaps you can specialise in workplace mediation. Have a small business background? Commercial mediation may be your sweet spot.
Once qualified, mediators are required to register with a professional body and commit to ongoing training. The Mediator Standards Board has clear information about the national mediator accreditation system.
The Business Briefing newsletter delivers major stories, exclusive coverage and expert opinion. Sign up to get it every weekday morning.
Source: Thanks smh.com