Bendigo customers eating into buffers but no signs of distress
Bendigo and Adelaide Bank chief executive Marnie Baker says late repayments have ticked up and mortgage buffers are being drawn down, but the bank was yet to notice "material signs" of borrower distress.
On Monday, the boss of the country's fifth-largest bank acknowledged its customers faced significant rates-induced headwinds, even as it booked record earnings.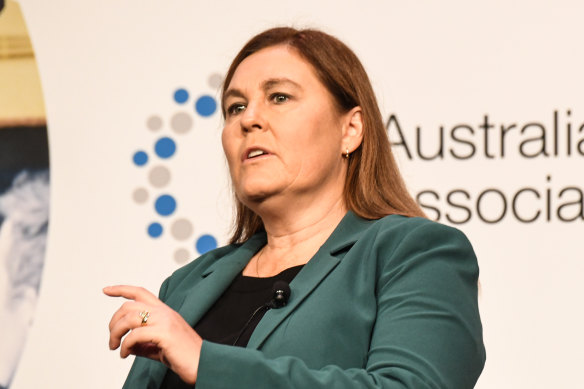 "The external environment presents us and our customers with challenges," Baker said. "Cost of living pressures will continue to present a challenge to Australian households as they grapple with the fastest pace of monetary policy tightening since 1985."
Bendigo's cash earnings grew 15.4 per cent over the year to $576.9 million, with the record result driven by robust lending growth and an 8 basis point increase in its net interest margin – what a bank charges for loans compared with its funding costs – over the half to 1.98 per cent.
However, the numbers fell short of analyst expectations sending Bendigo shares down 3 per cent to $8.92 a share.
While Bendigo's chief financial officer Andrew Morgan said arrears remained at historic lows, he added there were signs of households and businesses feeling the pressure. Bendigo's 90-day plus late payments in home lending increased 5 basis points to 0.46 per cent from December 2022 and business arrears increased from 2.1 per cent to 2.5 per cent.
The proportion of residential loan customers at least two years ahead of their scheduled repayments dropped from 34 per cent to 31 per cent year-on-year and Morgan said the bank was seeing a slight slowdown in offset accounts through the year.
"But I wouldn't say it's a particularly meaningful slowdown," he said.
About 16 per cent of Bendigo's customers have no buffer, but that proportion has remained stable over the past six months. While home loan borrowers were on average three years ahead of scheduled repayments last year, Morgan said they were now about 29 months ahead.
The bank is gearing up for an increase in borrower stress amid a slowing income and credit growth environment.
"We do expect arrears to trend upwards and move towards longer-term averages over time," Morgan said, as the bank increased its provisions by about 2 per cent over the half.
"We've taken a more conservative economic outlook as it relates to interest rates, GDP growth and unemployment. The net effect of this has been to increase our model collective provision by around $10 million. We are keeping a very close eye on how the economy develops over the next six to 12 months."
Bendigo announced a final dividend of 32 cents a share, taking the final year dividend to 61 cents a share, at the lower end of the bank's payout target range. "This decision reflects our desire to maintain a strong capital position given the uncertain business outlook," the bank said.
UBS analyst John Storey said Bendigo's return to loan growth and stable net interest margin in the second half were positives amid the bank's earnings figure which was lower than analysts expected.
"At face value, we think the Bendigo result is clean despite the earnings miss relative to consensus," he said. "Similar to CBA, asset quality is better than expected for this point in the cycle."
Citi analyst Brendan Sproules said the bank's net interest margin was lower than he had forecasted while its costs were higher than expected, but said the bank's balance sheet overall looked robust.
The Market Recap newsletter is a wrap of the day's trading. Get it each weekday afternoon.
Source: Thanks smh.com