JB Hi-Fi profits slide in 'challenging environment'
Sales of electronics and white goods at JB Hi-Fi Australia and The Good Guys dipped in July as consumer uncertainty grew but the retailer's boss Terry Smart says the brand's low-price offer puts JB Hi-Fi in a strong position.
The ASX-listed home goods retailer provided further evidence that spending conditions are slowing on Monday morning when it revealed in a trading update with its full-year financial results that sales growth at its Australian JB Hi-Fi stores was down by 1.8 per cent for July, while The Good Guys had declined by 12 per cent.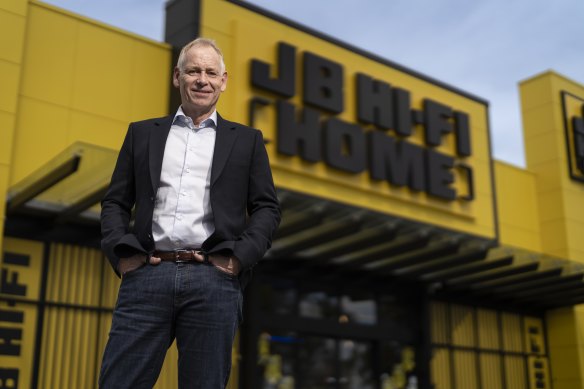 The company's New Zealand stores bounced back after a challenging trading period, with sales up by 10 per cent for July.
While JB Hi-Fi's net profit after tax was down by 3.7 per cent to $524.6 million, the company was able to grow its earnings-per-share over for the year by 0.1 per cent to 79.9 cents.
"In a challenging retail environment, we remain top of mind for shoppers and grew our market share by continuing to drive our value offering," Smart said in a statement to the ASX.
Total sales at JB Hi-Fi's Australian stores were up by 5.6 per cent to $6.55 billion, with communications, audio and games hardware sales performing the strongest.
Sales at the group's New Zealand stores were up by 11 per cent for the year to $NZ292.1 million ($269 million).
Online sales declined by 20.9 per cent to $940 million at JB Hi-Fi's Australian stores.
White goods retailer The Good Guys saw softer growth, with sales growth of 0.8 per cent to $2.81 billion.
JB Hi-Fi last updated the market in May, when it revealed comparable sales were down by 0.1 per cent at JB Hi-Fi Australia in the three months to March, while The Good Guys had dropped by 3.8 per cent.
Analysts have been pessimistic about the outlook for consumer electronics and home goods stocks given big ticket purchases are considered one of the first expenses to be cut during a spending downturn. Australian Bureau of Statistics retail turnover figures show household goods spending declined 0.1 per cent in June to $5.8 billion, and have declined from a high of $6.2 million in November 2022.
Consensus estimates had predicted the company's net profit after tax would come in $507.3 million for the year, a drop of about 7 per cent on 2022.
"We expect JB Hi-Fi will not be immune to the slowdown in shopping centre foot traffic," Citi's equities team said in a note to clients ahead of the numbers being announced.
The company's shares have advanced this year despite fears of a spending slowdown, with the stock ahead by 12.1 per cent when it closed at $47.21 on Friday.
The company declared a final dividend of $1.15 per share, bringing the total annual payout to $3.12.
More to come
The Business Briefing newsletter delivers major stories, exclusive coverage and expert opinion. Sign up to get it every weekday morning.
Source: Thanks smh.com