Miners, industrials weigh ASX after more Wall Street losses
The Australian sharemarket started the week on the back foot as miners and industrials companies dropped and Wall Street closed out its second consecutive losing week.
The S&P/ASX 200 was down 61.8 points, or 0.8 per cent, to 7278.3 about 12.30pm AEST on Monday as all sectors except energy and communication services traded in the red.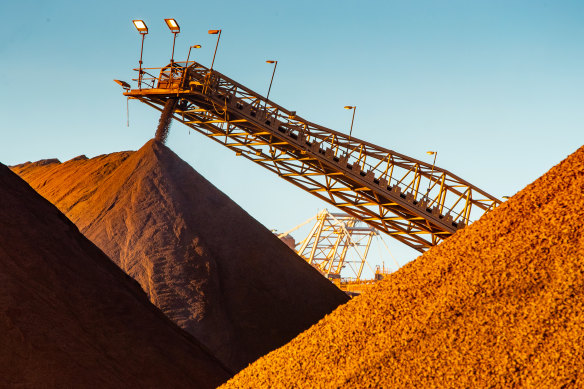 Communication services (up 0.5 per cent) was the strongest sector on the local bourse as Carsales.com added 5.4 per cent after its profit jumped 301 per cent to $636 million for the year. Seek and Spark New Zealand also gained, adding 0.9 per cent and 0.2 per cent respectively.
Energy companies (up 0.5 per cent) were also stronger as heavyweight Woodside (up 0.9 per cent) advanced following a 0.2 per cent rise in Brent crude oil prices. Coal miner Yancoal (up 0.4 per cent) was also stronger.
JB Hi-Fi bucked the trend among consumer stocks, climbing 1.7 per cent after it reported a 4.3 per cent jump in revenue to $9.6 billion.
BlueScope Steel (up 2.1 per cent) and Meridian Energy (up 1.6 per cent) were among the biggest large-cap advancers.
Meanwhile, industrials companies (down 1.2 per cent) were among the weakest on the index as Aurizon Holdings and Qube Holdings (both down 2.8 per cent) and Qantas (down 1.6 per cent) slid lower. Aurizon shares sank after its net profit fell 46 per cent to $276 million, which included discontinued operations.
Miners (down 1.2 per cent) were the heaviest weight on the index as lithium producers Pilbara Minerals (down 4.9 per cent), Allkem (down 3.1 per cent) and Liontown (down 2.2 per cent) all fell. Mineral Resources (down 2.4 per cent) and Lynas Rare Earths (down 2.2 per cent) also dropped, along with iron ore heavyweights BHP (down 1.6 per cent), Fortescue (down 1.1 per cent) and Rio Tinto (down 1.6 per cent).
The big four banks were also weaker amid a 0.8 per cent fall in the financials sector. CBA lost 0.6 per cent, NAB dropped 0.8 per cent, Westpac slipped 0.9 per cent and ANZ declined 1 per cent.
Shares in horticulture giant Costa Group sank 2.7 per cent after giving an update to the market about a potential $1.6 billion takeover from US private equity firm Paine Schwartz. Costa already struck a cautious tone in early July, and it seems like negotiations haven't progressed that much further.
"There continues to be no certainty that the indicative proposal will result in a binding offer or that any transaction will eventuate," the company said in a statement on Monday. "Costa will continue to keep the market informed in accordance with its continuous disclosure obligations."
A choppy day of trading on Wall Street ended on Friday with an uneven finish for the major stock indexes, as mixed economic data stoked worries that the Federal Reserve's work on bringing inflation to heel isn't done.
The S&P 500 slipped 0.1 per cent after wavering between small gains and losses most of the day. The benchmark index fell 0.3 per cent for the week, its second consecutive losing week.
The Nasdaq composite fell 0.7 per cent, reflecting a pullback in big tech companies. The Dow Jones Industrial Average eked out a 0.3 per cent gain.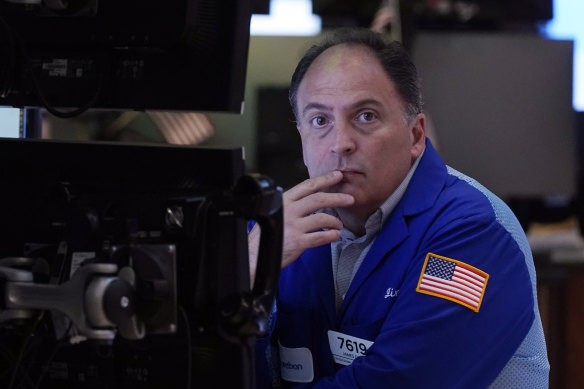 Stocks lost ground in the early going after the Labor Department reported on Friday that its producer price index, which measures inflation before it hits consumers, rose 0.8 per cent last month from July 2022. The latest figure followed a 0.2 per cent year-over-year increase in June, which had been the smallest annual rise since August 2020.
Bond yields rose, including the two-year Treasury yield, which climbed to 4.89 per cent. The yield, which closely tracks expectations for the Fed, had been at 4.80 per cent right before the report's release. The yield on the 10-year Treasury rose to 4.16 per cent from 4.10 per cent late on Thursday. It helps set rates for mortgages and other important loans.
Traders also weighed a preliminary reading in a University of Michigan survey that showed consumer sentiment down slightly from July, when the mark climbed to its highest level since October 2021. The latest consumer sentiment index was 71.2, down from 71.6 in July and below analysts' consensus forecast of 71.3, according to FactSet.
Among its findings, the survey found that consumers' expectations for inflation in the coming year edged lower. That's good news, as the Fed has been adamant about wanting to avoid a vicious cycle where expectations for high inflation drive behaviour that only worsens it.
The major indexes have lost some steam after standout rally through the first seven months of 2023, but remain solidly higher for the year. The S&P 500 is up 16.3 per cent, the Nasdaq is up 30.4 per cent and the Dow is up 6.4 per cent.
With AP
Source: Thanks smh.com