Supermarkets tipped to shine this earnings season, but can momentum last?
Australia's grocery sector is expected to come under increased public scrutiny when supermarket giants Coles and Woolworths report their annual profits later this month, but analysts believe cost pressures could slow the sector's momentum.
Shares in Coles and Woolworths have had a strong run-up to the August reporting period, with Coles advancing by 9.2 per cent year-to-date while Woolworths shares are ahead by 15.9 per cent.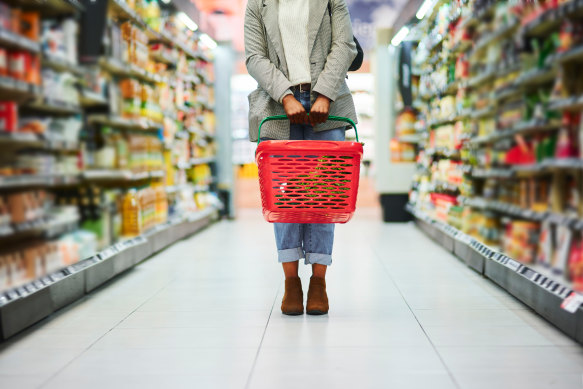 Market watchers are expecting both to further grow their earnings for 2023 despite an overall spending slowdown across the retail sector. Analysts are expecting earnings before interest and tax (EBIT) to be up by about 5 per cent at Coles to $1.97 billion for 2023, while Woolworths is tipped to hit group EBIT (including department store Big W) of about $3.1 billion, an increase of about 16 per cent.
Investment bank Citi predicts Coles' EBIT margin, a measure of profitability, will inch up by 0.2 per cent to 4.97 per cent for 2023, while Woolworths' margin is expected to hit 4.9 per cent, up from 4.4 per cent last year.
Both companies' profit margins and food inflation figures will be watched closely this month given the increasing pressure households are under due to sustained inflation and rising mortgage rates.
Australian Bureau of Statistics figures show food and beverage prices increased by 1.6 per cent in the June quarter, and are up 7.5 per cent compared with the June quarter in 2022. The most recent UBS tracker of supermarket prices suggests food inflation at Coles and Woolworths hit 8.8 per cent in June.
Surging inflation has supported top-line sales growth across the grocery sector, but analysts believe rising input costs will start to slow momentum and weaken the companies' earnings margins.
"We expect food inflation to be a diminishing tailwind for supermarket top-line growth as we move through FY24," Morgan Stanley analysts said in a note to clients.
"We see the set-up for [the 2024 financial year] as increasingly challenging given diminishing tailwinds of inflation for top-line growth and a step up in retail wages driving cost-of-doing-business inflation."
Citi analysts will also be on watch for details about operating costs at both supermarkets. "We'll be looking for guidance on how labour costs are being managed given the Fair Work Commission decision and how much supply chain costs are normalising," its team said.
Morningstar retail analyst Johannes Faul said it would be difficult to compare the companies' earnings margins with the past few years because "there are a lot of moving parts" given the sector had significant costs related to COVID-19 that have now lessened.
"We do believe, however, that next year we will see margins weakening a bit," he said.
Faul will also on watch for evidence that competitors are taking market share off the supermarket giants, given discount chain Aldi has been widely tipped to be in the best position to win new customers in the current trading environment. "We expect Aldi to be growing market share," he said.
Coles and Woolworths both pointed out increasing competition in the grocery sector when appearing at a House of Representatives economics committee inquiry into promoting economic dynamism, competition and business formation.
"Australian shoppers are savvy. And unlike banks, telcos or utilities, our customers will freely switch retailers to get the best deal. In the last year, around seven in 10 of our customers have also shopped at Coles, Aldi and IGA," Woolworths chief commercial officer Paul Harker told the inquiry.
The market is split on whether the big grocers are a good investment in the current trading environment. Eight out of the 18 analysts tracked by Bloomberg listed both Coles and Woolworths as a "buy" last week, while five rated the stocks as a hold and five had the companies as a sell.
Coles reports its 2023 earnings on August 22, while Woolworths will present its numbers on August 23.
The Business Briefing newsletter delivers major stories, exclusive coverage and expert opinion. Sign up to get it every weekday morning.
Source: Thanks smh.com