ASX set to fall as China's struggles unsettle global markets
Stocks worldwide are falling as China's faltering recovery raises worries for the rest of the global economy.
The S&P 500 sank 0.9 per cent in afternoon trading after data showed a deepening slump in July for the world's second-largest economy. The Dow Jones fell 0.9 per cent and the Nasdaq composite lost 0.8 per cent. The Australian sharemarket is set to retreat, with futures pointing to a fall of 71 points, or 1 per cent, at the open. The ASX added 0.4 per cent on Tuesday.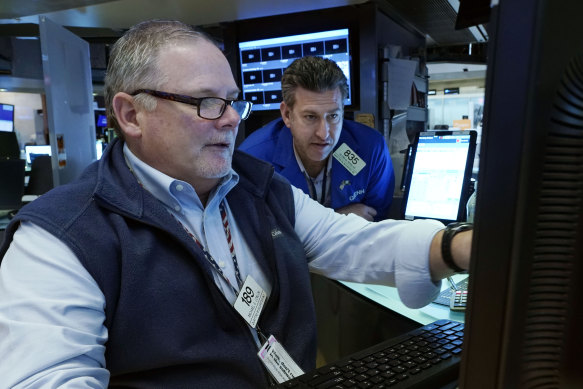 Coming into this year, the expectation was that China's economy would grow enough after the government removed anti-COVID restrictions to prop up a global economy weakened by high inflation. But China's recovery has faltered so much that it unexpectedly cut a key interest rate on Tuesday and skipped a report on how many of its younger workers are unemployed.
Worries about the knock-on effects for the rest of the global economy are weighing on Wall Street, where stocks have already been retrenching in August. The pullback follows a gangbusters first seven months of the year that critics called overdone.
In the US, the economy has remained more resilient than expected despite higher interest rates. A report on Tuesday showed growth for sales at US retailers accelerated by more in July than economists expected.
"US retail sales are charging ahead, and a lot of that may be on charge cards," said Brian Jacobsen, chief economist at Annex Wealth Management. "Still, the US consumer is showing few signs of slowing down."
The strong retail sales report raises hopes that the US economy can keep growing and avoid a long-predicted recession. But on the downside for markets, it could also raise the Federal Reserve's resolve to keep interest rates high in order to fully grind down inflation.
The Fed has already hiked its key interest rate to the highest level in more than two decades. High rates work by bluntly dragging on the entire economy and hurting prices for investments.
"Numbers like today's just make it more likely that rates will remain higher for longer, even if the Fed doesn't hike them next month," said Mike Loewengart, head of model portfolio construction at Morgan Stanley Global Investment Office.
Treasury yields initially rose following the retail sales report, approaching their highest levels since the 2007-09 Great Recession, before easing.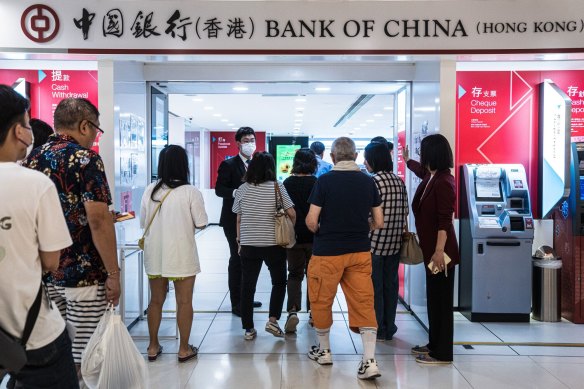 A faltering Chinese economy could mean less demand for oil and other commodities.
The price for a barrel of US crude oil dropped 2.1 per cent to $US80.76. Prices also fell for Brent crude, the international standard, and for copper.
The declines meant stocks of energy and raw-material producers were among the biggest losers in the S&P 500. Miner Freeport-McMoRan fell 3.4 per cent, and Exxon Mobil's 2.5 per cent drop was one of the heavier weights on the index.
Banks were also falling, continuing a rocky run since the high-profile failures of several during the spring that were caused in part by higher interest rates.
Smaller and midsized banks have been under particularly scrutiny from investors and credit-rating analysts, and KeyCorp, Comerica and Citizens Financial Group all fell at least 4 per cent for some of the heavier losses in the S&P 500.
The largest loss came from Discover Financial Services. It dropped 10.6 per cent after it said its CEO is stepping down, effective immediately.
Elsewhere on Wall Street, more reports on corporate profits that came in better than expected helped to limit the market's losses.
Home Depot gained 0.6 per cent after it topped expectations for both revenue and profit, though it's feeling the effects of much higher interest rates. The home improvement retailer said it's seeing continued pressure on some types of big-ticket projects.
Stocks of homebuilders were bouncing between gains and losses after Warren Buffett's Berkshire Hathaway disclosed it bought stakes in several of them. Other investors often try to copy the famed investor's moves, and D.R. Horton rose 2.9 per cent.
In stock markets abroad, indexes slumped in Europe after falling 1 per cent in Hong Kong and 0.1 per cent in Shanghai.
Pressures are appearing worldwide. Also Tuesday, Russia's central bank raised its main lending rate in an emergency move to strengthen the rouble after the currency reached its lowest value since early in the war with Ukraine. In the UK, data showed wages for workers are growing at a strong pace, which threatens to add upward pressure on its already high inflation.
Japanese stocks were an exception. The Nikkei 225 rose 0.6 per cent after Japan reported unexpectedly strong growth in its economy during the spring.
In the bond market, the yield on the 10-year Treasury slipped to 4.19 per cent from 4.20 per cent late Monday. It helps set rates for mortgages and other important loans.
The two-year Treasury yield, which more closely follows expectations for the Fed, fell to 4.94 per cent from 4.97 per cent.
AP
The Market Recap newsletter is a wrap of the day's trading. Get it each weekday afternoon.
Source: Thanks smh.com