ASX extends losses as Wall Street drops on rate concerns
The Australian sharemarket continued to tumble on Thursday after Wall Street extended its losses overnight following the release of the minutes from the Federal Reserve's latest meeting.
The minutes suggested Fed officials are unsure about their next move after catapulting the main interest rate they control to its highest level in more than two decades. Hopes had been rising among investors that last month's rate hike by the Fed would prove to be its last.
The S&P/ASX 200 was down 85.2 points, at 1.2 per cent, to 7110.0 at about 10.45am AEST as all sectors except utilities traded in the red.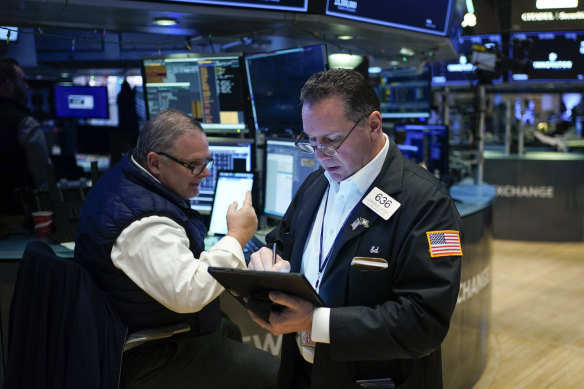 The Australian dollar also softened, dropping to 64.04 US cents at about 10.55am AEST.
Communication services (down 2.1 per cent) were the weakest sector on the local bourse as Telstra dropped 3.5 per cent – despite delivering a 13 per cent increase in annual profit – after the company said it would retain its InfraCo Fixed business.
Information technology (down 1.5 per cent) and healthcare companies (down 1.3 per cent) were also weaker with WiseTech (down 0.7 per cent), Xero (down 1.8 per cent) and NEXTDC (down 1.9 per cent) dropping and Sonic Healthcare (down 5.2 per cent) and Resmed (down 4 per cent) among the biggest large-cap decliners.
Miners (down 1.3 per cent) weighed on the index as lithium miners Liontown (down 5.2 per cent), Pilbara Minerals (down 3.4 per cent) and Allkem (down 2.9 per cent) all dived. Gold miner Evolution (down 4.1 per cent) weakened after it reported a 49 per cent profit slump. Iron ore heavyweights BHP (down 0.3 per cent), Fortescue (down 1.2 per cent) and Rio Tinto (down 0.6 per cent) fell after a 0.3 per cent decrease in iron ore prices and as concerns about China's economic recovery continued.
The big four banks traded firmly in the red, dragging down the broader financials sector (down 1 per cent). The country's largest bank, CBA, dropped 0.7 per cent, NAB fell 1.5 per cent, Westpac shed 1.3 per cent and ANZ dipped 1.1 per cent.
Meanwhile, Wall Street weakened to worsen what's already been a messy August.
The S&P 500 fell by 0.8 per cent, following up on its prior day's tumble of 1.2 per cent. The Dow Jones lost 0.5 per cent and the Nasdaq composite dropped by 1.1 per cent.
Increased pressure came from the bond market, where yields have recently neared their highest levels since the Great Recession sent interest rates collapsing. Yields climbed more following the afternoon release of the Fed minutes, which raised the potential for a further rate hike.
High rates work to grind down inflation by bluntly slowing the entire economy and hurting investment prices. The Fed's minutes showed that officials still don't think the job on inflation is done but that they also acknowledge the risk of going too far and torpedoing the economy. They said they'll make upcoming decisions based on what data reports about inflation and the economy tell them.
Some analysts took the minutes as a suggestion that another rate hike is possible, while others said it shows the Fed is likely done hiking.
"Ultimately, there were no major surprises in the minutes, as the Fed is expected to remain data dependent when determining the path of monetary policy through the end of the year," said Sam Millette, fixed income strategist for Commonwealth Financial Network.
Big technology stocks and other investments seen as particularly vulnerable to higher rates were some of the day's heaviest weights on indexes. Tesla fell 3.2 per cent. Facebook's parent, Meta Platforms, dropped 2.5 per cent, and Amazon fell 1.9 per cent.
Wall Street has generally been retrenching this month on several concerns, including worries that torrid gains made this year through July were overdone and that interest rates may stay high for longer.
Data released on Wednesday showed that US industrial production improved by more than economists expected last month. Homebuilders also broke ground on more homes.
Treasury yields have been generally climbing as reports paint a picture of a still solid economy. That pressures stocks because when safe bonds are paying more in interest, investors feel less pressure to pay high prices for stocks and other risky investments.
The yield on the 10-year Treasury rose to 4.26 per cent from 4.22 per cent late Tuesday. It's once again close to where it was when the 2007-09 Great Recession sent interest rates crashing. The 10-year yield helps set rates for mortgages and other important loans.
In stock markets abroad, indexes were mixed in Europe. Stocks were down more sharply in Asia, where worries are high about a faltering economic recovery in China.
Stock indexes fell 1.4 per cent in Hong Kong, 1.8 per cent in Seoul, 1.5 per cent in Tokyo and 0.8 per cent in Shanghai.
With AP
Source: Thanks smh.com