ASX set to dip as Wall Street retreats on Fed minutes
Stock indexes on Wall Street are lower and bond yields are climbing following the release of the minutes from the Federal Reserve's most recent interest rate policy meeting.
The minutes, released at 2pm Eastern, show that Fed officials last month still regarded high inflation as an ongoing threat that could require further interest rate hikes. Officials also saw some "tentative signs that inflation pressures could be abating."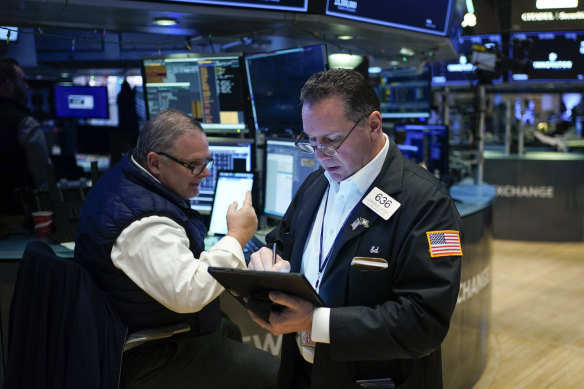 The major stock indexes briefly turned lower then recouped some of their losses following the release of the minutes after drifting for much of the day. The S&P 500 was 0.4 per cent lower in afternoon trading, tacking a bit more onto its prior day's loss of 1.2 per cent in what has been a messy August. The Dow Jones was down 0.5 per cent and the Nasdaq composite was 1 per cent lower.
The Australian sharemarket is set to dip at the open, with futures pointing to a fall of 9 points, or 0.1 per cent. The ASX
Wall Street has generally been retrenching this month on several concerns, including worries that torrid gains made this year through July were overdone and that interest rates may stay high for longer.
At the July 25-26 Fed meeting, the central bank hiked its main interest rate to the highest level in more than two decades in its bid to smother high inflation.
Wall Street has been hoping that last month's rate hike may prove to be the last of this cycle and that the Fed will begin cutting rates early next year. That would give markets a boost because elevated rates cool inflation by slowing the entire economy and hurting prices for investments, raising the risk of a recession.
But the Fed has been adamant that it wants to fully extinguish the worst inflation in decades, and a surprisingly strong report on US retail sales Tuesday suggested upward pressure still exists. So while strong economic reports calm long-held worries about a possible recession, they could also end up keeping rates higher for longer.
Data released Wednesday showed that US industrial production improved by more than economists expected last month. Homebuilders also broke ground on more homes.
Treasury yields have been generally climbing as reports paint a picture of a still solid economy. That pressures stocks because when safe bonds are paying more in interest, investors feel less need to take risks with stocks and other investments.
The yield on the 10-year Treasury rose to 4.25 per cent from 4.22 per cent late Tuesday. It's now at the highest level since October. The 10-year yield helps set rates for mortgages and other important loans.
The two-year Treasury yield, which more closely tracks expectations for the Fed, rose to 4.97 per cent from 4.96 per cent late Tuesday.
Elsewhere in the market, traders reviewed the latest quarterly earnings reports from big retailers.
Target and TJX, the company behind T.J. Maxx and Marshalls, were pushing upward on the market. Target rose 3.9 per cent, and TJX climbed 4.3 per cent after both reported stronger profit for the spring than analysts expected.
They were working to offset a drop of 3.9 per cent for Brinker International, owner of the Chili's chain. It also reported stronger profit than expected, but its revenue fell short of forecasts.
Coinbase Global's stock swung after it said it soon plans to offer futures trading for cryptocurrencies to eligible US customers after receiving federal regulatory approval. It rose in the morning, then fell by midday, before flipping to a gain of 0.9 per cent.
Progressive jumped 8.5 per cent for the biggest gain in the S&P 500 after reporting its results for July, and other insurers also rallied to help lead the market.
On the losing end was Intel, which fell 2.3 per cent. It and Tower Semiconductor agreed to call off Intel's $US5.4 billion ($8.4 billion) buyout of the Israeli chip maker after the deal faced resistance from Chinese regulators.
Agilent Technologies fell 2.6 per cent despite reporting stronger profit for the latest quarter than analysts expected. Its forecast, including revenue for the full year, fell short of expectations. It pointed to a challenging economy, particularly in China.
In stock markets abroad, indexes were mixed across Europe. Stocks were down more sharply in Asia, where worries are high about a faltering economic recovery in China.
Stocks fell 1.4 per cent in Hong Kong, 1.8 per cent in Seoul, 1.5 per cent in Tokyo and 0.8 per cent in Shanghai.
Coming into this year, the expectation was that China's economy would grow enough after the government removed anti-COVID restrictions to prop up a global economy weakened by high inflation. But China's recovery has faltered so much that it unexpectedly cut a key interest rate on Tuesday and skipped a report on how many of its younger workers are unemployed.
Source: Thanks smh.com