Goodman growth powered by robots as data storage demand booms
The next phase of growth for industrial property juggernaut Goodman will be generated by robots, as the rise in demand for artificial intelligence will see the development of a vast number of data storage centres across its global platform.
Repatriating its $1 billion land bank in areas such as North Ryde in Sydney into build-to-rent developments that will then be sold to an operator is also on the group's agenda.
Goodman's forecast 9 per cent earnings growth for the coming year comes as office and residential portfolios have copped a hit with valuation downgrades, but sheds – the ugly ducklings of the commercial property world – are soaring.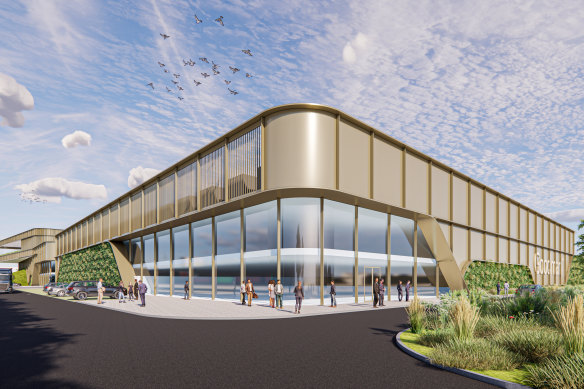 As its major clients including Amazon need more "powered sheds", Goodman will focus on developing high-tech energy-efficient warehouses, most of which will be high-rise due to the scarcity of land.
"Significant growth in data storage and AI in particular, is driving data-centre demand, which is now 30 per cent of our $13 billion development workbook"

Goodman CEO Greg Goodman
Goodman co-founder and chief executive Greg Goodman said data centres already account for about 30 per cent of its global $13 billion development work in progress and that will increase with the use of AI and need for data storage.
"Significant growth in data storage and AI in particular, is driving data-centre demand … and importantly we have a pipeline of over 3GW which has significant value over time," Goodman said.
"We are looking at the former ABC site at Artarmon for a new data centre and at North Ryde."
A gigawatt (GW) is a unit of power, and it is equal to one billion watts. Three gigawatts is enough to power more than 650,000 homes.
The ASX-listed $37.2 billion Goodman is the largest property group on the market. In the 2023 year it increased its funds under management by 11 per cent to $76.3 billion and has bumped its capital partners from 16 to 20, being a range of superannuation, pension and sovereign funds.
In the year to June 30, the group posted an operating profit of $1.76 billion, up 17 per cent on the prior years, and has forecast a 9 per cent growth in earnings for the coming year, in line with market expectations. This is equal to an earning share of 94.3¢ up 16 per cent on the 2022 year, and ahead of recent guidance.
Winston Sammut, property director at Euree Asset Management, said the Goodman result has delivered on a positive across most, if not all, the metrics currently in focus.
"Development margins are holding up well and balance sheet gearing remains low at 8.3 per cent, placing Goodman in a sound position to take advantage of opportunities as and when they materialise. As has been the case in the past, it is expected that the group will deliver over and above its stated guidance of 9 per cent growth in 2024," Sammut said.
Included in the development pipeline is the massive land bank that Goodman has amassed and is located in its gateway cities across the world. In Australia, this is in the north-west of Sydney and the tightly held fringe suburbs of Melbourne.
Goodman said these land holdings are "ripe" for development in the burgeoning build-to-rent sector, which is seen as an affordable housing option.
"We have the land, and we will clear it, get the planning and zoning in place, then hand it over to an operator who will go and do their business which is building it, managing it and eventually owning it," Goodman said.
Goodman declared a final distribution of 15¢, payable on August 25.
The share price is up 3.6 per cent to $20.46.
Source: Thanks smh.com