ASX flat after Wall Street scuffle; Bitcoin tumbles, $A slips
The Australian sharemarket opened flat on Friday despite strength in the mining sector and real estate investment trusts following a negative lead from Wall Street overnight.
The S&P/ASX 200 was up 0.4 points, or 0.01 per cent, to 7145.6 at about 10.50am AEST as communications services and consumer discretionary companies weighed the index.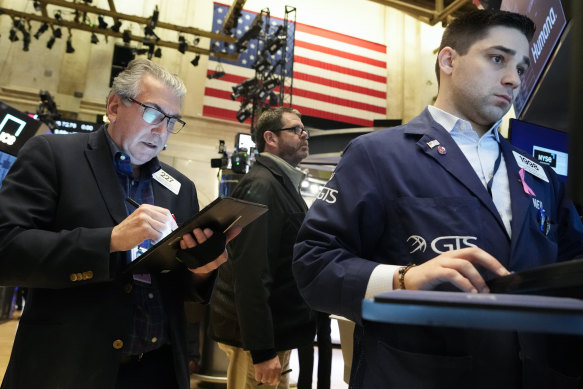 Utilities (up 0.8 per cent) were among the strongest companies on the local bourse with Amcor (up 4.5 per cent) and Origin (up 1.8 per cent) the biggest large-cap advancers.
Miners (up 1.1 per cent) were also stronger as iron ore heavyweights BHP (up 1.7 per cent) and Fortescue (up 1.5 per cent) both climbed.
Real estate investment trusts (REITS, up 1.2 per cent) was the strongest sector as Goodman Group gained 5.6 per cent, extending gains from Thursday.
Communication services (down 2 per cent) was the weakest sector Telstra (down 2.9 per cent) and TPG (down 2.3 per cent) both declined.
Healthcare companies Resmed and Pro Medicus were also weaker, shedding 4.1 per cent and 2.1 per cent respectively amid a 0.7 per cent fall in the broader sector.
Consumer discretionary companies (down 1.1 per cent) also slipped with Wesfarmers dropping 1 per cent, Aristocrat Leisure losing 1 per cent and Lottery Corporation shedding 1.6 per cent.
Wall Street fell for a third straight day as rising yields in the bond market keep cranking up the pressure.
The losses were widespread. Some of the hardest hit were high-growth stocks seen as the most vulnerable to higher interest rates. Meta Platforms sank 3.1 per cent, and Tesla dropped 2.8 per cent. Apple fell 1.5 per cent and was the heaviest weight on the S&P 500.
Stocks broadly have been retreating in August following a torrid first seven months of the year. That's in part because a swift rise in bond yields is forcing a reassessment of how much to pay for stocks.
The Australian dollar continued its retreat, briefly falling below 64 US cents overnight. It was fetching US64.14¢ at 11.10am AEST.
Bitcoin slumped as risk aversion weighs on the cryptocurrency market with global government bond yields climbing to the highest in about 15 years. The largest digital asset by market value was 8.7 per cent lower at $US26,417 ($41,250), extending losses after dropping below $US28,000 for the first time since June 20. The decline was the biggest on an intraday basis since July 14.
The 10-year Treasury, which is the centrepiece of the bond market, is now yielding 4.28 per cent after touching its highest level since October in the morning.
If it reaches 4.34 per cent, it will be at a level unseen since 2007, according to Tradeweb. That's before the financial crisis and Great Recession caused yields to collapse to record lows. The 10-year Treasury was yielding less than 0.70 per cent three years ago.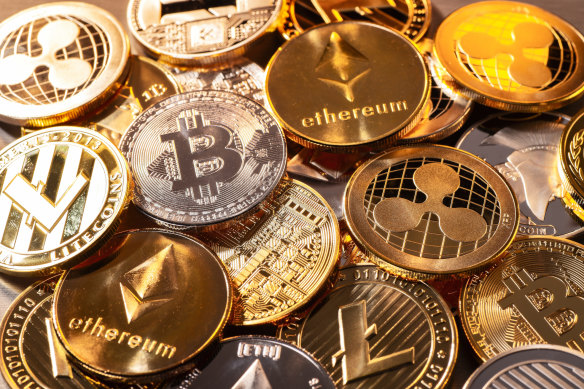 Homebuyers are feeling the sting. The average rate on a 30-year mortgage hit its highest level this week in more than 20 years.
Yields have been on the rise as more reports show the US economy remains remarkably resilient. On the upside for markets, the data means the economy has been able to avoid a long-predicted recession. But on the downside, it could also keep upward pressure on inflation. That would give the Federal Reserve reason to keep interest rates higher for longer.
More data came in Thursday showing a firm US economy.
Fewer workers applied for unemployment benefits last week than economists expected. It's the latest signal that the job market continues to be solid.
A survey of manufacturers in the mid-Atlantic region also unexpectedly showed growth, when economists were expecting another month of contraction. Manufacturing has been one of the areas of the economy hit hardest by much higher interest rates.
"The labor market continues to be resilient—maybe too resilient for the Fed's liking," said Mike Loewengart, head of model portfolio construction at Morgan Stanley Global Investment Office.
Minutes from the Fed's latest meeting released Wednesday suggested officials are unsure of their next move. They say it will depend on what upcoming reports about inflation and the job market say.
Inflation has cooled considerably from its peak above 9 per cent last summer. But consumers still paid prices that were 3.2 per cent higher in July than a year earlier, and economists say the last stretch to get inflation down to the Fed's 2 per cent target may prove to be the most difficult.
With AP, Bloomberg
The Market Recap newsletter is a wrap of the day's trading. Get it each weekday afternoon.
Source: Thanks smh.com