Airports accuse Qantas of deliberately cancelling flights to hog slots
The Qantas Group has once again been accused of deliberately cancelling flights between key capital cities to stifle competition, with airport leaders calling for reform to airport slot regulation.
Qantas cancelled 12 per cent of flights from Canberra to Sydney in July, or three times as many flights as rival Virgin Australia on the same route last month. All up, 53 flights by the airline were cancelled on the route, about 45 per cent more than the second-most cancelled service, Melbourne to Sydney. This is despite Qantas' overall cancellation rate being lower than Virgin's for the past eight months.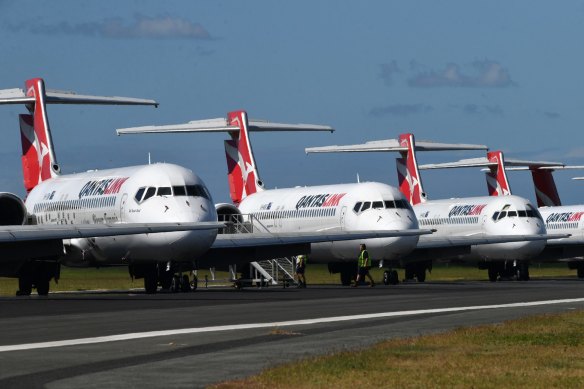 Qantas has repeatedly rejected accusations that it hoards slots. The airline says that in the event it is forced to cancel a flight due to a supply chain breakdown, it determines where a cancellation is least likely to cause passenger disruption. Sydney to Canberra and Melbourne to Sydney are high-frequency routes, which means passengers are less likely to experience a long delay in the event their flight is cancelled. In addition to unrelated disruptions caused by a lack of air traffic controllers or weather, airlines are often limited by staffing or aircraft constraints which means they cannot always fulfil their schedules.
The carrier will reveal what's expected to be record profits for the 2023 financial year on Thursday.
Sydney Airport's executive general manager Rob Wood–who formerly worked at Virgin and Qantas – told a House of Representatives inquiry on Wednesday the two major airlines hid behind weather and air-traffic control issues to justify flight cancellations, but were clearly also motivated by preventing new entrants access to the airport. Sydney Airport would benefit from more airlines gaining access to its slots as it would be able to generate additional income through airport fees.
"There's no doubt that anticompetitive behaviour comes at a cost to us. It also costs the travelling public and other airlines at a time when everyone is feeling the pinch of higher cost of living. The facilitation of competition is squarely in the interests of Sydney Airport, but it's also one that's in the… national interest," Wood said.
A 2019 productivity commission inquiry explored the issue of slot hoarding in detail. The inquiry led to a review of Sydney Airport, and its complicated governing legislation, dubbed the Harris review. The review recommended the government introduce a stronger compliance regime and an overhaul of Sydney Airport's outdated regulation, but its recommendations are yet to be implemented.
Wood said it was undeniable the cancellation rate on key city routes in and out of Sydney was increasing, irrespective of weather and air traffic control related issues. He also said it was obvious cancelling high-frequency routes caused less disruption than less-busy services, but it was inefficient, meaning other airlines should be given the option to fly them.
"What we're starting to see is very high cancellation rates on our busiest domestic routes. It's very specifically a domestic issue, and it's very specifically an issue on the busiest routes…The question we want to understand is whether the schedule is being built with a buffer expecting cancellations on these routes. We would see that as an inefficiency in the system," Wood said.
Canberra Airport's chief executive officer Stephen Byron said Qantas' treatment of Canberra passengers flying into Sydney Airport was a "national disgrace" and called on the federal government to consider a formal "show cause" process, which would require airlines to relinquish unused slots at airports where their cancellation rate exceeds 10 per cent.
"There needs to be some proper accountability here for an airline that makes more than 80% of the profit in the entire domestic industry and yet treats its customers and the Australian Government like mugs," Byron said in an interview on Wednesday.
The head of the Australian Airports Association James Goodwin– who represents the country's 340 airports– told the committee it was time to implement the recommendations of the Harris Review.
"Anything that might happen in Sydney will constrain what happens around the rest of the network. We need to make sure there's reliable access to those slots, both for competition and also to improve efficiency," Goodwin said.
Source: Thanks smh.com