ASX opens flat as Wall Street retreats; WiseTech tumbles
The Australian sharemarket opened flat on Wednesday after a negative lead on Wall Street as domestic information technology companies slumped.
The S&P/ASX 200 was up just 4.5 points, or 0.06 per cent, to 7126.1 at about 10.20am AEST, bolstered by consumer staples companies and real estate investment trusts (REITS).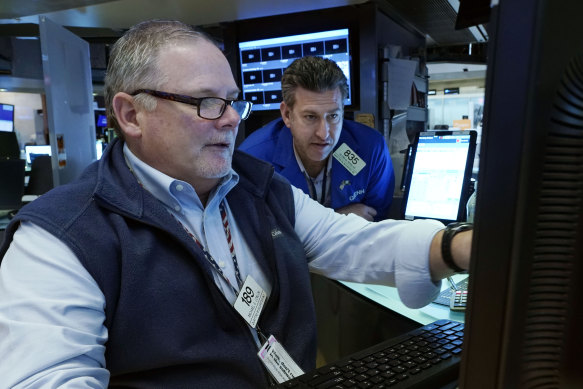 Consumer staples (up 1 per cent) pared back some of its losses from the past week as supermarket giant Woolworths lifted 2.8 per cent after posting a 5.7 per cent increase in sales to $64.3 billion, slightly above consensus. Treasury Wine Estates (up 0.2 per cent) also advanced, helping to bolster the sector.
IDP Education (up 9.3 per cent) was the biggest large cap advancer as it reported a 24 per cent increase in revenue to $982 million on the back of a rebound in international student numbers.
Global engineering group Worley (up 1.7 per cent) also lifted despite a plunge in its net profit after it forecasted higher revenues in the year ahead.
REITS (up 0.4 per cent) helped to bolster the local bourse as Goodman Group gained 0.6 per cent, Scentre lifted 1.8 per cent, Dexus advanced 0.5 per cent and GPT Group edged up 0.4 per cent.
Meanwhile, information technology companies (down 4.4 per cent) came off substantial gains in the past few days as WiseTech shed 13.4 per cent despite reporting a 9 per cent increase in profit. The company said its acquisitions would weigh on its overall earnings margin, guiding a recovery in that margin by the 2026 financial year.
Shares in non-bank lender Pepper Money (down 12.5 per cent) also declined sharply after it cut its interim dividend by one third and posted a 28 per cent decline in profits in the second half of the financial year.
Utilities (down 0.4 per cent) and energy companies (down 0.5 per cent) were also weaker as AGL shed 2 per cent and Santos lost 0.8 per cent.
Wall Street ticked lower ahead of two potentially market-shaking events later in the week.
The S&P 500 slipped 0.3 per cent to give back some of its rare August gain from a day before, which was powered by Big Tech stocks. The Dow Jones fell 0.5 per cent and the Nasdaq composite edged up by 0.1 per cent.
Stocks have struggled this month as yields have shot upward in the bond market, which cranks up the pressure on other investments. The yield on the 10-year Treasury eased a bit Tuesday, a day after reaching its highest level since 2007.
Nvidia, one of Wall Street's most influential stocks, swung from an early gain to a loss of 2.8 per cent ahead of its earnings report, one that could be pivotal for the stock market.
The chipmaker has been at the centre of Wall Street's frenzy around artificial-intelligence technology, which investors believe will create immense profits for companies. Nvidia's stock has already more than tripled this year, and it likely faces a high a bar to justify the huge move.
On the winning side of Wall Street, Lowe's gained 3.7 per cent after reporting stronger profit for the latest quarter than analysts expected. The home improvement retailer also stood by its forecast for results over the full year, and it said it gave over $US100 million in bonuses to its front-line workers.
More fireworks could come later this week, when Fed Chair Jerome Powell is scheduled to give a highly anticipated speech. He'll be speaking Friday at an event in Jackson Hole, Wyoming, the site of several major policy announcements by the Fed in the past.
Based on the action in markets for volatility, traders are bracing for the Jackson Hole speech to be a bigger potential deal than Nvidia's earnings report, according to Barclays strategists led by Stefano Pascale and Anshul Gupta.
In recent years, everything from commodities to bonds to foreign stocks has become more vulnerable to outsized moves around Jackson Hole, the strategists say.
In stock markets abroad, indexes were mostly higher. Stocks rose in China to recover some of their sharp losses driven by worries about its faltering economic recovery.
With AP
The Market Recap newsletter is a wrap of the day's trading. Get it each weekday afternoon.
Source: Thanks smh.com